The gun culture in the country Is sick. Everything wrong in America is a GOP value.
This post consists of articles about mass murders by guns in America.
The two articles are about about the gun slaughters that took place over this weekend.

This picture is from the Facebook page of the shooter in El Paso.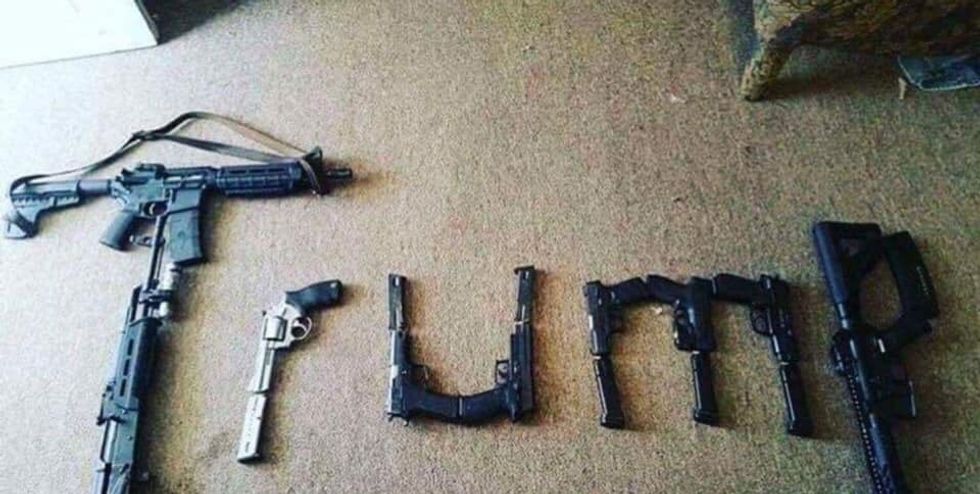 Yes, this is a highly Partisan post.
Yes, everything wrong in America is a GOP value.
#StopTrump #StopGOP #GunReformNow #BlueVictory2020
#1. Everything We Know About the Possible Hate Crime Investigation in the El Paso Shooting
Tara Law, Time magazine, August 3, 2019.
As the El Paso police chief announced the horrifying toll of the shooting at a Walmart there on Saturday, he also said authorities were investigating a whether the shooting could have been motivated by hate.
"Right now we have a manifesto from this individual that indicates to some degree has a nexus to a potential hate crime," he said.
Allen said that investigators are working to "validate for certainty that this was the manifesto" of the man they have in custody.
That man is 21-year-old Patrick Crusius, who is not from El Paso, but from the Dallas suburb of Allen, Texas.
Twenty people were killed and 26 others wounded in the shooting at a Walmart packed with up to 3,000 people about 10:45 a.m. on Saturday. The shooting at the border city, which has one of the lowest murder rates in the country, sparked an outpouring of condolences from across the United States and Mexico––including from President Donald Trump and presidential candidate and El Paso native Beto O'Rourke.
Shortly after the shooting, a four-page manifesto expressing hatred of Hispanic immigrants and detailing a plan for an attack began to circulate online. It had been posted on an online message board that is popular with followers of conspiracy theories, including QAnon. Officials have not yet confirmed whether it is the same manifesto they are investigating.
During the press conference where Allen announced the possible hate-crime motive for the shooting, Texas Gov. Greg Abbott talked instead about mental health and his actions in response to the May 2018 shooting at Santa Fe High School outside Houston that left 10 dead and 13 hurt.
Abbott later addressed the hate crime allegations directly Saturday night, telling El Paso TV station KVIA, "This is disgusting. Intolerable. And it's not Texan. And we are going to aggressively prosecute it both as capital murder but also as a hate crime. Which is exactly what it appears to be, without having seen all the evidence yet, I don't want to get ahead of the evidence.
"But we have to be very very clear that conduct like this, thoughts like this, actions like this, crimes like this are not who or what Texas is and will not be accepted here."
Allen's announcement about the hate crime investigation also drew a moment of apparent tension at Saturday's press conference with FBI Special Agent Emmerson Buie.
In responding to a question about Allen's assertion that the FBI was investigating a hate crime motive, Buie responded: "First and foremost I did not call it a hate crime, I said we're looking at other aspects… before we can label any type of investigation, we have to ensure the evidence and the precursors are there and they have to be reviewed."
Allen responded by reiterating that police are investigating a possible manifesto indicating the attack could be motivated by hate.
"Didn't mean to step on the FBI's toes on that, but we are taking this down the road of simply a murder investigation with numerous casualties," he said. "The state of Texas will be the lead prosecuting agency in this."
El Paso officials, including Rep. Veronica Escobar, have emphasized that the perpetrator is not a member of their community, but someone whose values are not representative of El Paso.
Allen, where the suspect is from, is more than 750 miles from El Paso––10-hours by car.
Escobar said that she couldn't comment directly on the shooting because the investigation is ongoing, but condemned the "manifesto narrative" as "fueled by hate and it's fueled by racism and bigotry and division."
"El Paso has historically been a very safe community. We've been safe for decades, we will continue to be safe. This is someone who came from outside our community to do us harm. A community that has done nothing but shown generosity and kindness to the least among us––those people arriving at America's front door," Escobar said. She added that she and her colleagues will come together to make "very strong statements" after the investigation is completed.
Trump expressed his condolences on Twitter in the hours after the shooting happened. He later condemned the shooting as "an act of cowardice" and a "hateful act."
"Today's shooting in El Paso, Texas was not only tragic, it was an act of cowardice. I know that I stand with everyone in this Country to condemn today's hateful act. There are no reasons or excuses that will ever justify killing innocent people," Trump wrote. ".Melania and I send our heartfelt thoughts and prayers to the great people of Texas."
O'Rourke, a former Congressman from El Paso, flew home from the campaign trail after the shooting. He said that beyond supporting the community and passing new laws, people must also consider how to combat the hatred that may have motivated the gunman.
"I think we also have to ask ourselves about the level of hatred and racism that we're seeing in this country right now that could lead to an event like we saw here today," O'Rourke said. He added that El Paso could be "an example of how we just don't just respect one another, we embrace our difference as the very source of our strength."
#2. 9 Killed, 26 Injured in Dayton, Ohio in Second Mass Shooting in 24 Hours.
DAN SEWELL AND JOH MINCHILLO, Time Magazine, AUGUST 4, 2019.
(DAYTON, Ohio) — Nine people in Ohio were killed in the second mass shooting in the U.S. in less than 24 hours, and the suspected shooter is also deceased, police said.
Dayton police tweeted that an active shooter situation began at 1 a.m. Sunday in a historic district that's a popular nightlife destination, but officers nearby were able to "put an end to it quickly." Lt. Col. Matt Carper said at a press conference that the suspect was shot to death by responding officers.
At least 26 others were injured, Dayton Mayor Nan Whaley said at a press conference. No details about the victims were released.
Miami Valley Hospital spokeswoman Terrea Little said the hospital had received 16 victims, but she couldn't confirm their conditions. Kettering Health Network spokeswoman Elizabeth Long said multiple victims from a shooting had been brought to system hospitals, but she didn't have details on how many.
With a population of around 140,000 Dayton is in western Ohio, around 55 miles (90 kilometers) northeast of Cincinnati, 75 miles (120 kilometers) west of Columbus and 120 miles (195 kilometers) east of Indianapolis. The shooting took place in the Oregon District, a historic neighborhood that Carper described as "a safe part of downtown," home to entertainment options, including bars, restaurants and theaters. The shooting took place outside, on the 400 block of East 5th Street.
Nikita Papillon, 23, was across the street at Newcom's Tavern when the shooting started. She said she saw a girl she had talked to earlier lying outside Ned Peppers Bar.
"She had told me she liked my outfit and thought I was cute, and I told her I liked her outfit and I thought she was cute," Papillon said. She herself had been to Ned Peppers the night before, describing it as the kind of place "where you don't have to worry about someone shooting up the place."
"People my age, we don't think something like this is going to happen," she said. "And when it happens, words can't describe it."
Police believe there was only one shooter, and have not yet identified the suspect or a motive. Carper said the suspect used a long gun and fired multiple rounds.
Tianycia Leonard, 28, was in the back, smoking, at Newcom's. She heard "loud thumps" that she initially thought was people pounding on a dumpster.
"It was so noisy, but then you could tell it was gunshots and there was a lot of rounds," Leonard said.
The FBI is assisting with the investigation. A family assistance center was set up at the Dayton Convention Center.
"I'm heartbroken," Whaley tweeted around 6 a.m. Sunday, thanking first responders for their efforts.
Gov. Mike DeWine issued his own statement before 7 a.m., announcing that he's ordered flags in Ohio remain at half-mast and offered assistance to Whaley.
"Fran and I are absolutely heartbroken over the horrible attack that occurred this morning in Dayton, the statement said. "We join those across Ohio and this country in offering our prayers to victims and their families."
The Ohio shooting came hours after a young man opened fire in a crowded El Paso, Texas, shopping area, leaving 20 dead and more than two dozen injured. Just days before, on July 28, a 19-year-old shot and killed three people, including two children, at Northern California's Gilroy Garlic Festival.
Sunday's shooting in Dayton is the 22nd mass killing of 2019 in the U.S., according to the AP/USA Today/Northeastern University mass murder database that tracks homicides where four or more people killed — not including the offender. The 20 mass killings in the U.S. in 2019 that preceded this weekend claimed 96 lives.
Voices4America Post Script. Statement from El Paso County Sheriff Richard Wiles.