Pres­i­dent Trump's re­marks on Af­ghanistan at his Cab­i­net meet­ing Wednes­day were a no­table event. They will be crit­i­cized heav­ily, and de-servedly so. The full text is avail­able on the White House web­site.
Mr. Trump ridiculed other na­tions' com­mit­ment of troops to fight along­side Amer­i­ca's in Af­ghanistan. He said, "They tell me a hun­dred times, 'Oh, we sent you sol­diers. We sent you sol­diers.'"
This mock­ery is a slan­der against every ally that has sup­ported the U.S. ef­fort in Af­ghanistan with troops who fought and of­ten died. The United King­dom has had more than 450 killed fight­ing in Af­ghanistan.
As rep­re­hen­si­ble was Mr. Trump's ut­terly false nar­ra­tive of the So­viet Union's in­volve-ment there in the 1980s. He said: "The rea­son Rus­sia was in Af­ghanistan was be­cause ter­ror­ists were go­ing into Rus­sia. They were right to be there."
Right to be there? We can­not re­call a more ab­surd mis­state­ment of his­tory by an Amer­i­can Pres­i­dent. The So­viet Union in­vaded Af-ghanistan with three di­vi­sions in De­cem­ber 1979 to prop up a fel­low com­mu­nist gov­ern­ment.
The in­va­sion was con-demned through­out the non-com­mu­nist world. The So­vi­ets jus­ti­fied the in­va­sion as an ex­ten­sion of the Brezh­nev Doc­trine, as­sert­ing their right to pre­vent coun­tries from leav­ing the com­mu­nist sphere. They stayed un­til 1989.
The So­viet in­va­sion of Af­ghanistan was a defin­ing event in the Cold War, mak­ing clear to all se­ri­ous peo­ple the re­al­ity of the com­mu­nist Krem­lin's threat. Mr. Trump's cracked his­tory can't al­ter that re­al­ity.
Wall Street Journal Editorial. January 3, 2019.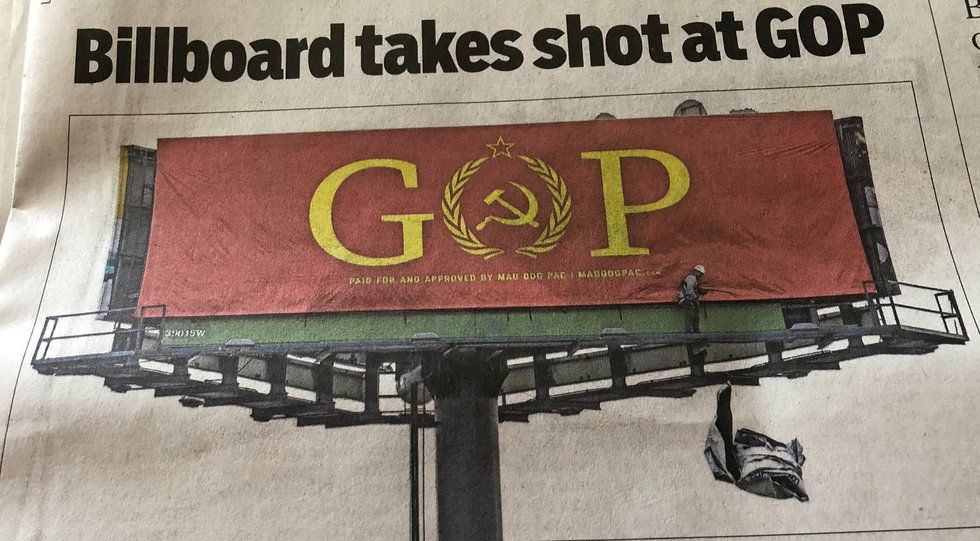 The cover photo on this article is a shot of a billboard on he road from the Palm Beach International Airport and Trump's Mar-A-Lago resort.
January 5, 2019
Post Script. When even the Wall Street Journal comments on Trump's support of Russian ("We can­not re­call a more ab­surd mis­state­ment of his­tory by an Amer­i­can Pres­i­dent.), it is time for him to go. #PutinsPuppet TrumpResign