Recently, the organizers of a Women's Convention scheduled to begin on October 27th in Detroit revealed their real reason for being. To elect Bernie Sanders.
In case you missed the brouhaha, Sanders, who was widely criticized for his lack of interest in reproductive rights and other women's issues during his failed presidential campaign in 2016, was announced on October 12th by the organizers as the keynote speaker of their convention.
In 2016, Sanders, a self proclaimed socialist, who lost to Hillary Clinton by 3 million votes, ran a campaign based solely on economic issues. At best, he marginalized women and family issues (as well as race, LGBTQ issues and what he calls "identify politics") and, at worst, dissed and dismissed women.
To review discussions of the 2016 campaign connected to Bernie and women.
1.He never addressed or prioritized gender issues (or race or LGBTQ issues) on the stump.
2. The leadership and tone of his campaign was male and frequently misogynist. The aggression of the "Bernie Bros" was well documented.
3. In June 2015, NPR ran a piece entitled The Bernie Sanders 'Rape Fantasy' Essay, Explained. Mother Jones had found an article that Sanders wrote in 1972 titled "man – and woman," and published in the Vermont Freeman. Here is a sample.
."A woman enjoys intercourse with her man — as she fantasizes being raped by 3 men simultaneously.
"The man and woman get dressed up on Sunday — and go to Church, or maybe to their 'revolutionary' political meeting.
As NPR summarized Sanders' key point:
Many women seem to be walking a tightrope," he writes, as their "qualities of love, openness, and gentleness were too deeply enmeshed with qualities of dependency, subservience, and masochism.
4. In his own person, again and again, Sanders proved to be disrespectful of women. Here he is on the Bill Maher show with Abby Huntsman.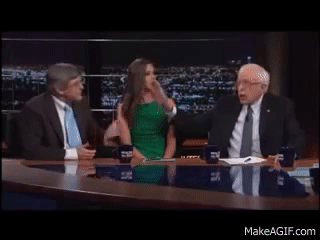 Sanders himself proved a lack-luster campaigner for Hillary once she was the Democratic nominee and the fact that 12% of Sanders supporters either voted for Trump or sat the election out has continued to leave a bad taste in the mouths of many Clinton supporters.
Sanders' behavior in 2017 has been consistent with his positions on women during his campaign. First, he supported an anti-abortion candidate (Quist in the special election in Montana). Then, he baulked at supporting a a pro-choice candidate who didn't meet his self-determined standard of "progressive" until the final hours (Ossoff in the special election in Georgia). Though not a Democrat himself, Sanders has continued to push the Democratic Party to make "pro-Choice Politics optional" and to "move beyond identify politics."
Therefore, when Sanders was named as the keynote speaker of a convention positioned as a follow-up to the Women's March, it was received with shock and disbelief by many.
Those who remember the detailed history of the historic march, though, were not surprised.
Following the November election, before there were pussy hats, multiple people and groups "announced" "women's marches" to support Hillary Clinton, to oppose Donald Trump. These coalesced eventually into a unified effort, the Women's March on Washington.

To ensure that the march was led by women of differing races and backgrounds, 4 co-chairs were named:Linda Sarsour, executive director of the Arab American Association of New York; Tamika Mallory, former executive director of the National Action Network; Carmen Perez, an executive director of the The Gathering for Justice; and Bob Bland, a fashion designer focused on ethical manufacturing. Sarsour, a prominent Sanders supporter and pro-Palestinian activist, called it "a stand on social justice and human rights issues ranging from race, ethnicity, gender, religion, immigration and healthcare."
These "Leaders"proclaimed the March was not about the loss of our chance to elect the first Female President or to oppose Donald Trump.

For many of us, the reality was different.
Though there were tensions about positions the Leadership embraced, many, angry and in mourning from the loss of the election, and grateful for the opportunity to express our numbers, power and positions, embraced the March as an outlet.
In specific, we were subdued even when the March leadership named activists like Grace Lee Boggs, Gloria Steinem, Winona LaDuke, Malala Yousafzai and Edith Windsor, but not Hillary Clinton, as the women who inspired them.
Contrary to the March Leadership, we marched guided by Hillary's words, "Women's Rights are Human Rights and Human Rights are Women's Rights, " which the anti-Hillary Leadership shamelessly appropriated as the lead slogan for the March.
We marched for the opportunity to express, in huge numbers, our opposition to Donald Trump.
This was grassroots activism.
At the March itself, we carried home-made placards honoring Hillary and we cheered when Gloria from the podium spoke of Hillary as our hero.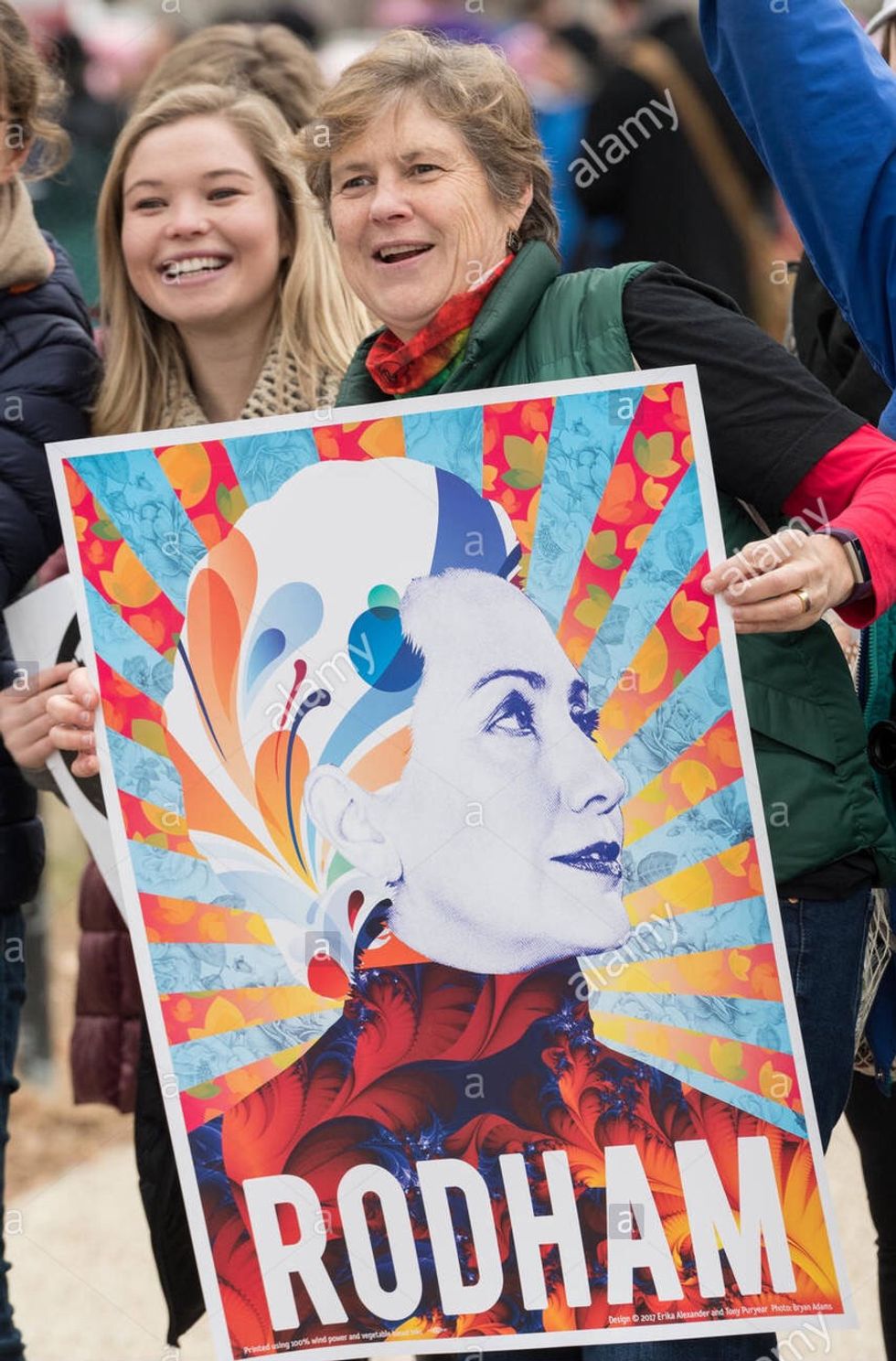 We marched to reject Trump, regardless of what the Leadership said.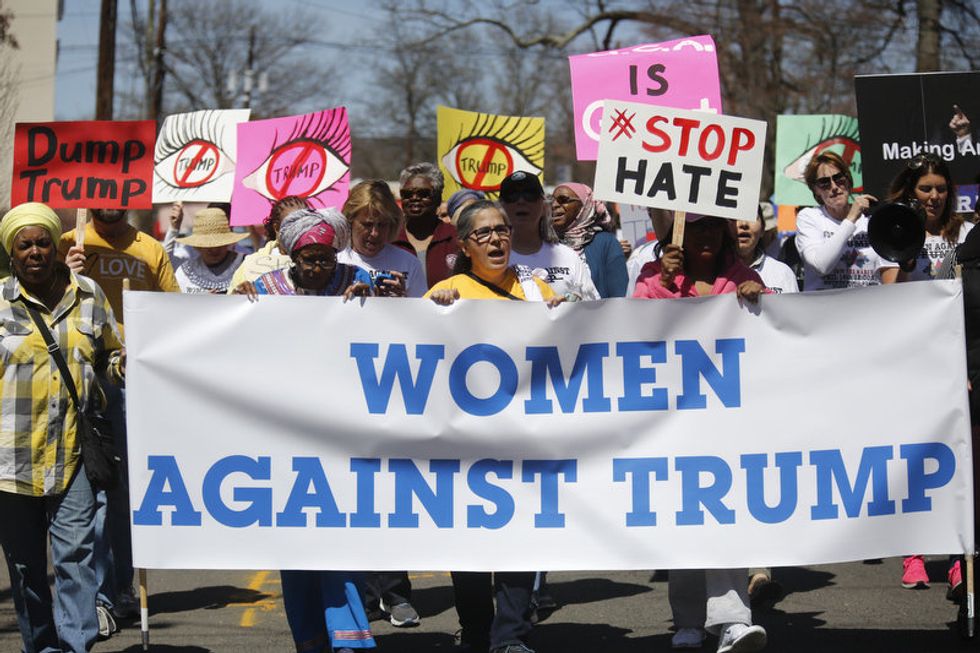 The Washington March drew 440,000 to 500,000 people, and worldwide participation has been estimated at five million. 673 marches took place worldwide, on all seven continents.
We took pride in our own success and strength.
We proclaimed ourselves The Resistance, and so we have been.
This was never about The Leadership. Most of us couldn't even name them.
The Organizers of the March, on the other hand, moved forward on their own agenda. As CNN put it, they continue to feel the Bern -- and for that, they are feeling the backlash.
They are not feminists. Some are socialists; some, Sanders' supporters; some, engaged in fights about the Middle East.
Therefore what has happened comes as no surprise.
First, they announced the Convention. Then, they announced Sanders.
We can only hope they now hear our roar. They are not our leaders.
What Women's Convention?
Perhaps someday we will have one ?
###
October 16, 2017
Addendum. If you paid to go to the Convention, and want now NOT to go, here are some thoughts for you.
First, go to the Facebook page called Women's March and "unlike" it. You can still read their posts but you are making your displeasure known.
Then here is further advice, culled from the web: From @BettieRose100- Our Revolution/Linda Sarsour "Women's Convention/Women's March" scam exposed.Duped by the "Women's Convention To Elevate Bernie" crowd and want to get your $295 back? SEE BELOW.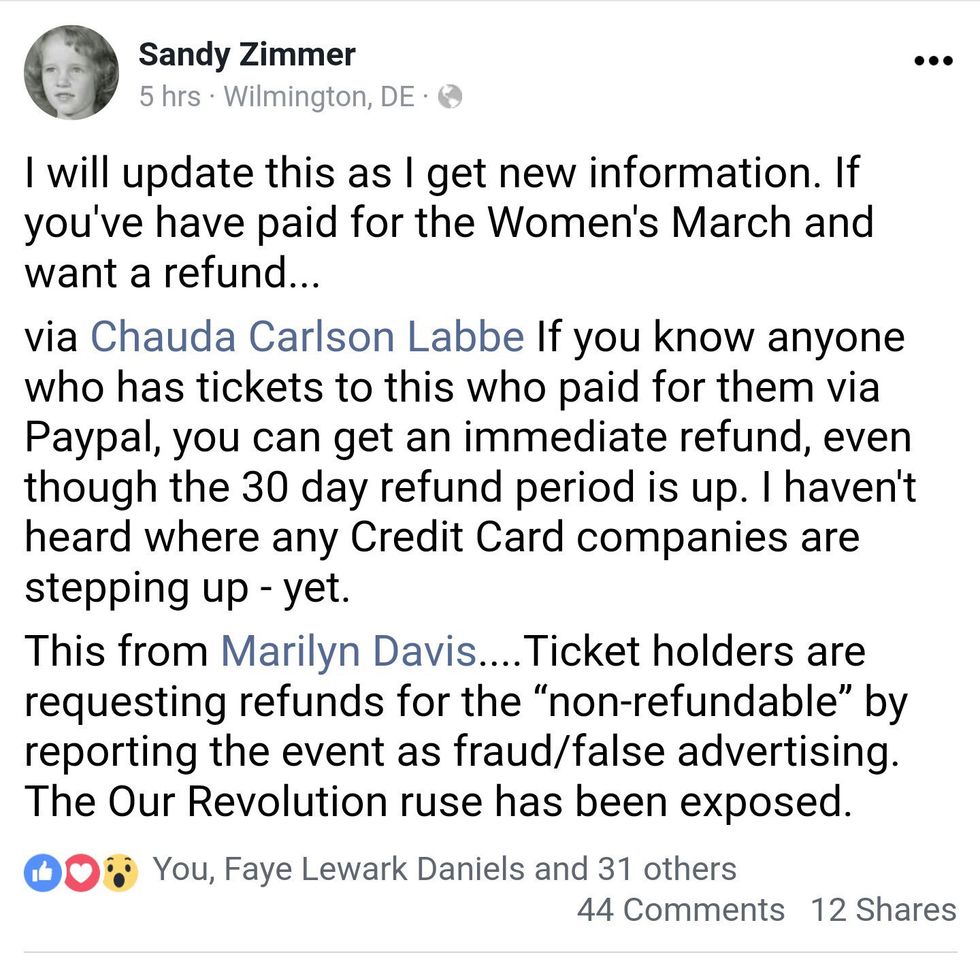 If you have further advice to help those defrauded, please post in comments for all to see.
We will try to keep you informed, especially if we hear that there will be a real Women's Convention.
For now, what Women's Convention?