Iran's vow of "severe revenge" in response to a U.S. airstrike that killed Iran's most powerful military commander, Maj. Gen. Qasem Soleimani, put U.S. forces and its allies in the region on high alert Friday.
Tehran's proxy forces across the Middle East were long feared to play a key role in any further escalation of tensions between the United States and Iran. The killing of Soleimani increases the likelihood of Iran's network of proxy forces posing a more direct threat to potential U.S. targets.
Soleimani took control of the Islamic Revolutionary Guard Corps' external wing, the Quds Force, in the late 1990s and went on to expand its regional presence. He was widely known for his high-profile links to paramilitary groups from Syria to Yemen that are now in the spotlight of attention.
"Soleimani was a cult hero-like figure among the IRGC and its regional proxies, and a key trustee of the Islamic Republic's Supreme Leader [Ali] Khamenei," wrote Ali Fathollah-Nejad, a visiting fellow at the Brookings Doha Center in Qatar.
"Through the target killing of [Soleimani], along with senior Iran-aligned Iraqi and Lebanese figures, the U.S. has effectively clipped the wings of Iran's quite successful expansionist regional policies," he added.
U.S. strike kills top Iranian commander Soleimani in Baghdad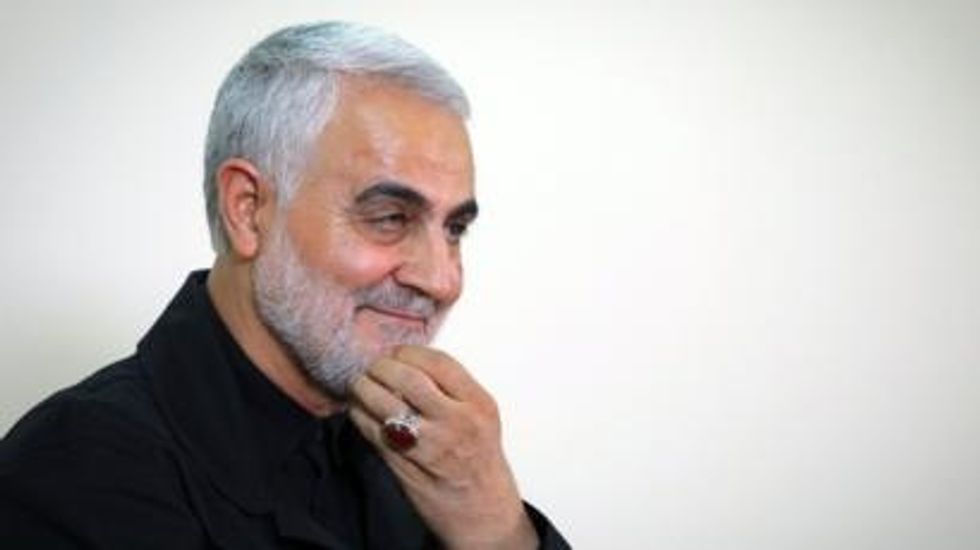 The U.S. killed Iranian elite force commander Qasem Soleimani Jan. 3 in an airstrike at Baghdad's airport, the Pentagon and Iran said. His death marks a new escalation between the U.S. and Tehran. This photo did not appear in this article but it is not possible to reproduce the video that used these headings.
Why does Iran use proxies?
Iran's emphasis on developing proxy forces goes back to the 1979 revolution that deposed the American-backed shah and gave rise to the Islamic Republic. The Shiite theocracy sought to export its revolution and empower Shiite groups in the Middle East from the outset. Middle East Institute senior fellow Alex Vatanka called this expansionist ethos "part of [Iran's] DNA."
Many — though not all — of the groups Iran sponsors are Shiite. While ideology plays a role in Iran's foreign policy, experts say the regime's primary goal is to project power throughout the Middle East to counter American, Israeli and Saudi influence.
The success of Iran's strategy rests in large part on its ability to capitalize on power vacuums in the Middle East, Vatanka said. Most recently, Iran has broadened its reach by backing militias in war-torn Yemen and Syria amid the chaos ushered in by the Arab Spring uprisings in 2011.
How does Iran do this? Primarily through the Islamic Revolutionary Guard Corps' Quds Force, which Soleimani controlled until his death. (The Trump administration designated the IRGC a foreign terrorist organization last April). The Quds Force organizes and trains fighters with allied militias and provides them with weapons, according to a report by the Soufan Center. Iran also uses soft power to cement economic alliances with countries like Iraq, where Iran has supported local militias in the fight against American forces in the aftermath of the 2003 invasion of Iraq and later in the battle against the Islamic State.
Who are the Houthis?
Houthi rebels in Yemen have come under wider scrutiny since early May 2019 when they stepped up drone attacks on Saudi targets. The Houthis, who are part of the Zaydi sect of Shiite Islam, have been fighting a Saudi-led coalition in Yemen since 2015. The group had long been an opposition force in Yemen, but it drew Iranian support after Saudi Arabia got involved in that nation's conflict, according to Vatanka. What began as a civil war during the Arab Spring has morphed into a proxy war between Iran and Saudi Arabia, with Iran supplying financial and military support to the Houthis and the United States providing extensive military support to Saudi Arabia.It's unclear how much operational control Iran exercises over the Houthis, Vatanka said, but the two actors certainly share strategic priorities — namely, countering Saudi Arabia.
It's unclear how much operational control Iran exercises over the Houthis, Vatanka said, but the two actors certainly share strategic priorities — namely, countering Saudi Arabia.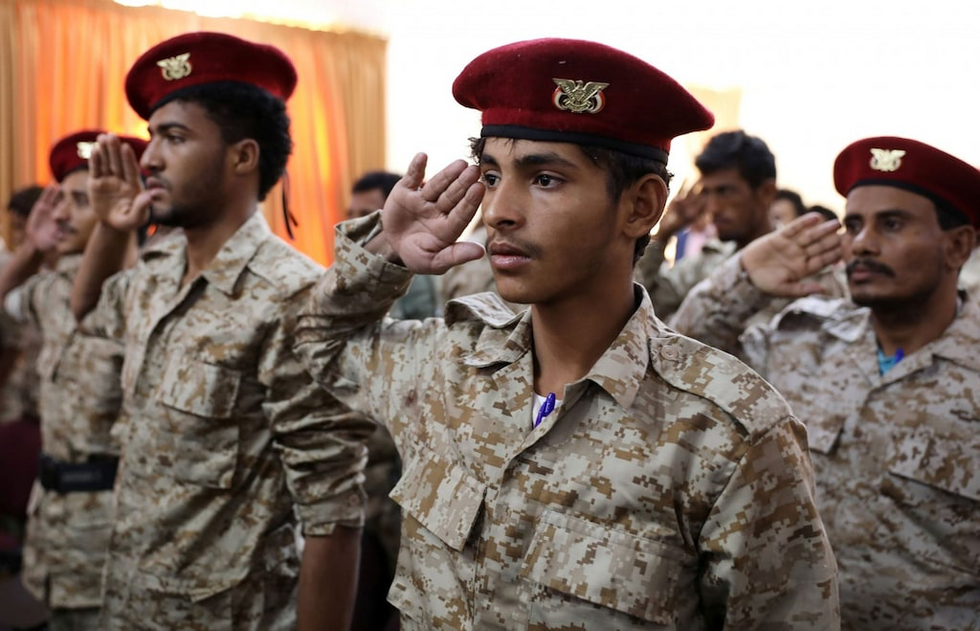 Soldiers who have defected from the ranks of Yemeni government forces salute for the national anthem during a ceremony held by the Houthis in Sanaa, Yemen, on Dec. 29, 2019. (Khaled Abdullah/Reuters)
Last September, Houthi rebels in Yemen claimed an attack on Saudi Arabian oil installations — carried out with cruise missiles and drones — which temporarily cut the Saudi Arabian Oil Co.'s output by about 50 percent. U.S. and European officials later rejected the Houthis' claim and instead blamed Iran, which denied any responsibility.
The incident not only highlighted the complexities of Iran's ties to its regional allies and proxies, but also raised concerns over the country's advanced missile and drone programs, which have benefited its allies, too.
Iranian weapons and technology continue to be transferred to allied forces in the region, including Yemeni Houthi fighters, U.S. officials and weapons experts say. By having proxies deploy the technology to strike targets on its behalf, the Iranian leadership has made it harder for its foes to establish Tehran's direct responsibility.
The future of Iran's influence in Yemen has more recently been cast into doubt, however, amid reports of truce talks between the Houthis and Saudi Arabia.
How does Hezbollah fit into the picture?
Hezbollah, a Shiite paramilitary group and political party in Lebanon, is Iran's earliest and most successful proxy project. It remains the most powerful of Iran's nonstate allies in the Middle East. Formed during the Lebanese civil war in 1982, Hezbollah has since transformed from a small group of clerics and fighters into a major political force in Lebanon — with critical assistance from the IRGC.

Iran supplied weapons to Hezbollah during its 2006 war against Israel. More recently, Iran has mobilized Hezbollah's intervention on behalf of Syrian President Bashar al-Assad in Syria's bloody nine-year civil war. A U.S. Treasury Department assessment in 2018 put Iran's support for Hezbollah at $700 million per year.
Atlantic Council senior fellow Nicholas Blanford, an expert on Hezbollah, described the paramilitary group as "the most formidable of all the Iranian proxies in the Middle East" — and its active role in crushing the rebellion in Syria has given the group additional fighting experience.
Despite Hezbollah's regional military heft, few expect it to eagerly enter into a conflict involving the United States. The group would be more likely to rely on low-level covert attacks on U.S. targets in the region, Blanford said last year.
But, he added at the time, "If it looks like the Islamic regime in Tehran is facing some kind of existential threat if a conflict arises, then all bets would be off."
Following the airstrike that killed Soleimani this week, researcher Fathollah-Nejad reiterated that an Iranian retaliation involving Hezbollah remained a possibility, though he cautioned that "Tehran doesn't have any good options."
"An all-out war with the U.S. would jeopardize regime survival, [and] an escalation in the Persian Gulf will deprive Iran of the remaining rest of crucial income through oil exports," he wrote. "In Iraq the potential of escalation is limited.
"Via Hezbollah in Lebanon, Iran could retaliate toward Israel, with the cost being that Hezbollah's image in Lebanon as caretaker of Iranian interests only will be cemented," he added.
What is Iran's relationship to Iraqi militias?
Beginning with Iran's war with Iraq in the 1980s, Tehran hosted and supported a number of powerful Shiite militias that were opposed to Saddam Hussein's despotic rule. After he was ousted following the American invasion of Iraq in 2003, many of those militias were marshaled to fight U.S. troops.
The Pentagon has attributed 608 U.S. troop deaths in Iraq between 2003 and 2011 to Iranian proxy forces. But as the Islamic State staged a lightning blitz across Iraq in 2014, those same militias became critical assets in stemming the militants' expansion and fought closely with Iraqi forces to eventually reduce the Islamic State's territorial hold to zero.
Their role in fighting the militants has given them unprecedented political power in Iraq, with many senior figures winning seats in the country's parliament. Their presence has given Iran additional influence over Iraq's political landscape.
U.S. officials have repeatedly urged Iraq to counter this influence, but tensions have continued to escalate. On Tuesday, supporters of an Iranian-backed militia charred two reception areas of the U.S. Embassy in Baghdad by setting fires. Their siege ended Wednesday, after they were ordered by their militia to withdraw.
Among the key questions now is: How many of Iran's allies and proxies would rush to Tehran's support in case of a full-blown war — and how far they would be ready to go?
By Claire Parker and Rick Noack Washington Post, January 3, 2020
###
January 3, 2020
Voices4America Post Script. You probably know about Hezbollah, as a Shiite- Iranian related terrorist group. This post likely alerted you to others. What do you know about the Houthis? Yes, Soleimani was a bad, bad man but who thinks this attack without Congressional knowledge/approval has more to do with #Impeach/Remove than with making America safe? #TrumpWar

"The question isn't whether Solemaini was a bad guy. The questions are: 1. What are the likely consequences of his assassination? 2. Do you trust the trump administration to have planned for those consequences and to manage what comes next?" Ezra Klein

Pelosi Statement on Airstrike in Iraq Against High-Level Iranian Military Officials


Here are some other reactions to Trump's dangerous activity. Most of ll, keep in mind Trump's level of knowledge about the Middle East and the Quds.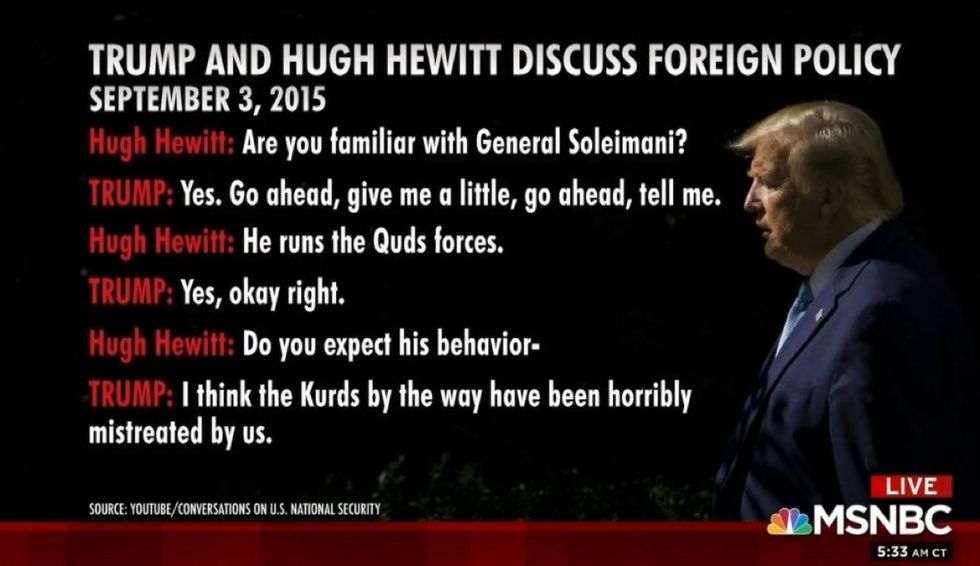 Here is more to read too. Iran vows revenge after U.S. drone strike kills elite force commander
Here is the New York Times update this afternoon. Trump Says He Ordered Killing of Iranian to Prevent New Attack on Americans
https://www.nytimes.com/2020/01/03/world/middleeas...
Some key issues raised in the Times article are:
1. Trump administration officials have provided no specific details of what they said were imminent threats, and some Defense Department officials said they knew of only generalized threats that did not appear to be imminent.
2. The strike touched off an immediate debate in Washington, with Republicans hailing the action as a decisive blow against a longtime enemy with American blood on his hands and Democrats expressing concern that the president was risking a new war in the Middle East.

With Congress returning to town after the holidays for a presumed Senate impeachment trial, Mr. Trump risked suspicion that he was taking action overseas to distract from his political troubles at home, à la the political movie "Wag the Dog."
As a private citizen, Mr. Trump repeatedly accused President Barack Obama of preparing to go to war with Iran to bolster his re-election chances in 2012.
3. Democratic leaders complained that Mr. Trump acted without consulting or even informing Congress first. Mr. Trump responded by retweeting a post comparing Senator Chuck Schumer of New York, the Democratic leader, to the Iranians.
The post by Dinesh D'Souza, a conservative commentator who was pardoned by Mr. Trump for a campaign finance violation, scoffed at Mr. Schumer's complaint that he was not told in advance. "Neither were the Iranians, and for pretty much the same reason," Mr. D'Souza wrote in the tweet reposted by Mr. Trump.
4. The Times reports that he sees this as a first step and urges Trump to full regime change. Trump and Bolton reportedly clashed over regime change in the past, but Trump can't be sad that a man who could be a key witness in a Senate trial is now happy with him.
Here are some other commentaries from Twitter.
1.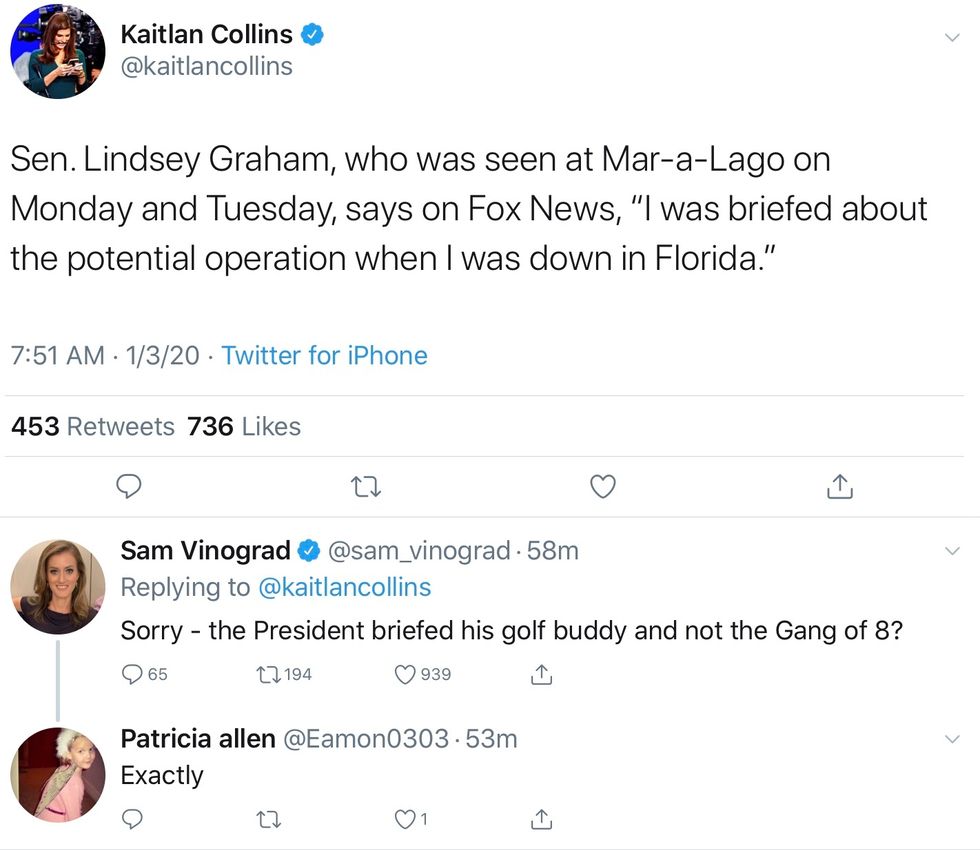 2.

3.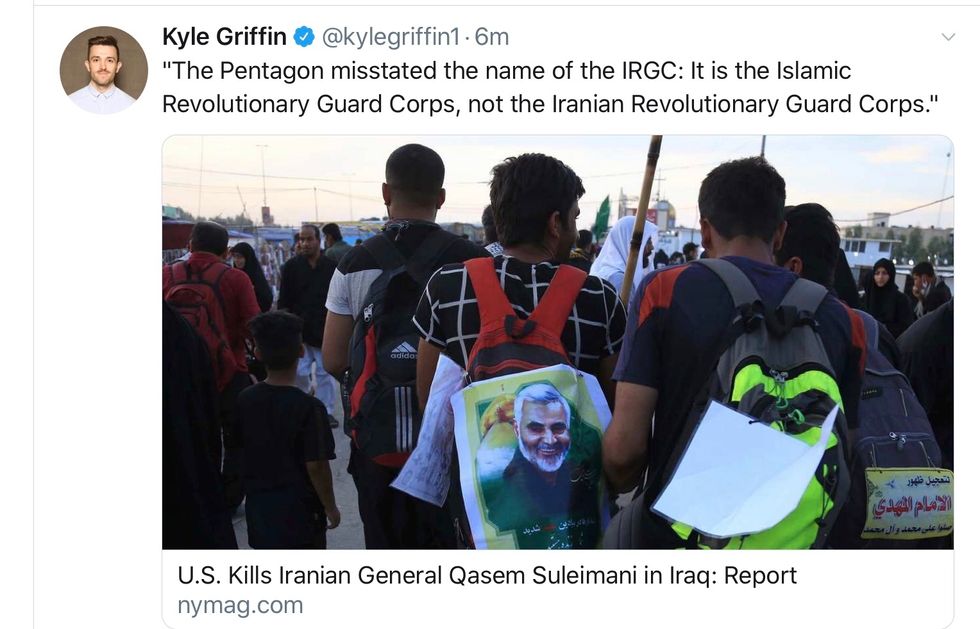 4.