Voters in Virginia, Minnesota, South Dakota and Wyoming have started casting ballots.
Early voting began in four states on Friday, 46 days before Election Day on Nov. 3.
Among the states where voters can now vote in person is Minnesota, where both President Trump and Joseph R. Biden Jr. will be making campaign stops on Friday. Voters also began casting ballots in South Dakota, Virginia and Wyoming.
Elected Democrats, aiming to encourage their supporters to vote early, are eschewing the traditional Election Day photo-op for appearances at early voting sites. In Virginia, Senators Tim Kaine and Mark Warner voted in Richmond and Alexandria, while Gov. Ralph Northam cast his ballot in Richmond, where he was the fifth person in line at 8 a.m.
Mr. Kaine, who was Hillary Clinton's running mate in 2016, tweeted — unsurprisingly — that he had voted early for Mr. Biden and Democrats down the ballot. "What a great day!" Mr. Kaine wrote, describing the experience as "easy" and "convenient."
Twitter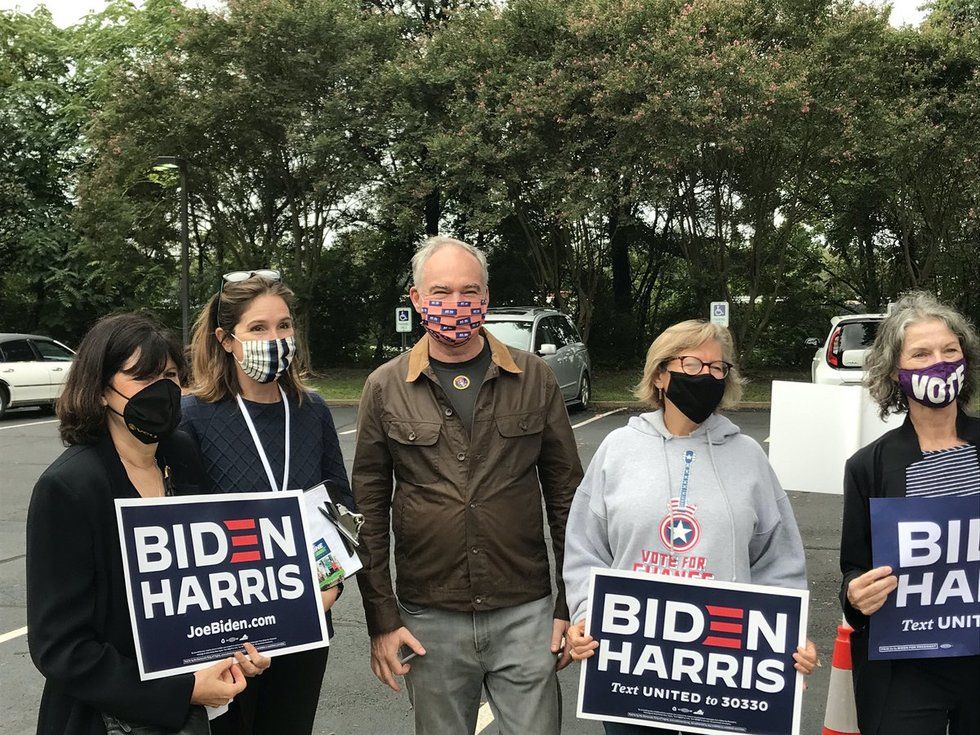 Twittertwitter.com
Mr. Northam said in a statement that "Virginians can be confident their vote is secure, and will be counted," and urged "every Virginia voter to know their options and make a plan for safely casting their ballot."
In most places early voting means going to a City Hall or a local board of elections, though some larger jurisdictions will arrange for regional early vote centers. The pandemic has brought even larger early-vote locations, with some major league sports franchises opening their vacant arenas and stadiums for early voting.
In 2012, Barack Obama became the first president to vote early, casting a ballot for himself at an early-voting site near his home on the South Side of Chicago. President Trump has voted by mail, a process he has publicly denigrated, for recent elections in Florida, which he made his permanent address last year.
Reports on social media suggested that lines to vote in Virginia were long, though that perception may be fueled in part by social-distancing requirements, which require people to space themselves out more than usual.
— Sydney Ember and Reid J. Epstein
New York Times, September 18, 2020
###
September 18, 2020
Voices4America Post Script. Early Voting is in full swing in 5 States...Virginia, Minnesota, South Dakota, Wyoming, and North Carolina.

Now it is your turn.

If you vote in Virginia, Minnesota, South Dakota, Wyoming, and North Carolina, you can vote now! Check your registration right here http://www.vote.org/http://www.vote.org/

If you have friends or family in Virginia, Minnesota, South Dakota, Wyoming, and North Carolina, text, call or email them, they can vote right now!
Remember #MakeAVotingPlan #Vote. Vote Once. #VoteBlue2020 #HouseBlue2020 #SenateBlue2020 #BidenHarris2020