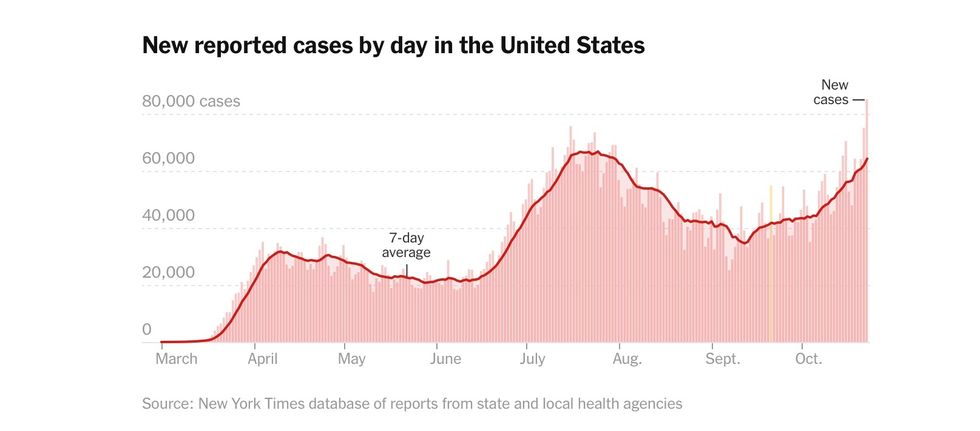 At least 925 new coronavirus deaths and 85,085 new cases were reported in the United States on Oct. 23. Over the past week, there have been an average of 64,257 cases per day, an increase of 34 percent from the average two weeks earlier.
As of Saturday morning, more than 8,540,300 people in the United States have been infected with the coronavirus and at least 223,900 have died, according to a New York Times database.Case numbers in the United States are rising rapidly as states in the Midwest and Rocky Mountains struggle to control major outbreaks, and as new hotspots emerge elsewhere in the country.
The national trajectory is only worsening. Wisconsin has opened a field hospital. North Dakota, which not long ago had relatively few cases, now has the most per capita in the country. And across the rural West, states like Alaska, Wyoming and Montana that had long escaped the worst of the pandemic have seen case numbers soar to alarming new records.
Deaths, though still well below their peak spring levels, averaged around 700 per day by mid October, far more than were reported in early July.
These states have had the highest growth in newly reported deaths over the last 14 days. Deaths tend to rise a few weeks after a rise in infections, as there is typically a delay between when people are infected, when they die and when deaths are reported. Some deaths reported in the last two weeks may have occurred much earlier because of these delays.

A year that started out normal — with packed sports arenas, busy airports and handshake-heavy political campaigning — quickly became defined by the pandemic.
In late February, there were just a few dozen known cases in the United States, most of them linked to travel. But by summer, the virus had torn through every state, infecting more people than the combined populations of Connecticut and Oklahoma. And in the fall, the national death toll exceeded 217,000, more than the population of Des Moines.
American life has been fundamentally reordered because of the virus. Concerts, parades and high school football games continue to be called off. Countless people have found themselves jobless and struggling to afford housing. Many schools and colleges have held few or no in-person classes this fall. More than 178,000 cases have been linked to colleges and universities over the course of the pandemic. Thousands more cases have been identified in elementary, middle and high schools, where a Times survey in several states found extreme inconsistency in the availability of data.
The New York Times is engaged in a comprehensive effort to track information on every coronavirus case in the United States, collecting information from federal, state and local officials around the clock. The numbers in this article are being updated several times a day based on the latest information our journalists are gathering from around the country. The Times has made that data public in hopes of helping researchers and policymakers as they seek to slow the pandemic and prevent future ones.
The Times's data collection for this page is based on reports from state and local health agencies, a process that is unchanged by the Trump administration's requirement that hospitals bypass the Centers for Disease Control and Prevention and send all patient information to a central database in Washington.
The places hit hardest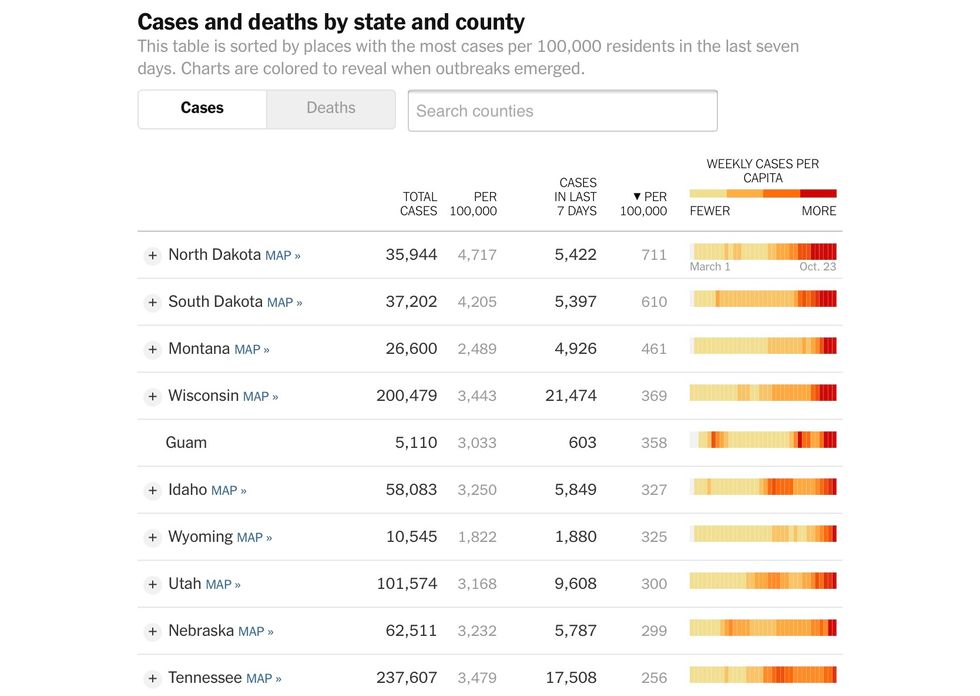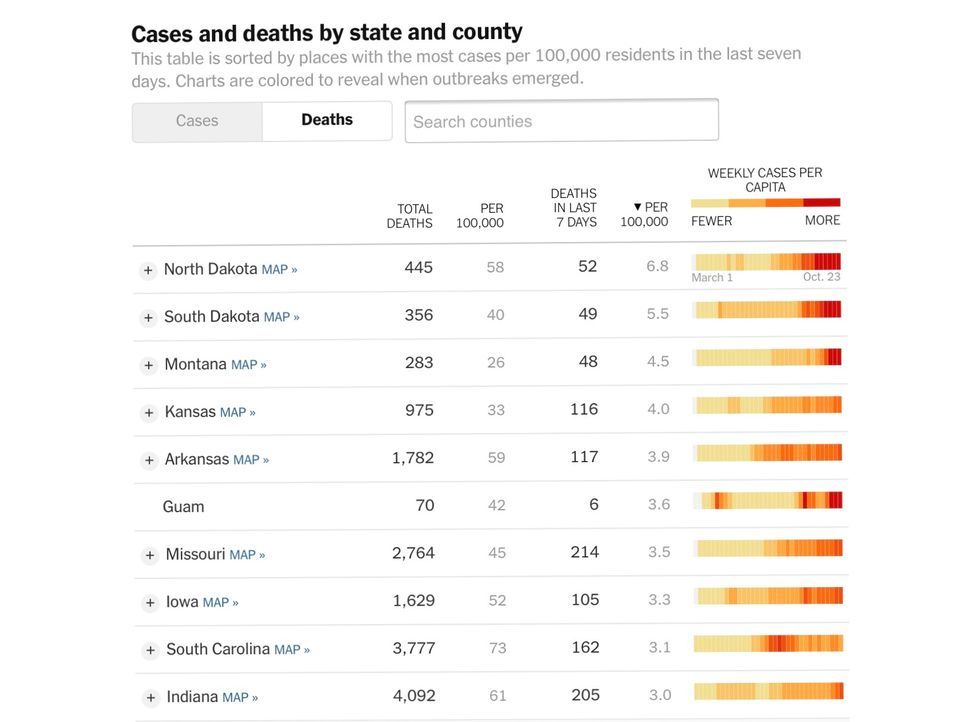 The coronavirus has left no state unscathed. But its impact has been wildly uneven.
Officials in California, Florida and Texas, the states with the most known infections, have identified a combined 2.4 million cases. In a few less populous states, including Vermont and Maine, there are fewer than 10,000 patients. And in some remote counties, total cases number in the single digits.
The nation's most populous places have all suffered tremendously. In Cook County, Ill., which includes Chicago, more than 5,300 people have died. In Los Angeles County, Calif., at least 286,000 people have had the virus, more than in most states. And in New York City, about one of every 353 residents has died.
But unlike in the early days of the pandemic, it is not so simple to say that big cities have been hit hardest. For much of the fall, small and mid-sized cities in the Upper Midwest and West have added cases at the highest rates. And on a per capita basis, many places with the most cases have been smaller metropolitan areas in the Southwest. In Yuma County, Ariz., along the country's border with Mexico, about one of every 16 residents is known to have had the virus. In McKinley County, N.M., which includes part of the hard-hit Navajo Nation, one of every 274 residents has died from Covid-19.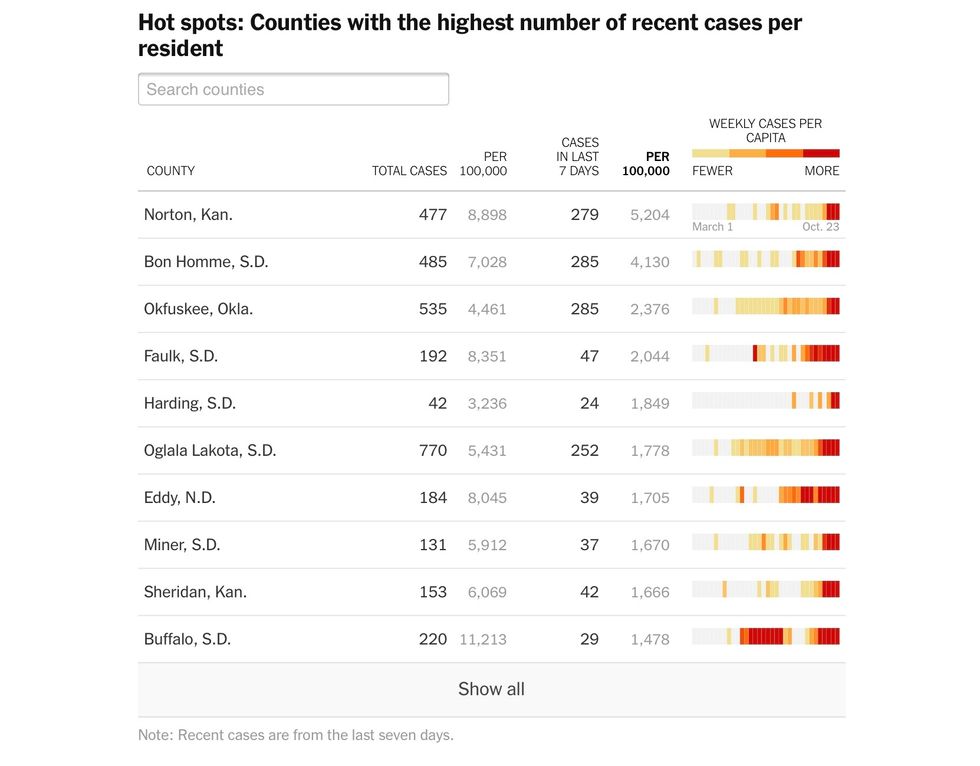 Because outbreaks in group settings where large numbers of people are in close quarters have been a major driver of the pandemic, The Times has paid special attention to cases in nursing homes, food processing plants, correctional facilities and colleges.
Information on these cases comes directly from official releases by governments, companies and institutions. The tables below show cases that have been identified since the beginning of the pandemic, and with the exception of the table for colleges and universities, only show groups of cases where 50 or more are related to a specific site.
Cases at colleges and universities
Some universities have decided to hold most or all classes online, but many others have reopened their campuses, often with extensive procedures and rules governing behavior and testing. In August and September, as the fall term began, college towns saw some of the highest per capita case growth in the country.
More than 178,000 cases among students and employees at more than 1,400 institutions have been reported over the course of the pandemic, according to a Times database. At least 70 deaths have been reported, many of them in the spring, and most of them among employees, not students. But already this fall, a football player at California University of Pennsylvania and a sophomore at Appalachian State have died after contracting the virus.
Below are the 10 states with the most cases reported on campuses.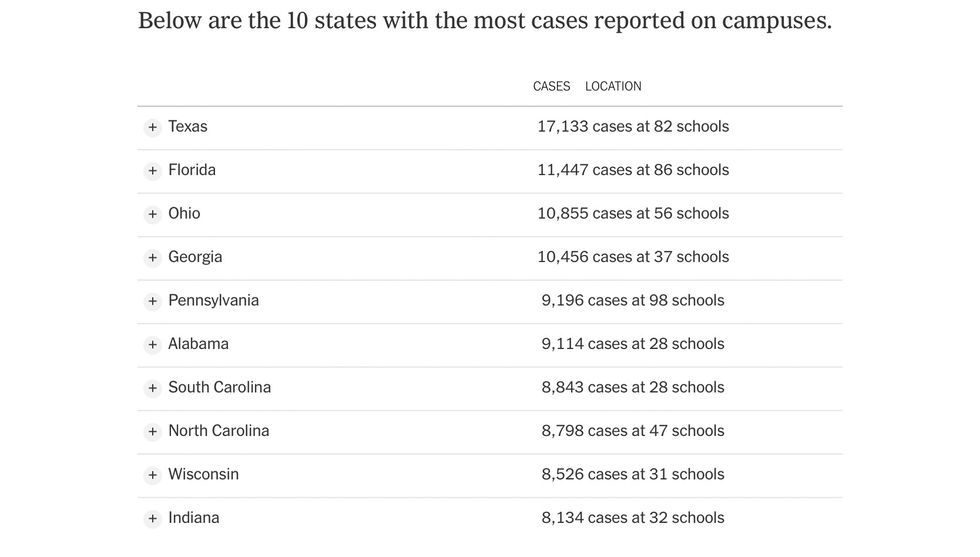 Cases in jails and prisons
In American jails and prisons, more than 242,000 people have been infected and at least 1,400 inmates and correctional officers have died. During interviews with dozens of inmates across the country, many said they were frightened and frustrated by what prison officials have acknowledged has been an uneven response to the virus.
"They are taking a gamble with our lives," said Jonathan Brooks, 33, an inmate in North Carolina. "I don't want that to be the last memory that my daughter or my wife remember me from — being in prison, dying because of a sickness, something that could be avoided."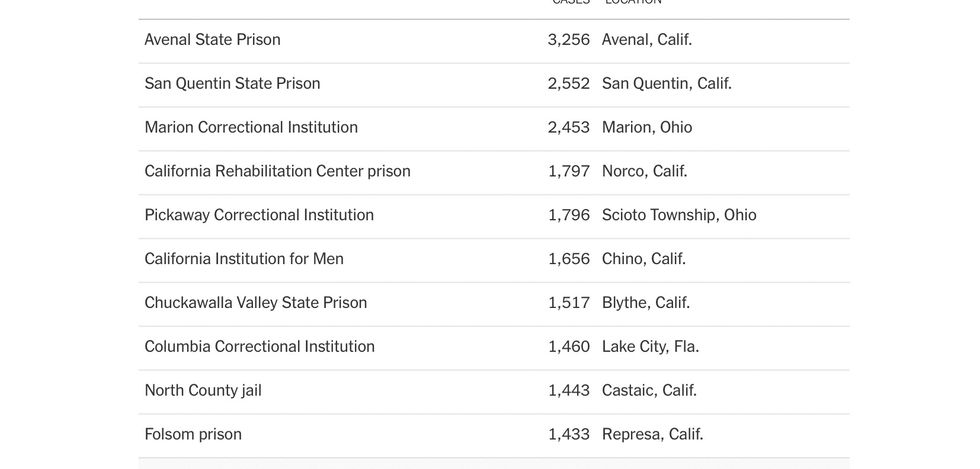 Cases at nursing homes and long-term care facilities
Coronavirus cases have been reported in more than 21,000 nursing homes and other long-term care facilities, according to data collected by The New York Times from states, counties, the federal government and facilities themselves. More than 540,000 residents and employees of those homes have been infected, and more than 84,000 have died. That means more than 35 percent of deaths from the virus in the United States have been tied to nursing homes and other long-term care facilities.
"This disease creates the potential for a perfect storm in a long-term care facility — large groups of vulnerable people living together and a highly transmissible virus that may not cause symptoms in those who care for them," said Dr. Daniel Rusyniak, the chief medical officer for Indiana's state social services agency.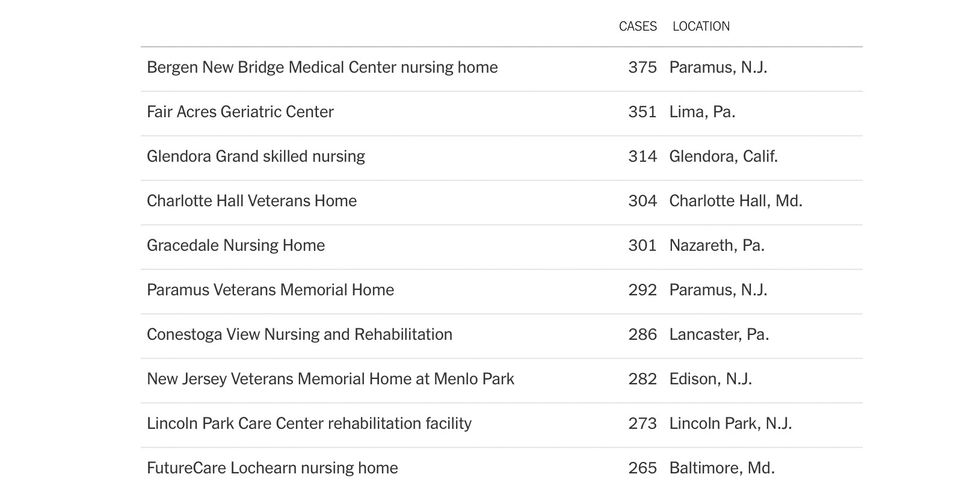 Cases at food production facilities
Early in the pandemic, cases emerged by the hundreds in food processing facilities. The outbreaks disrupted the country's meat supply and led some of the hardest-hit plants to temporarily close.
In July, the Centers for Disease Control and Prevention reported more than 16,000 infections and 86 deaths tied to meat and poultry processing. But those numbers are almost certainly an undercount. Only 28 states provided data to the C.D.C., and many states and food processing companies have refused to provide case totals. Other large outbreaks have emerged on farms, in fruit or vegetable processing facilities and at plants where pet food is made.
Other significant clusters
The coronavirus has followed Americans wherever they gathered, spreading early this year, on cruise ships and at business conferences. As the country has reopened, new clusters have emerged at churches, restaurants and workplaces. Read more hereabout some of the country's less-noticed coronavirus clusters. Because many states do not provide information about where the virus spread, no listing of clusters and local outbreaks will be complete.

About the data
In data for the United States, The Times uses reports from state, county and regional health departments. Most governments update their data on a daily basis, and report cases and deaths based on an individual's residence.
Not all governments report these the same way. The Times uses the total of confirmed and probable counts when they are available individually or combined. To see whether a state includes probable cases and deaths, visit the individual state pages listed at the bottom of this page.
The Times has identified the following reporting anomalies or methodology changes in the data:
June 25: New Jersey began reporting probable deaths.
June 30: New York City released deaths from earlier periods but did not specify when they were from.
July 27: Texas began reporting deaths based on death certificates, causing a one-day increase.
Sept. 21: Officials in Texas reported thousands of undated, backlogged cases, causing a spike in the state and national data.
To see a detailed list of all reporting anomalies, visit the individual state pages listed at the bottom of this page.
The U.S. data includes cases and deaths that have been identified by public health officials as confirmed coronavirus patients, and also includes probable coronavirus cases and deaths when governments report them. Confirmed cases and deaths, which are widely considered to be an undercount of the true toll, are counts of individuals whose coronavirus infections were confirmed by a molecular laboratory test. Probable cases and deaths count individuals who meet criteria for other types of testing, symptoms and exposure, as developed by national and local governments.
Governments often revise data or report a single-day large increase in cases or deaths from unspecified days without historical revisions, which can cause an irregular pattern in the daily reported figures. The Times is excluding these anomalies from seven-day averages when possible.
Read more about the methodology and download county-level data for coronavirus cases in the United States from The New York Times on GitHub.
Tracking the Coronavirus
United States
Deaths Above Normal

The true toll of the pandemic in the U.S.
This data filled article ran in the New York Times earlier in the day today. It was soon replaced by this narrative post.

More than 85,000 new cases of the virus were reported across the country on Friday, shattering an earlier single-day record and stirring new fears about the months ahead.

The United States is in the midst of one of the most severe surges of the coronavirus to date, with more new cases reported across the country on Friday than on any other single day since the pandemic began.
Since the start of October, the rise in cases has been steady and inexorable, with no plateau in sight. By the end of the day, more than 85,000 cases had been reported across the country, breaking the single-day record set on July 16 by about 10,000 cases.
By that measure, Friday was the worst day of the pandemic, and health experts warned of a further surge as cold weather sets in. The number of people hospitalized with Covid-19 has already risen 40 percentin the past month. Deaths have remained relatively flat but are often a lagging indicator.
The latest outbreaks, tracked by The New York Times using reports from state and local health departments, are scattered across the country, in states like Illinois and Rhode Island, which are experiencing a second upswing, and in places like Montana and South Dakota, which are still enduring a first flood of cases.
Fifteen states have added more new confirmed coronavirus cases in the past week than in any other seven-day stretch. As of Friday, six states had set or tied weekly records for new deaths. Wisconsin had its deadliest day of the pandemic on Wednesday, with 47 total deaths announced.
The geography of the pandemic has constantly changed since the coronavirus reached the United States last winter. Outbreaks struck the Northeast in the spring, the Sun Belt in the summer and now the states of the Midwest and the West, which hold the 10 counties in the country with the most recent cases per capita.
"It's been rise after rise after rise, week after week," said Dr. Tom Inglesby, director of the Center for Health Security at the Johns Hopkins Bloomberg School of Public Health. "Nothing has been added to the mix that's going to make things slow down."
For many, the soaring numbers brought back ragged memories of what it was like in mid-July, when the virus was raging through the Sun Belt.
Raymond Embry saw the worst of it up close. His small Arizona medical clinic had been giving about five coronavirus tests a day. That grew to dozens a day, and then came the surge on July 16, with 4,192 people lined up for tests to find out if they had the coronavirus.
That day, arguably the worst of the pandemic in the United States to that point, set records nationwide. By the end of that 24-hour period, a staggering 75,687 new cases had been reported around the country, and Arizona led the nation in deaths per capita.
"It was just overwhelming trying to find gloves and masks, when especially back then people are telling you P.P.E. is widely available and that's just a lie," Mr. Embry said, referring to shortages of the personal protective equipment that health workers need to safely do testing.On the Texas-Mexico border, mid-July was a nightmare. Johnny Salinas Jr., the owner of Salinas Funeral Home, was handling six to seven funerals a day, a number he would usually see over a week before the pandemic. Some of those included family members and relatives of employees.
Local health officials had said they had managed to control the spread of the virus through the spring, until Texas lifted social distancing restrictions right before Memorial Day. Then the numbers skyrocketed. In July, Hidalgo County, where Mr. Salinas lives, had one of the highest per capita death rates in the state. It caught Mr. Salinas off guard.
"We didn't know what to expect," Mr. Salinas said. "We didn't know much about the virus. It was killing a lot of people then."
These days, he is stockpiling masks, gloves and hand sanitizer, sealing off every other pew in the chapels to maintain social distancing and installing a plexiglass barrier to shield mourners from the deceased.
"Right now we are back to normal numbers," Mr. Salinas said. "But I am nervous. People are relaxing a little bit too much. I believe a second wave will come and it will be scarier than the first one."
The virus had already become deeply politicized by the summer, and, in this respect, the headlines that were made on July 16 were not surprising.
That day, President Trump hosted an event on the South Lawn of the White House with pickup trucks as props, highlighting his efforts to roll back government regulations.As Georgia was experiencing what was then its worst week of the pandemic, Gov. Brian Kemp, a Republican, sued the mayor of Atlanta, a Democrat, over the city's mask mandate. Republican Party officials told delegates in a letter sent out that day that they were scaling back plans for the convention in Florida, which at the time was reporting more than 10,000 new cases a day. (The convention would eventually pull out of Florida altogether.)

In July 16 news conferences, some Republican governors were insistently optimistic in places that were enduring their worst stretch of the pandemic, while some Democratic governors spoke with profound concern about the state of the outbreak, not knowing that the numbers in their states would get far worse.
"What we are seeing across the country is alarming," said Gov. Andy Beshear of Kentucky, a Democrat, at a news conference on July 16, a day when the state reported 469 new cases. On Tuesday, Kentucky reported 1,288 new confirmed infections, nearly three times as many as the day of the governor's speech.
But in some other parts of the country that day, the virus felt far away.
On July 16, towns in North Dakota were holding their annual summer festivals. People cheered the rodeos and danced together, maskless, in the streets.
Erin Ourada, the administrator for Custer Health, a public health department just west of Bismarck, watched it all with foreboding.
"I don't think the reality had hit the majority of North Dakota," Ms. Ourada said. It was hard to even think back to that summer period, she said this week, when "everyone was still just kind of living their lives and getting ready for the next street dance they were going to hit up."As the nation reached a record on Friday, experts expressed worry about what the coming weeks might bring.

Testing has become more available in recent months, and administering more tests can often uncover cases that might otherwise go unnoticed. But experts said that the uptick in cases now could not simply be explained as a result of more testing. Even as cases of the virus are rising, deaths have remained relatively flat at about 775 a day.
Yet in North Dakota this week, hospitals are striving to find available beds. The state now has the worst rate of infection in the country, relative to its population, and it is ending formal contact tracing except in health care settings, schools and colleges. Members of the National Guard are calling people to tell them they have tested positive.
This is what she saw coming when the case numbers began steadily growing at the end of July, said Ms. Ourada, "and we've been living in that ever since."

New York Times, October 23, 2020

###
October 24, 2020
Voices4America Post Script. I want a President who has a plan. I want a President who cares. I want a President who doesn't say we are "rounding the bend." I want a #BlueSenate so Joe can do what needs to be done.

#Vote #GetOuttheVote #DoAllYouCan
#BidenHarris2020