---
Twitter added a warning label early Friday to a tweet from President Trump implying that protesters in Minneapolis could be shot, in a move likely to escalate tensions between Mr. Trump and his favorite social media megaphone.
The company said Mr. Trump's post violated its rules against glorifying violence, and it prevented users from viewing the tweet without reading a brief notice, the first time it has restricted one of the president's messages in this way. Twitter also blocked users from liking or replying to Mr. Trump's post, though they were still allowed to retweet it if they added a comment of their own.
But Twitter did not take the tweet down, saying it was in the public's interest that the message remain accessible.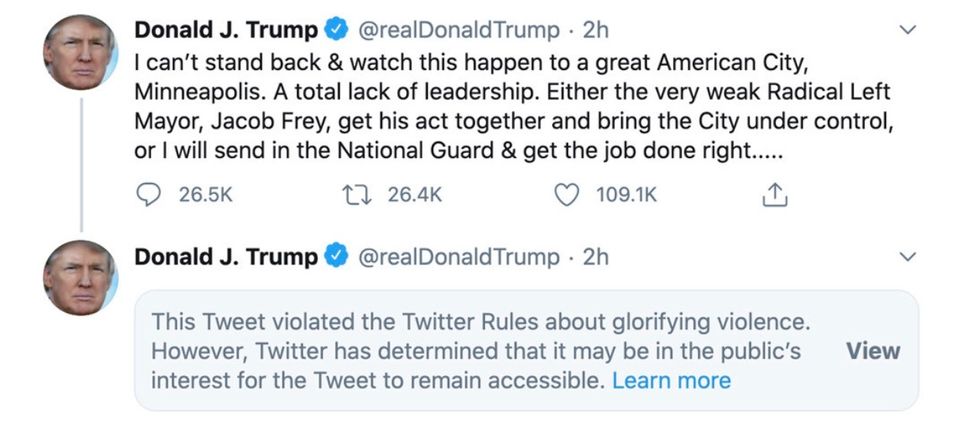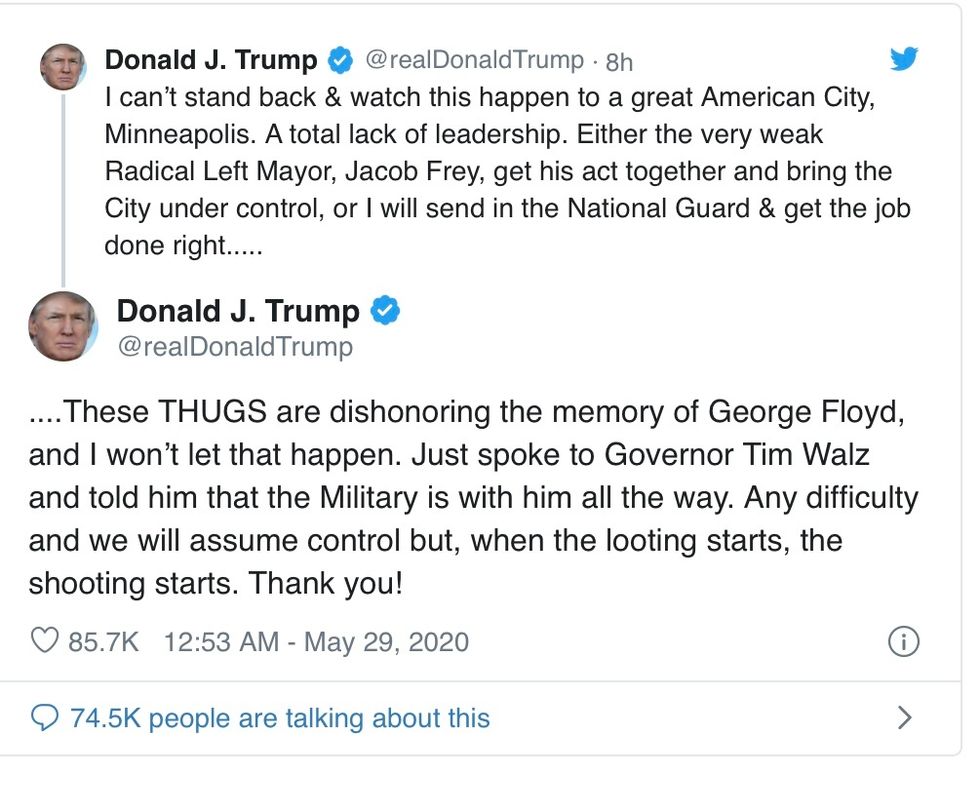 In the tweet, posted early Friday morning, Mr. Trump called the protesters "thugs" and said he had told Minnesota's governor that the military was "with him all the way."
"Any difficulty and we will assume control but, when the looting starts, the shooting starts," the president wrote. "Thank you!"
Twitter said it had decided to restrict the tweet "based on the historical context of the last line, its connection to violence, and the risk it could inspire similar actions today."
The company's decision comes a day after Mr. Trump signed an executive order that seeks to limit the legal protections shielding social media companies from liability for the content posted on their platforms. The president had fulminated over Twitter's decision earlier this week to add fact-checking labels for the first time to two of his tweets. In response, he accused Twitter of stifling speech and said that he would end the interference.
Hours after the warning label was added to Mr. Trump's Friday tweet, he posted another that accused Twitter of targeting "Republicans, Conservatives & the President of the United States." He also urged Congress to revoke "Section 230," part of a 1996 law that laid out rules for online media, though if lawmakers did so, it could push social media companies to police content even more closely.
Mr. Trump's tweet about the Minneapolis protests echoed a comment by Walter E. Headley, the Miami police chief who attracted national attention in the late 1960s for using shotguns, dogs and a heavy-handed "stop-and-frisk" policy to fight crime in the city's black neighborhoods.
Mr. Headley announced a "get tough" campaign in a December 1967 news conference that prompted anger among black leaders, The New York Times reported at the time.
"We haven't had any serious problems with civil uprising and looting," he said, "because I've let the word filter down that when the looting starts, the shooting starts."
"We don't mind being accused of police brutality," Mr. Headley also said at that news conference. "They haven't seen anything yet."
Twitter has for years faced criticism over Mr. Trump's posts on the platform, which he has used to issue threats, bully critics and spread falsehoods. The company has said repeatedly that the president did not violate its terms of service, however much he appeared to skirt the line.
The company has also said that blocking world leadersfrom the service or removing their tweets would hinder public debate around their words and actions. Twitter did announce last year, however, that it would in certain cases place warning labels on posts from political figures that broke its rules, the feature it used with Mr. Trump's tweet about Minneapolis.
Twitter's attitude appeared to shift this week after Mr. Trump posted about Lori Klausutis, a woman who died in 2001 from complications of an undiagnosed heart condition while working for Joe Scarborough, a Florida congressman at the time. The president has long feuded with Mr. Scarborough, now a host for MSNBC, and in recent days, Mr. Trump had posted conspiracy theories about Ms. Klausutis's death, suggesting that Mr. Scarborough was involved.
Her widower wrote a letter to Twitter's chief executive, Jack Dorsey, asking to have the false tweets removed. "I'm asking you to intervene in this instance because the president of the United States has taken something that does not belong to him — the memory of my dead wife — and perverted it for perceived political gain," Timothy Klausutis wrote.
Twitter did not honor the request. Instead, it placed links and warning labels on other tweets Tuesday in which Mr. Trump said mail-in ballots would cause the November presidential election to be "rigged." That led him to sign the executive order, which he framed as an effort to fight social platforms' biases.
Facebook appears to be trying to forestall such criticism. Mark Zuckerberg, the company's chief executive, told Fox News this week that he was uncomfortable with Facebook's being "the arbiter of truth of everything that people say online."
Mr. Trump's message implying that the Minneapolis protesters could be shot was also posted on his official Facebook page, where it appears without any warning labels.
Frederike Kaltheuner, a tech policy fellow at the Mozilla Foundation, said that Twitter's confrontation with Mr. Trump raised questions about how the platform would treat other world leaders. In March, the company deleted posts by the presidents of Brazil and Venezuela that contained unproven information about Covid-19 treatments.
"I doubt that Twitter has the resources to consistently apply rules to all heads of states that use their platform in all sorts of languages," Ms. Kaltheuner said. "From all we know about the many inconsistent ways in which other policies are being enforced, my guess is that places that rarely make U.S. news will likely be overlooked."
In Mr. Trump's tweets about Minneapolis on Friday, he also criticized Mayor Jacob Frey's response.
"I can't stand back & watch this happen to a great American City," the president wrote. Mr. Trump said Mr. Frey, a Democrat, must "get his act together and bring the City under control, or I will send in the National Guard & get the job done right."
It was unclear if the president intended to send additional troops after Gov. Tim Walz activated the Minnesota National Guard to help restore order in the Twin Cities. Protests have raged there over the death on Monday of George Floyd, a black man who had been pinned down by a white police officer who pressed his knee on Mr. Floyd's neck.
Mr. Trump had previously described the video of Mr. Floyd's death as a "very shocking sight" and "a very very sad event," saying he had asked the F.B.I.'s investigation to be expedited.
Mr. Frey did not know about Mr. Trump's tweets until a reporter read them aloud during a news conference early on Friday. The mayor shook his head and then gave a fiery retort, slamming a podium for emphasis.
"Weakness is refusing to take responsibility for your own actions," he said. "Weakness is pointing your finger at somebody else during a time of crisis."
"Donald Trump knows nothing about the strength of Minneapolis," he continued. "We are strong as hell. Is this a difficult time period? Yes. But you better be damn sure that we're going to get through this."
By Raymond Zhong and Russell Goldman, New York Times, May 29, 2020Updated 8:45 a.m. ET
May 29, 2020

###
May 29, 2020
Voices4America Post Script. #DictatorDonald was called out by Twitter when called for police violence in MN and tweeted the slogan of a racist Police Chief, " when the looting starts, the shooting starts." This man occupies the spot where a President should be.

He also retweeted, " The only good Democrat is a Dead Democrat."
https://www.washingtonpost.com/politics/2020/05/28...
Share this! Trump calls for violence against our fellow Americans!
#Unfit4Potus
—-
Trump has an ongoing history of calling for police violence. Here is report of his history on this, as published in New York magazine.
JULY 28, 2017
Trump Calls for More Police Brutality in Front of a Crowd of Laughing, Cheering Cops
President Trump on Friday encouraged police officers to be more violent when making arrests, telling them to be "rough" on suspects when tossing them into "paddy wagons."
"Please do not be too nice," he said to a crowd of police officers, who interrupted his remarks to applaud.
The comment came during a speech about gang violence that was peppered with the grotesque imagery Trump favors when he talks about immigrants.
"They kidnap. They extort. They rape, and they rob," he said. "They stomp on their victims. They beat them with clubs, they slash them with machetes, and they stab them with knives. They have transformed peaceful parks and beautiful, quiet neighborhoods into bloodstained killing fields. They're animals."
But it was the comments endorsing police brutality that stood out most during the speech in Suffolk County, where the former police chief is serving a 46-month jail sentence after brutally beating a man who stole a duffel bag full of porn and sex toys from his car.
While Trump hasn't explicitly endorsed this roughing up of suspects in the past, at least not as president, his comments Friday are pretty well in line with how he thinks police should behave. This is the same guy who still believes the Central Park Five are guilty, despite their exoneration. In the aftermath of that infamous attack, he took out a full-page ad in the Times, arguing that criminals should be "forced to suffer."
"Let our politicians give back out police department's power to keep us safe," he wrote. "Unshackle them from the constant chant of 'police brutality,' which every petty criminal hurls immediately at an officer who has just risked his or her life to save another's."
The idea that police could be more effective by being more brutal has stuck with Trump. During last year's campaign, he told Bill O'Reilly that an unnamed Chicago police officer convinced him the city's crime problem could be solved in one week. How? By using "tough police tactics."


This happened too. Trump used the official White House account to further distribute his vile violent tweet. This was tagged by Twitter too.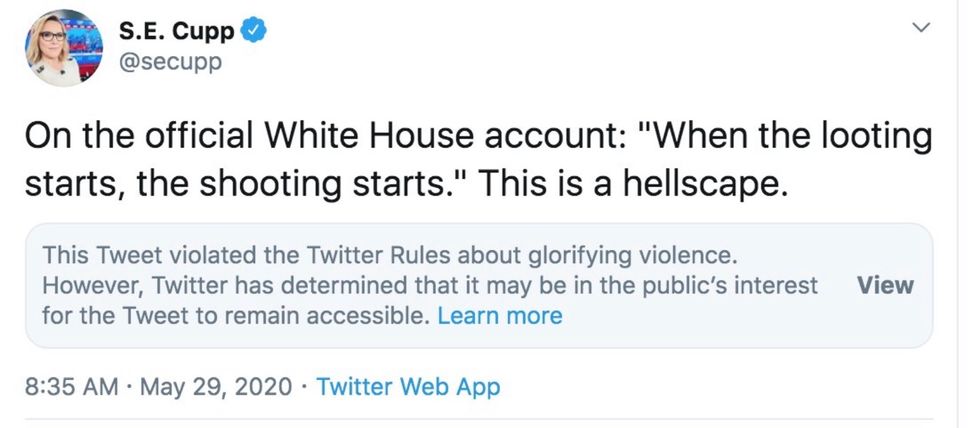 ###