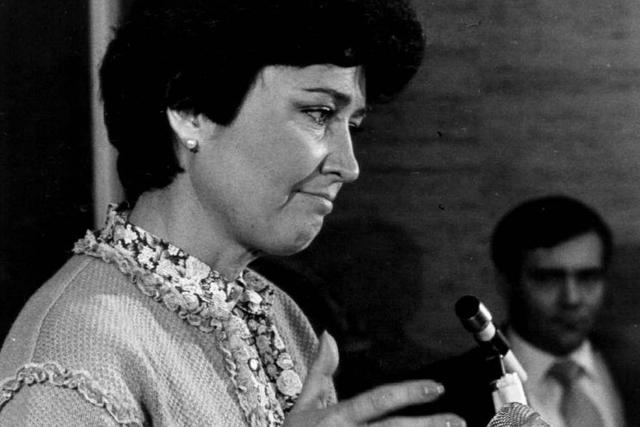 Anne Gorsuch Burford in 1984. (Photo: Ed Maker/The Denver Post via Getty Images)
Neil Gorsuch, nominated by President Trump to the Supreme Court, bears a name many Republicans would just as soon forget: that of his late mother, Anne Gorsuch Burford, a controversial administrator of the Environmental Protection Administration under President Ronald Reagan, and the first Cabinet-level official to be cited for contempt of Congress.
Anne Gorsuch, who died in 2004, was a little-known Colorado state legislator when she was tapped by Reagan in 1981 to head the EPA. Together with her fellow Westerner, James Watt — Reagan's pick for secretary of the interior — she personified the "Sagebrush Rebellion" of the 1970s and 1980s, an attempt by ranchers, farmers, miners and oil interests to overturn federal land-use and environmental regulations.
She did her part, cutting her agency's budget by 22 percent, curtailing research and enforcement activities and scaling back regulations on air and water pollution. (Carbon dioxide and climate change, the most contentious issues facing the EPA today, weren't yet on anyone's agenda.) She even attempted to relax limits, imposed in the 1970s, on lead additives to gasoline, regulations that are credited now with preventing the poisoning of large numbers of children. A New York Times editorial in 1983 said she had taken one of the most effective government agencies and left it "reeking of cynicism, mismanagement and decay."
She lasted less than two years in the job, brought down by a series of congressional investigations — the House was controlled by Democrats then — into her management of the Superfund program to clean up toxic-waste sites. She refused to comply with subpoenas on the grounds of executive privilege, and evidence suggested that key documents had been shredded. In the ensuing showdown, she was cited for contempt of Congress. Months later she resigned, thrown under the bus, she contended, by an administration that lacked the spine to defend her.
In her 1986 book, "Are You Tough Enough?" Ms. Burford called the episode her "expensive mid-life education."
Originally published by TopBuzz on Yahoo, February 1, 2017
###
February 1, 2017