The first family's all in on Goya.
President Trump used the Resolute Desk as a veritable platter for Goya products on Wednesday after his daughter stoked outrage by promoting the food brand on her official government Twitter account amid calls for a boycott over its CEO's support of the president.
In a photo posted to his Instagram account, the president was seen seated behind the historic desk in the Oval Office with a bag of Goya red beans, a jar of Goya adobo powder, a can of Goya white beans, a can of Goya coconut milk and a packet of Goya chocolate wafers in front of him.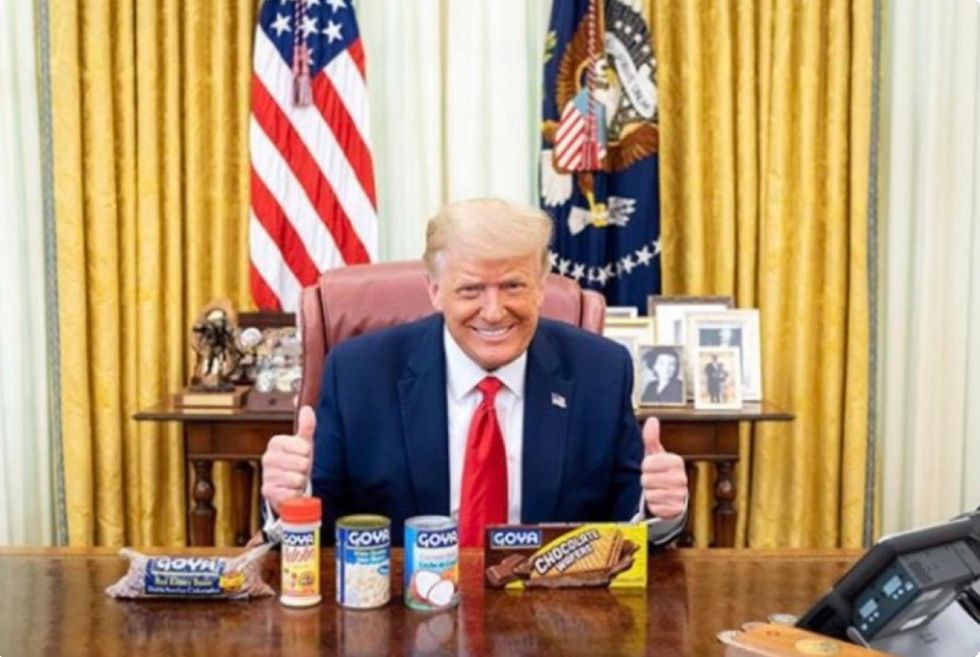 "Goya is doing GREAT. The Radical Left smear machine backfired, people are buying like crazy!" Trump wrote in an accompanying tweet.
The presidential plug came hours after Ivanka Trump, his oldest daughter and self-styled White House adviser, posted a bizarre photo of herself with a can of Goya black beans.

If it's Goya, it has to be good. Si es Goya, tiene que ser bueno. https://t.co/9tjVrfmo9z

— Ivanka Trump (@Ivanka Trump) 1594778706.0
"If it's Goya, it has to be good. Si es Goya, tiene que ser bueno," the first daughter captioned the photo, quoting the brand's slogan.
The first family's Goya trumpeting comes as conservatives are embracing the Hispanic food brand after its CEO, Robert Unanue, came under a hail of criticism for saying at a White House event last week that the U.S. is "truly blessed" to have "a leader like President Trump."

The unusual ad-like endorsements from the Trumps prompted a wave of backlash and ridicule, including from Rep. Alexandria Ocasio-Cortez (D-N.Y.), who tweeted in Spanish: "If it's Trump, it has to be corrupt."
But the Goya promotions also drew more serious accusations that Ivanka Trump may have violated the law.
While the president can essentially do whatever he pleases as it relates to product placement and brand promotion, federal ethics laws prohibit government officials like Ivanka trump from using their "positions to suggest that the agency or any part of the executive branch endorses an organization, product, service, or person."
Walter Shaub, a former director of the U.S. Office of Government Ethics, said Ivanka Trump's photo poses a clear-cut case.
"Under these circumstances, if you're a top presidential adviser in the president's inner circle, there's a strong appearance that you're endorsing a product in your official capacity. It would be disingenuous for anyone to argue that you weren't making an official endorsement," Shaub tweeted.
"For this reason, Ms. Trump's Goya tweet is clearly a violation," he continued. "Ms. Trump has had ethics training. She knows better. But she did it anyway because no one in this administration cares about government ethics."
A spokeswoman for Ivanka Trump disputed Shaub's assessment and blamed journalists for supposedly distorting the Goya gushing.
"Only the media and the cancel culture movement would criticize Ivanka for showing her personal support for a company that has been unfairly mocked, boycotted and ridiculed for supporting this administration — one that has consistently fought for and delivered for the Hispanic community," the spokeswoman, Carolina Hurley, said in a statement.Trump critics scoffed at the suggestion that the administration has "fought for" the Hispanic community — and used photo manipulation techniques to drive home their point.
"If it's Goya, it has to be bad," Juan Escalante, a spokesman for progressive immigration advocacy group America's Voice, tweeted along with a manipulated picture, in which Ivanka Trump holds a Goya can of "Children in Cages," a reference to the administration's much-maligned family separation policy at the U.S. southern border.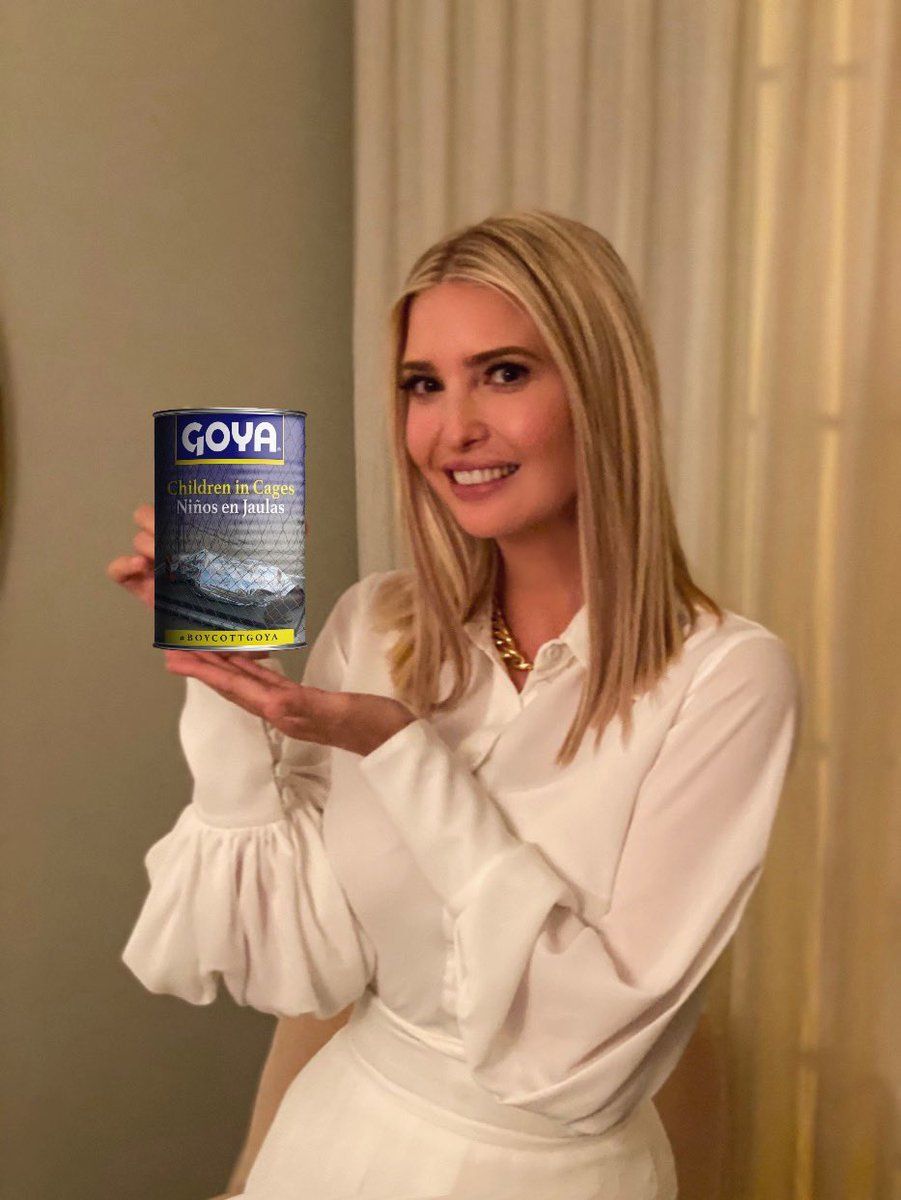 Twittertwitter.com
Meanwhile, Mary Trump, the president's estranged niece who has written a scathing tell-all book about him, needled her famous uncle and cousin by tweeting out a photo of another brand of "organic" black beans.
https://t.co/Gil5hS7rFI

— Mary L Trump (@Mary L Trump) 1594840714.0
###
Dave Goldiner, Daily News, July 15, 2020
###
Voices4America Post Script. #TrumpSnakeOilSalesman trampled on the dignity of the White House, making an ad for a donor. Ivanka, with Goya endorsement,flat out committed a crime. Read all about it. Share this if Trump corruption makes you too sick to eat Goya products. #BoycottGoya #WorstPOTUSEver for Hispanic and other immigrant Americans
Here is AOC's tweet.
Si es Trump, tiene que ser corrupto 💸 https://t.co/Ti3oxFO6oY

— Alexandria Ocasio-Cortez (@Alexandria Ocasio-Cortez) 1594781325.0