Sept 11th, 2001. Donald Trump and Hillary Clinton took two different paths that day. Their experiences shaped them and their campaigns.
Hours after terrorists piloted hijacked jets into the World Trade Center's twin towers, Donald Trump agreed to do a live phone interview on local television in New York. Alan Marcus, who was working that day for WWOR as an on-air analyst, asked the real estate mogul to step into a role that seemed fanciful at the time.
"In the year 2000, Donald," said Marcus, a former Trump publicist, consultant and friend, "you considered running for president. If you had done that, and if you had been successful, what do you think you'd be doing right now?"
"Well," Trump answered, "I'd be taking a very, very tough line. I mean, you know, most people feel they know at least approximately the group of people that did this and where they are. But boy would you have to take a hard line on this. This just can't be tolerated."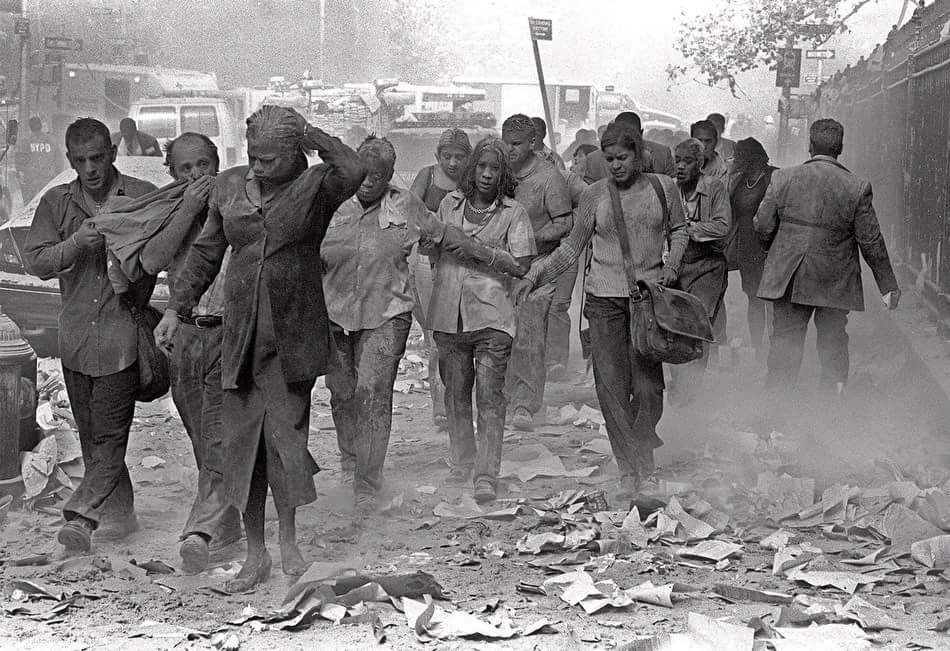 Compared to the flame-throwing temperament he has demonstrated throughout his current presidential campaign, the most striking revelation of the video from September 11, 2001—plucked exclusively at POLITICO's request from the WWOR archives—is Trump's composure and tone. A decade and a half before pledging to "bomb the shit out of" ISIS and proposing a deportation force and a Muslim ban, Trump didn't talk about retribution or leap to conclusions about who was responsible. In fact, he avoided identifying potential enemies—any terrorist organization or Muslims in general. He spoke cogently and even poignantly about New York's changed skyline and the need to never forget.
Only parenthetically in the middle of the 10-minute conversation did Trump turn to a favorite topic—size. "40 Wall Street," he said, referring to his 71-story building blocks away from the now-collapsed twin towers, "actually was the second-tallest building in downtown Manhattan, and it was actually, before the World Trade Center, was the tallest—and then, when they built the World Trade Center, it became known as the second-tallest. And now it's the tallest."
Marcus chalked up the remark to "Donald being Donald. … He is the brand manager of Trump, and he is going to tout that brand, and he does it reflexively," he said. "Even on that day."
Trump calls into WWOR-TV on 9/11
Donald Trump says his building is tallest in lower Manhattan after fall of twin towers of the World Trade Center on Sept. 11, 2001. From Fox 5 News NY: http://bit.ly/2cspghV
That day, 15 years ago this Sunday, thrust many people into new roles. While Trump was trying on the mantle of statesman, Hillary Clinton's visibility was given a sudden boost. Before the end of the day, Clinton, then the junior senator from New York with less than a year on the job and scrupulously deferential to her senior colleagues, would find herself on CNN, being interviewed in primetime by the network's congressional correspondent, Jonathan Karl.
"We have to make it very clear," she continued, "that we cannot permit any state, any government, any institution or individual to pursue terrorism aims that are directed at the United States or any country with impunity. So I'm hoping that this is the kind of dramatic, terrible catastrophe that unites the entire civilized world."
Clinton was early in her first stint as a politician in her own right, after more than a decade as the wife of a governor and eight years as the wife of the president. One of the most famous women in the world wanted to be seen, she said, as "a workhorse, not a show horse."
Trump was more than a decade removed from his rise in the late '80s and his fall of the early '90s, well past his first spate of corporate bankruptcies and his brush with personal financial disaster—but he was still two-plus years from the opening episode of The Apprentice, the reality TV show that elevated his fame to unprecedented heights. At this juncture, though, Trump was a businessman in New York, a debt-saddled owner of casinos in Atlantic City and planning a new building in Chicago. He had divorced his second wife. He was dating the woman who would become his third, the former Melania Knauss. He was a registered Democrat. He had just toyed with running for president, again, this time on the Reform Party ticket, generating headlines and eye rolls. He was known mostly for being known. "He was a nonentity," Trump biographer Tim O'Brien said. "Someone who was trying to regain his status as a player," longtime New York gossip columnist George Rush added.
In the ensuing years, he would use his TV-charged celebrity to barge more seriously onto the national political scene, currying favor with far-right portions of the population by pushing conspiracy theories about President Obama's birthplace. And Clinton would work as a senator to secure aid for victims and workers of the 9/11 attacks and then go on to become a key cabinet member to the same president Trump needled, furthering as Secretary of State an international prominence as large as the made-for-TV boss from The Apprentice.
But both of them started that day like everybody else—as witnesses to the unfolding horror.
Trump was in New York, on Fifth Avenue in Trump Tower, where he works and lives, and he watched first on TV and then out his windows, staring four miles south at the black smoke in the blue sky.
"We saw it," said George Ross, a longtime attorney for Trump and an executive vice president of the Trump Organization. "We saw it out the window. I was sitting in his office." Ross described the mood in the office as "unbelief."
"We were listening to the news, like everybody else," he said.
Clinton, meanwhile, was down in Washington, at her home on Whitehaven. She had CNN on as she talked on the phone with her legislative director when the first plane hit. Then the second. By the time she got to the Capitol, the Pentagon had been hit by a third plane. Capitol police were evacuating Senate office buildings. She dialed her daughter, who was in New York. She dialed her husband, who was in Australia. She and other senators received a briefing at the Capitol police station early in the evening. And after "a day indelibly etched in my mind," and as nightfall approached, Clinton joined congressional colleagues on the steps of the Capitol, standing next to some of her fiercest political opponents, singing "God Bless America" with tears in her eyes.
But maybe the most surprising difference between Clinton and Trump on September 11 and in the nerve-racking days and weeks that followed: She, not he, sounded like the tougher talker.
In the immediate aftermath of the worst terrorist attacks in the history of the country, Trump talked publicly mostly about the buildings, and his buildings, and market ramifications and the character and resiliency of the citizens of the city where he's lived almost his entire life. But reporters then had only so much reason to ask him about issues of national security or foreign policy.
In Clinton's voice, though, in remarks in news conferences and TV interviews and on the Senate floor, there was an audible mixture of patriotism and hopes for bipartisanship—and vengeance, too. A full week before President Bush painted a stark divide of a new world—"Either you are with us, or you are with the terrorists," he said in an address to a joint session of Congress on September 20—Clinton expressed the identical idea, and in equally bellicose terms, on CBS Evening News. "Every nation has to be either with us, or against us," she told Dan Rather. "Those who harbor terrorists, or who finance them, are going to pay a price."
***
The night of September 10, 2001, Trump was at a Marc Jacobs fashion show in Manhattan's Meatpacking District, cheering from the front row he shared with Hilary Swank, Sarah Jessica Parker and Monica Lewinsky.
Former New Yorker editor Tina Brown was there, too, and spotted his "bobbing-custard comb-over," she would write later in the Washington Post.
"How are you?" she asked.
"Bigger than ever," he said.
The next morning, Trump stayed in his apartment in Trump Tower longer than normal, he would tell shock jock Howard Stern, because he wanted to watch a TV interview with Jack Welch, who had retired as the CEO of General Electric and had a new business book he was publicizing called Straight from the Gut. News programming broke in after the first plane hit.
"I saw the whole thing," Trump told Stern, saying he had windows from which he could see the World Trade Center. "I mean, specifically, I have two windows that are focused on the building." He made his way 40 floors down to his office.
He called Larry Silverstein, the real estate magnate who recently had purchased the World Trade Center lease—"a very sad call," Trump would tell Real Estate Weekly.
He talked briefly with a reporter from the New York Times. Randal C. Archibold had been assigned a story on building security in the city.
"It was hard getting people on the phones," Archibold said this week. "The telephones were screwy because of the attacks. I basically called him because I knew he had a reputation of being fairly accessible. I figured it was a good shot."
Archibold left a message with a secretary. Trump called back quickly.
Trump said he had heard many people who worked in offices at 40 Wall Street had scrambled over piles of debris to flee. He said he and other owners of buildings would have to reassess safety precautions—but pointed out the difficulty of guarding against an attack from the air.
"When they start dealing with airplanes," Trump told Archibold, "that's beyond anything you can do but bring in the Air Force to get them before they get you."
What Archibold remembers about the conversation, he said, wasn't so much what Trump said but how he said it.
"He wasn't bombastic in any way," Archibold said. "There was no anger or bile in his voice. I remember he was, I think, like everybody else, in shock and dismayed at what happened. I wouldn't say somber—but not like you see on the campaign trail today. I don't remember him being the kind of character you see now, kind of … very forceful, let's call it."
And Trump did the WWOR interview, similar in tenor.
"This country is different today," Trump said, "and it's going to be different than it ever was for many years to come."
He added, "I guess the big thing you really will have to do is never forget."
"He was terrific for most of the interview," Marcus said, but the tallest-building comment was par for the course for Trump—"ready, fire, aim," Marcus said, "never ready, aim, fire."
"I think it was an all-of-a-sudden epiphany for him, and he seemed to just blurt it out," Rolland Smith, one of the anchors of that day's coverage of the attacks, said this week.
"We're all New Yorkers. We all had interviewed him," said Brenda Blackmon, the other WWOR anchor who conducted the interview. "It was a shock, but not a surprise."
Including the calls and the interviews, Trump didn't do much out of the ordinary that day, said Ross, the attorney and executive vice president of the Trump Organization.
"It was just a day like any other day, except it was a horrible situation," he said. "We were in business, and this went down."
In Washington, Clinton's business that day was supposed to include a Senate hearing on early childhood education. Laura Bush, her successor in the East Wing of the White House, was scheduled to testify. Looking forward to discussion about a subject that was a lifelong interest of hers, Clinton opted to wear a cheerful yellow suit.
When she saw on CNN the second plane hit the south tower while on the phone with Ann O'Leary, her legislative director, "she knew it was terrorism," according to O'Leary. "She knew already, or suspected, which terrorist organization it was. She was very concerned about whether our country was ready, and raised these concerns on the call, and said, 'I need to come in immediately. I need to get off the phone. I need to get in my car and come to the Senate.'"
Capitol police started ordering people out of congressional office buildings. O'Leary led 15 or so junior staffers outside. Clinton's Secret Service Suburban pulled up.
"She kind of held her hands out," O'Leary said, "and we came to her …"
Clinton saw Gene Sperling, an economic adviser to her husband, and called to him to get into her vehicle. He watched her try to reach her daughter in New York, try to reach FEMA, try to make sense of the mounting national calamity.
"It was like watching her move back and forth from each role in her life minute by minute," Sperling told John Harris a few months later. "Then suddenly, the radio announcer starts screaming, 'Oh my God, the World Trade Tower has collapsed, oh my God, the World Trade Tower has collapsed …'"
By the time Clinton sang "God Bless America" in the fading light on the steps of the Capitol before going on CNN, she was no longer wearing yellow. She was wearing black.
"We can't let these evil acts in any way deter us from making it clear that the United States is resolute," Clinton told Karl, the congressional correspondent, "and we are going to support the president."
The next morning, September 12, in remarks on the Senate floor, she said, "My daughter told me that it was one of those days where the skies were totally clear and there was a breeze and people were starting to line up at the polling places to vote because it was primary day, election day—a continuation of the commitment to democracy and self-government that has set us apart from every society that has ever existed because of the longevity of our democracy and the will of our people to constantly renew ourselves. New Yorkers went from standing in line to vote to standing in line to donate blood in just a few hours."
She said, "I have expressed my strong support for the president—not only as the senator from New York, but as someone for eight years who has some sense of the burdens and responsibilities that fall on the shoulders of the human being we make our president."
That afternoon, she joined her fellow senator from New York, Chuck Schumer, and also Charles Rangel, the Democratic congressman from New York, and boarded a FEMA plane to New York, where they got into a helicopter, which flew to Ground Zero and circled above the smoking, twisted wreckage. Clinton described it "like a scene out of Dante's Inferno."
"From the sky as we flew in, looking down on the Trade Center, what I saw were what looked like the gates of Hell," she said, according to the New Yorker. "Any person of faith knows that evil is omnipresent, and the struggle we face is to overcome the tendency to lash out in violence at each other. My religion starts with the story of one brother murdering another. Human nature is always going to challenge us. But I believe that God has a purpose, and the challenge of being human is to overcome the cheap, easy allure of evil."
On the ground, wearing a surgical mask, the caustic air burned her lungs and eyes as she toured the disaster site with New York mayor Rudy Giuliani and governor George Pataki. She caught the last train out of Penn Station before it closed for the night.
Two days after the attacks, in a private meeting with Republican and Democratic colleagues at the Capitol, she described what she had seen, according to the New York Daily News, choking back tears. Later, she met with the president in the Oval Office, her first visit there since she was First Lady, along with Schumer wrangling from Bush a commitment for $20 billion of federal aid for New York alone—$11 billion of which was ultimately provided. Clinton told Bush, Frank Bruni would write, "that few people could understand the loneliness of the White House, but that she did, and she wanted him to know that."
As that was happening in Washington, Trump was in New York, spotted walking near Ground Zero, according to Newsday, dressed in a black suit, white shirt and red tie and talking into his cell phone. "No, no," he was overheard saying. "The building's gone."
Four blocks from the site, he did an interview with a news station in Germany.
"I've never seen anything like it," Trump told the reporter, Stephan Bachenheimer. "The devastation. The human life that's been just wasted, for no reason whatsoever. It is a terrible scene. It is a terrible sight. But New Yorkers are very strong and resilient, and they'll rebuild quickly."
He told Bachenheimer workers of his were pitching in with the recovery. "We have a lot of men down here right now," he said. "We have over 100, another 125 coming."
"Mr. Trump," Bachenheimer asked, "what should be the response to this attack How should the U.S. respond …?"
"Well," Trump said, squinting into the sun, "I think they have to respond quickly and effectively. They have to find out exactly what the cause was, who did it, and they have to go after these people, because there is no other choice." He spoke of the challenge of preventing such an attack. "People were willing to die," he said, "and when they're willing to die, and when they're willing to be kamikazes in a sense, there's very little you can do about it."
In an interview this week from France, where Bachenheimer was vacationing, he said it seemed like Trump was in a hurry. "He said, 'How long does it take? I have very little time,'" Bachenheimer said. Then he answered questions for longer than expected.
The cameraman, Markus Zeffler, said it's often difficult to get VIP-type Americans to agree to go on foreign TV stations. This, he recalled, was not the case with Trump. Zeffler told Trump their station was like German CNN. "It wasn't hard to convince him to come on," he said.
The following day, September 14, Clinton joined her husband and four other former presidents at a prayer service at Washington's National Cathedral.
On Monday of the following week, she traveled to New York, where she was on hand to re-open the New York Stock Exchange.
Trump that day talked on the phone to a reporter from the New York Post about what should happen at Ground Zero.
"Once they get it cleared—and that is going to be a very long process—we will all have a better idea of what can be done on the site," he said. "The current mindset is to put up new towers, and I agree with that."
But they shouldn't be exact replicas, he added.
"To be blunt, they were not great buildings," Trump said. "They only became great upon their demise last Tuesday."
***
Clinton, it is now clear, would get one thing really wrong in the weeks and months after September 11.
Nicholas Lemann of the New Yorker met with her in Washington in late September and asked if she thought the attacks in some sense would prove to be a unifying force—if the diabolical havoc of the day would rid the national debate of extreme polarization and anti-government rage.
"I think the answer is that we saw government in action," she said. "It wasn't some abstract target of our discontent. It was the firefighters. It was the emergency workers. It was the elected officials who were leading and comforting. It had a human face. And now, when we're looking at the war against terrorism, we're asking ourselves: How do we beef up security? Well, maybe the government has to do more. How do we root out these terrorists? Well, the government has to come up with the plans and the intelligence and the resources. We had the luxury—some might say the failure of historical understanding—after the end of the Cold War that gave people the idea that they didn't need a government, or they needed it in only the most rudimentary way, and there was a collective sense of misunderstanding about what government is and does."
In her first memoir, Living History, published in 2003, she would write, "That September morning changed me …"
And in an interview in 2006, she would say, "I felt this overwhelming sense of loss, and commitment and obligation to do everything I could do …"
Trump, on the other hand, would tell the Chicago Sun-Times a week after the attacks he was looking at design options in the planning of his tower in that city, "some tall, some not so tall," he said. "Tall buildings are what make architecture in Chicago and New York great." (That's not the way the architects remembered it, one of the architects said later, the Chicago Tribunereporting Trump's representatives no longer wanted the tower "to be the world's tallest building. Shorter would be better.")
Not two months after the attacks, Trump gave a speech to Wharton Business School graduates, according to Real Estate Weekly. In the question-and-answer session, one of them told Trump he had just before September 11 bought an apartment near what had turned into Ground Zero.
"What should I do now?" he asked.
Trump didn't hesitate.
"I'd leave," he said.
("After the attacks, some people and companies left New York City, but I never considered moving," he would say later.)
In 2004, Trump would say in Esquire, "I would have been tougher on terrorism. Bin Laden would have been caught long ago." In 2008, in his book Never Give Up, he noted that he "had predicted an attack" the year before it happened in another book of his, The America We Deserve—and he had, more or less, saying he was "convinced we're in danger of the sort of terrorist attacks that will make the bombing of the Trade Center"—in 1993—"look like kids playing with firecrackers." Also, he wrote: "Whatever their motives—fanaticism, revenge—suffice it to say that plenty of people would stand in line for a crack at a suicide mission within America." On the 12th anniversary, he said on Twitter, "I would like to extend my best wishes to all, even the haters and losers, on this special date, September 11th." (He would delete the tweet two years later in the middle of his presidential campaign.)
Throughout the current presidential campaign, Trump and Clinton both have talked about September 11.
Trump said at a rally last fall in Ohio he "witnessed" people jumping out of the towers from his apartment four miles north in Manhattan. He said falsely he also had seen Muslims in New Jersey celebrating the attacks. "The World Trade Center came down during your brother's reign," Trump told Jeb Bush in a debate in the primaries earlier this year. He said in August his Muslim ban would have prevented 9/11—markedly different rhetoric from his interviews early on with WWOR, the New York Times and German TV.
"None of us," Clinton said at an event in New York in March, "who lived through 9/11 and its aftermath will ever forget the lives lost, lower Manhattan in ruins, toxic dust and debris raining down, and the many examples of heroism we saw."
"I have been focused on defeating terrorism since 9/11," she said at an event in California in June. Her trip to Ground Zero, she said, "was as close to how Hell is described as I ever hope to see again," adding that it "meant a lot to me" to be in the room with the president when American forces killed Osama bin Laden in 2011.
Back, though, on the one-year anniversary, on September 11, 2002, when memories of the attacks were still raw, Clinton was one of the politicians and dignitaries who read the names of the dead at the ceremony at Ground Zero.
In an interview on NPR, she said, "I hope that we would use our strength and our success to build a more peaceful world where we have more partners instead of terrorists, where we recognize that with great power does come great responsibility, and that we would pass on to our children an appreciation for the extraordinary blessings that we enjoy and sometimes take for granted here in our country..."
Trump that day was not on NPR. He was on Howard Stern's show. It's an interview that's gotten a lot of attention of late because Stern asked Trump if he was in favor of invading Iraq, and Trump responded, "Yeah, I guess so." Throughout this campaign Trump has insisted—contrary to that statement—that he always opposed the invasion. But before Stern asked him that, the provocative host asked him something else.
"Probably the most important question I can ask you on a day like today is: Where is Melania, and is she naked?" Stern said.
"Well," Trump responded, as the names of the dead were being read at Ground Zero, "Melania is now in bed—I'm in my office—and as to whether or not she's naked, I'm not 100 percent sure."
Michael Kruse is a senior staff writer for Politico