President Donald Trump appears to have partially achieved a long sought goal in cutting American investment in NATO, confirmed just days before the alliance's leaders head to London for a meeting next week.
The president has been critical of the Cold War-era alliance since coming to power, frustrated by the large financial contribution shouldered by the U.S. and resentful of other nations for not living up to their spending promises. [Trump said U.S. Is 'Getting Raped' by NATO.]
CNN reported Thursday that the U.S. would significantly cut its direct contribution to NATO under the terms of a new "burden-sharing" agreement.
The new arrangement covers the maintenance of the NATO headquarters, joint security investments and some combined military operations, CNN explained. The total comes to around $2.5 billion and stands separately from each nation's military spending.
This direct fund is dwarfed by what is spent on the members' militaries—the U.S. budget alone is $706 billion.
The U.S. has covered some 22 percent of the direct NATO contribution, though will now reportedly reduce the figure to around 16 percent.

The news prompted concern among Twitter users, many of whom cast the development as another geopolitical victory for Russian President Vladimir Putin.
Russia considers the existence and continued expansion of NATO an existential threat to the country, and has repeatedly warned that allowing more eastern European nations to join the alliance could provoke conflict.
Academic and writer David Rothkopf, for example, suggested "Putin's getting exactly what he wanted for Christmas. Trump's betrayal of the US grows more complete and his motives clearer with every passing day. And it was crystal clear three years ago."
Journalist and filmmaker Mikey Kay warned that the president is risking "fracturing NATO," which "has been one of Putin's major strategic objectives since taking office."
"Trump playing into Putin's hands on NATO will only drive Russia further to target the U.S 2020 election," he added. Noting Russia's recent aggressive foreign policy, Kay suggested, "Undermining NATO now could be catastrophic."
Journalist and academic Rula Jebreal said the funding cut "erodes the US NATO commitment, which is precisely Putin's dream scenario." She added that Trump's "America first" stance is really isolating the country from its allies, leaving it "isolated & distrusted."
A NATO spokesperson told Newsweek that the deficit from the U.S. spending reduction would be made up by Canada and European members. "Allies regularly review cost shares for NATO's common funding," the spokesperson explained.
"All Allies have agreed a new cost sharing formula. Under the new formula, cost shares attributed to most European Allies and Canada will go up, while the US share will come down," the spokesperson added. "This is an important demonstration of Allies' commitment to the Alliance and to fairer burden-sharing."
Trump will no doubt see the new direct funding arrangement as a win, but it does not address the larger disparity in military spending between the NATO states. The U.S. spends by far the most on its military than any other member, reaching around 3.5 percent of GDP. The next closest is Greece at 2.3 percent.
Most nations are still not meeting the alliance's 2014 commitment to spend 2 percent of GDP on defense. As the below infographic from Statista shows, only six nations apart from the U.S. spend 2 percent or more of their GDP on the military.
A senior Trump administration official told Newsweek that the U.S. "welcomes discussion on any agreement that ensures equitable spending across the Alliance without reductions in NATO's overall budget. This would serve the Alliance's interests, and those of the U.S. taxpayer."
The official also claimed that Trump has secured more than $100 billion in additional defense spending from other NATO members, calling the president's strategy a "resounding success."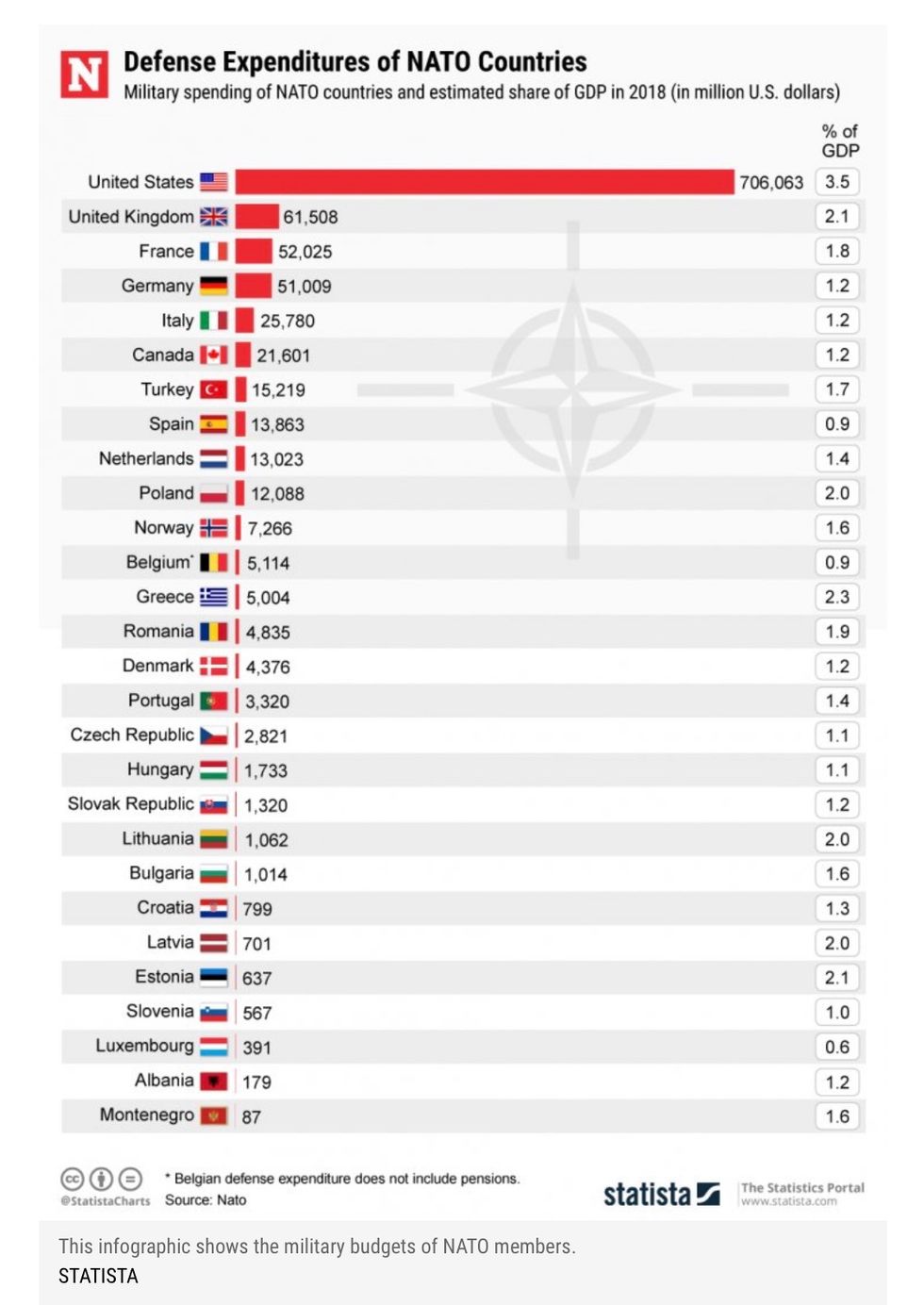 David Brennan, Newsweek, November 29, 2019
###
Voices4America Post Script. 2 women told us. One said #PutinsPuppet; the other, "All roads with you lead to Putin." We don't listen. This is very sad.
#KeepNATOStrong #StopPutin #RemoveTrump