Top Aide in review of [Barr Trump] Russia Inquiry resigns from Justice Dept.
The resignation came amid increasing expectations that the department may disclose partial results from the review before it is completed but ahead of the presidential election.


WASHINGTON — A top aide to the criminal prosecutor whom Attorney General William P. Barr assigned to scrutinize the Trump-Russia investigation has resigned unexpectedly from the Justice Department, a spokesman said Friday.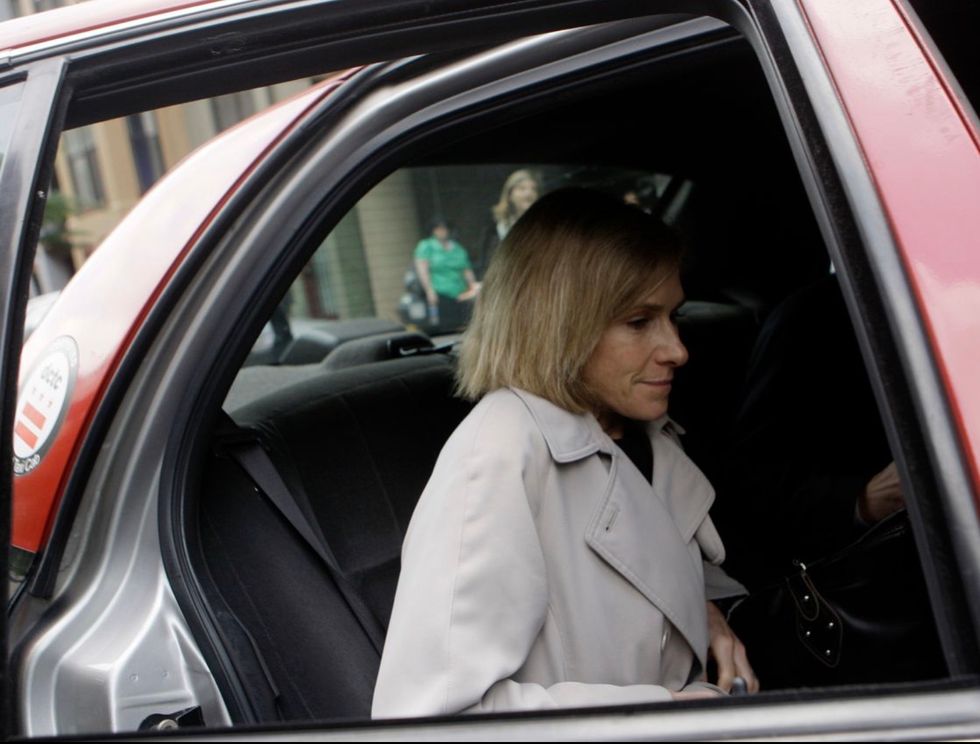 Nora Dannehy has been leading the inquiry into the early days of the FBI's Russia investigation since May 2019. This photo is from today's WSJ article on this subject.
It was not immediately clear why the official, Nora R. Dannehy — a trusted assistant to John H. Durham, the prosecutor leading the investigation and the U.S. attorney in Connecticut — stepped down.
But The Hartford Courant, which first reported her departure, cited unidentified colleagues in Mr. Durham's office as saying that she had expressed concerns in recent weeks about pressure from Mr. Barr to deliver results ahead of the presidential election in November.
Ms. Dannehy did not respond to a voice mail message seeking comment. A spokeswoman for Mr. Barr, Kerri Kupec, referred questions to Mr. Durham's office in Connecticut. His spokesman, Thomas Carson, said: "We can confirm that Nora Dannehy has left the Department of Justice. No further comment from us."
Several officials said expectations had been growing in the White House and Congress that Mr. Barr would make public, ahead of the election, some kind of interim report or list of findings from Mr. Durham before he completed the investigation. Mr. Barr had wanted Mr. Durham's team to move quickly, according to a person familiar with the matter.
Mr. Trump has long promoted Mr. Durham's investigation as a way to back his own claims that the counterintelligence officials who sought to understand his campaign's ties to Russia were carrying out a deep-state plot to sabotage him.
After the Justice Department's independent inspector general, Michael E. Horowitz, found serious errors last year with one aspect of the Russia investigation but debunked any politically motivated plot, Mr. Trump said: "I look forward to the Durham report, which is coming out in the not-too-distant future. It's got its own information, which is this information plus plus plus."
Whether Mr. Barr and Mr. Durham plan to take public investigative steps close to the election, flouting a longstanding Justice Department practice of avoiding overt activity within 60 days of an election if it could have a political impact on the vote, has been the subject of growing scrutiny.
Mr. Barr has repeatedly raised tantalizing hints about Mr. Durham's work, contrary to the department norm against speaking about continuing investigations except through indictments. And he has put forward a narrow interpretation of the so-called 60-day rule, saying it only meant the department should not indict a candidate for office or a close campaign associate.
"The idea is you don't go after candidates, you don't indict candidates, or perhaps someone that's officially close to a candidate — that is essentially the same — within a certain number of days before an election," Mr. Barr said in an April interview with the conservative radio host Hugh Hewitt. "But, you know, as I say, I don't think any of the people whose actions are under review by Durham fall into that category."
Mr. Barr assigned Mr. Durham last year to scrutinize the early stages of the Trump-Russia investigation shortly after the special counsel, Robert S. Mueller III, turned in his report that documented Russia's extensive operations to sabotage the 2016 election and Mr. Trump's efforts to thwart the inquiry.
Mr. Durham had a history of being assigned to lead sensitive investigations of government conduct, including the F.B.I.'s ties to a crime boss in Boston and the C.I.A. torture of detainees. While he is a longtime career prosecutor, Mr. Trump gave him a political appointment as the U.S. attorney for Connecticut in 2018.
Ms. Dannehy, who successfully prosecuted the former Connecticut governor John G. Rowland on corruption charges, had worked closely with Mr. Durham for years. Her husband, Leonard C. Boyle, is also a close colleague of Mr. Durham's, serving as the first assistant U.S. attorney in Connecticut. He had previously served as the head of the Terrorist Screening Center, appointed byMr. Mueller when he was F.B.I. director.
After Mr. Barr assigned Mr. Durham to investigate the Russia inquiry, he asked Ms. Dannehy to return from the private sector to serve as essentially his top investigator on the case. She has played a leading role in questioning witnesses about investigative actions, according to people familiar with the sessions.
This was not the first time that Ms. Dannehy had taken on a high-profile, politically fraught investigation. After a scandal over the George W. Bush administration's firing of U.S. attorneys who were balking at demands, including by the White House, to bring or speed up voter-fraud cases against Democrats ahead of an election, Attorney General Michael B. Mukasey appointed her to scrutinize whether any laws were broken in one such instance.
While Ms. Dannehy did not find criminal wrongdoing in that dismissal, she suggested in her report that political pressure to rush out a case or charging decision before an election was wrong and potentially constituted obstruction of justice.
"Pressuring a prosecutor to indict a case more quickly to affect the outcome of an upcoming election could be a corrupt attempt to influence the prosecution in violation of the obstruction of justice statute," Ms. Dannehy wrote. "The same reasoning could apply to pressuring a prosecutor to take partisan political considerations into account in his charging decisions."
Few details about her resignation were disclosed on Friday evening, even as associates portrayed her as both a circumspect person and a prosecutor of rectitude.
"Nora Dannehy is apolitical, incorruptible and among the best prosecutors to ever represent the United States," said Christopher M. Mattei, the former chief of the financial fraud and public corruption unit at the U.S. attorney's office in Connecticut.
Stanley A. Twardy Jr., who was appointed U.S. attorney for Connecticut by President Ronald Reagan, said he had first hired Ms. Dannehy to be an assistant federal prosecutor around 1990. He said that Ms. Dannehy had been Mr. Durham's chief assistant and that she had also previously served as the acting U.S. attorney for Connecticut. He said that she was held in very high esteem and came from a family devoted to the law and the rule of law.
"This is completely out of the blue," Mr. Twardy said.
Mr. Barr's appointment of Mr. Durham is part of a broader pattern in which he has repeatedly sought to cast aspersions on the Trump-Russia investigation, including by putting out an early public description of the then-still-secret Mueller report that a federal judge later said was so "distorted" and "misleading" in making it sound better for the president than it was that the judiciary could not trust his department on the topic.
When Mr. Horowitz completed his own review of the early stages of the F.B.I. investigation, he concluded that the bureau had a lawful basis to open the counterintelligence inquiry. In an extraordinary move, the Justice Department stepped on that finding by releasing a statement in the name of Mr. Durham disagreeing with Mr. Horowitz's conclusion based on his own continuing inquiry, and let it be known that Mr. Barr sided with Mr. Durham.
Mr. Durham rarely speaks publicly, and prosecutors in his office were stunned that he had waded into political waters and publicly discussed a continuing investigation, one prosecutor who worked for him said.
In later testimony, Mr. Horowitz said he had spoken about the disagreement with Mr. Durham, who thought the available evidence meant that F.B.I. officials should have opened a "preliminary" counterintelligence investigation rather than a "full" one.
Word of Mr. Durham's work has emerged in fragments as his team, including Ms. Dannehy, has questioned various current and former officials about actions and decisions at both the F.B.I. and intelligence agencies, suggesting that they have pursued a series of conspiracy theories that have captivated Mr. Trump and his followers.
At one point last year, for example, Mr. Durham and Mr. Barr traveled to Italy to seek help from officials there to run down a notion that perhaps the Italian government helped set up a Trump campaign adviser who was toldin early 2016 that the Russians had dirt on Hillary Clinton in the form of emails — a key part of the F.B.I.'s basis for opening the investigation. Italy's intelligence services told Mr. Barr that they played no such role, Prime Minister Giuseppe Conte of Italy said in a news conference.
To date, the only publicly apparent concrete accomplishment of the Durham inquiry derived from Mr. Horowitz's review. The errors that the inspector general's team uncovered were in materials submitted for four wiretap applications under the Foreign Intelligence Surveillance Act targeting a former Trump campaign foreign policy adviser with significant links to Russian intelligence officials, Carter Page.
As part of that work, the inspector general's team uncovered that during the preparations to apply for the final renewal of the wiretap, an F.B.I. lawyer assigned to assist the Crossfire Hurricane team, Kevin E. Clinesmith, prevented a colleague from recognizing that both that application and the three earlier ones had an important omission by adding words to a C.I.A. email about Mr. Page and showing it to the colleague.
Mr. Horowitz referred Mr. Clinesmith for criminal investigation, and Mr. Durham's team prosecuted the case. Last month, Mr. Clinesmith pleaded guilty to one count of making a false statement by doctoring the email.
New York Times, By Charlie Savage, Katie Benner, Adam Goldman and Neil Vigdor, Sept. 11, 2020
###
September 12, 2020
Voices4America Post Script. This is a big deal.

Nora Dannehy — a trusted lawyer working with to Durham, prosecutor leading the Barr investigation demanded by Trump to support his false charges of a Intelligence conspiracies against him — quit, not to be party to Barr's demand for an October surprise report before the election.

Let everyone know. Share this! #SaveDemocracy #StopBarr #StopTrump #BidenHarris2020

Here is the Hartford Courant article on Dannehy's resignation.https://www.courant.com/news/connecticut/hc-news-j...