Former Labor Secretary Robert Reich is promoting an idea on Facebook for a "freedom concert" to take place opposite Donald Trump's inauguration to steal the spotlight and ratings away from him, and it is starting to gain traction.

Reich suggested the concert would make it so that "no one watches" the inauguration.
"Someone just suggested to me a televised 'freedom concert' to air at the same time as the inauguration — with huge celebrities like Beyoncé and Jay Z, Madonna, Katy Perry, Justin Timberlake, Gaga, Bruce Springsteen, and so on. Alec Baldwin MC's the event, playing Trump as he does on SNL," Reich wrote.
That would certainly grab ratings and one imagines Trump, for whom attention is everything, would be irked. He has regularly tweeted out his distaste for Baldwin's impersonation of him.
Reich also put forward a plan for the money raised from such an event, suggesting it support groups opposed to Trump's agenda, such as the ACLU, Planned Parenthood, GLAAD, the NAACP and Lambda Legal.
Trump's team has been having a difficult time getting performers for the January 20 inauguration.
Even Washington, D.C. marching bands have not been as interested in performing as in years past.
Trump seems to wrangled the owner of the Rockettes into making them perform.
So far, Radio City Music Halls Rockettes are one of two groups which have been announced for the Inaugural. They performed at the Inauguration of George W. Bush in 2001 and 2005.
Many Rockettes do not want to perform and there is an online campaign supporting their right to refuse.
Their union, the American Guild of Variety Artists, however, has denied their right of refusal. The union email reads: "We have received an email from a Rockette expressing concern about getting "involved in a dangerous political climate" but I must remind you that you are all employees, and as a company, Mr. Dolan obviously wants the Rockettes to be represented at our country's Presidential inauguration, as they were in 2001 & 2005. Any talk of boycotting this event is invalid, I'm afraid."
There may a change in this news. Long time Hillary supporter Tom D'Angora posted this on his FB page.ROCKETS UPDATE: As a Producer of a long running AGVA show the business rep just graciously took a call with me to discuss these issues. I believe they listened, because Ten minutes later I got an email that the Rockettes will NOT BE FORCED TO PERFORM at the inauguration.
I was told a press release will come out shortly. Lets hope it says all it needs to including an apology to Hillary Clinton for the backhanded insult.
#SmallVictories
For those wishing to write to James Dolan, who owns the Rockettes, his email is jdolan@msg.com. In addition to Radio City Music Hall, Dolan also owns other New York entertainment venues, including Madison Square Garden and the Beacon Theatre.
The second group expected to perform is the Mormon Tabernacle Choir, whose credentials as a group of white male singers are firmly established. 5% of Mormon church membership is black. From the mid-1800s until 1978, The Church of Jesus Christ of Latter-day Saints (LDS Church) had a policy which prevented most men of black African descent from being ordained to the church's lay priesthood. Black members were also not permitted to participate in most temple ordinances. Women continue to be denied LDS membership.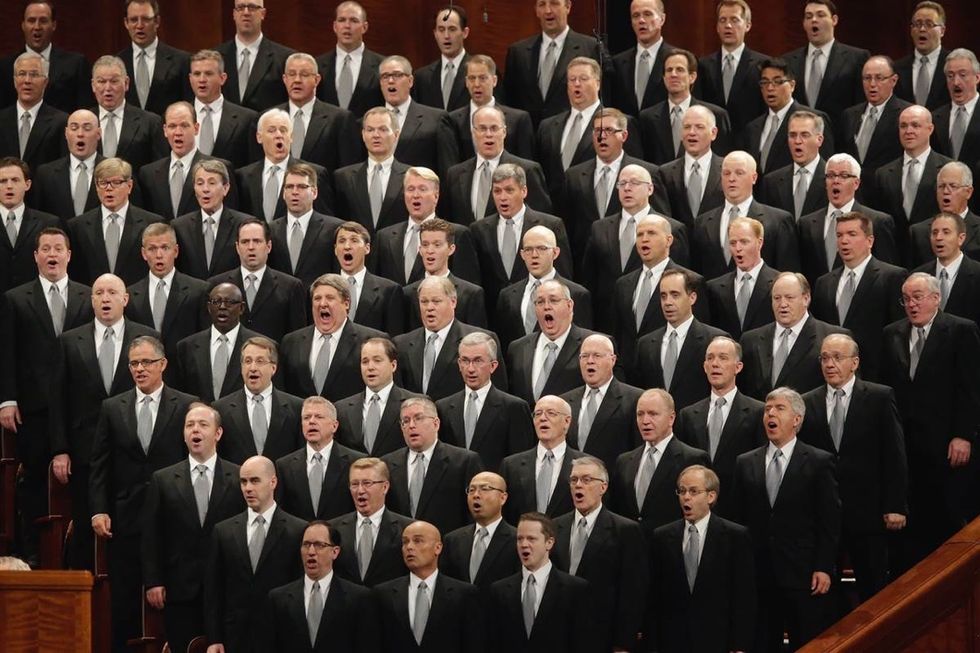 Mormon Tabernacle Choir
A Change.org petition has also been started to push for the Freedom Concert. At time of writing, it has nearly 25,000 signatures.
###
December 23, 2016
Addendum. Can't resist saying this -- The fact that no one with any talent wants to perform at Trump inauguration makes clear that no one with any talent voted for him.