Given the current state of the pandemic and the economy, I do not believe Trump can win a free and fair election. Apparently, Trump agrees with me.
In a classic Friday night news dump, Louis DeJoy, the Trump donor that serves as Postmaster General, announced a massive restructuring of the postal service that consolidated his power, pushed aside career officials, and furthered politicized the Postal Service during an election that will be conducted largely by mail.
This announcement is in addition to a series of cost-cutting measures implemented by DeJoy that have delayed the delivery of mail — including ballots in recent primary elections.

On Saturday, Politicoreported that Trump advisers were pondering:
possible executive actions he could take to curb mail-in voting — everything from directing the postal service to not deliver certain ballots to stopping local officials from counting them after Election Day.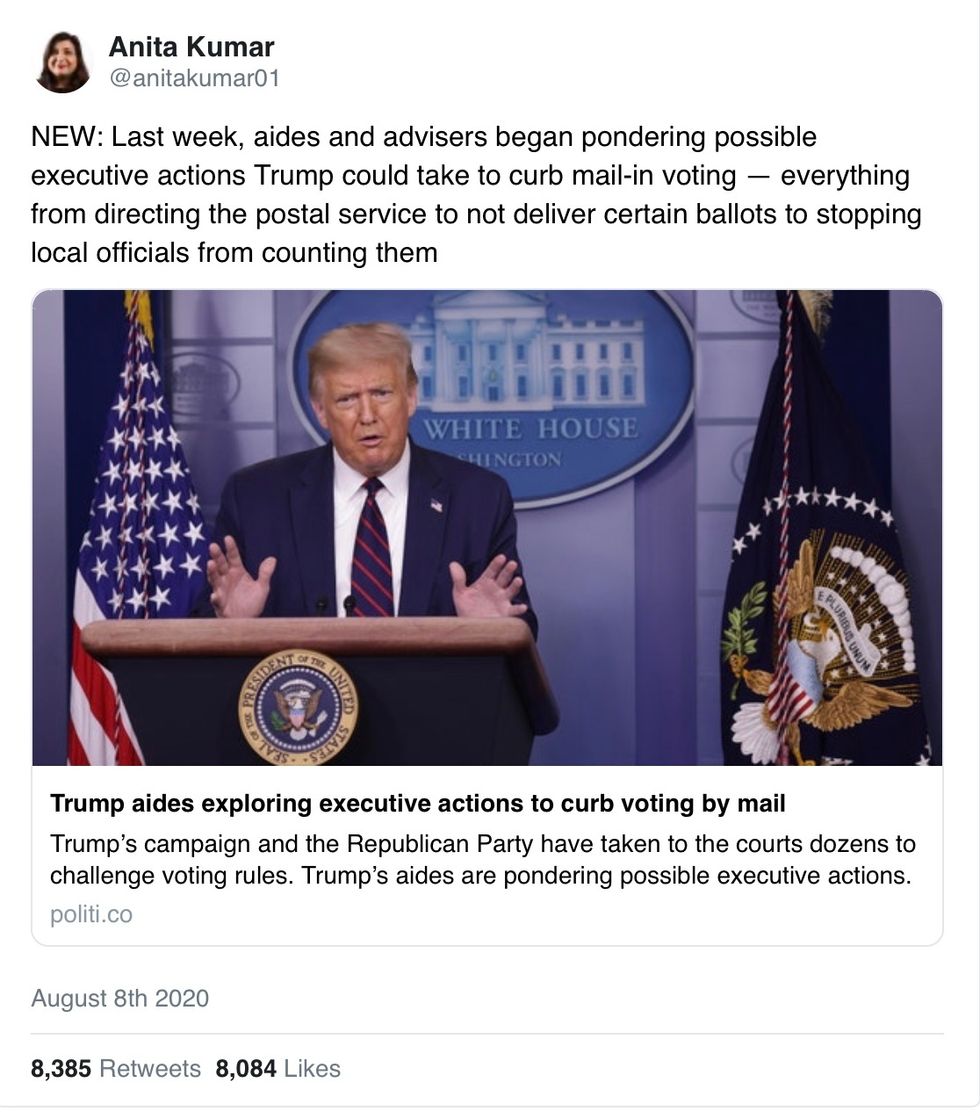 Trump believes that Vote by Mail benefits Joe Biden. He says — and tweets — as much every single day. It's fair to say that Trump has worked harder at undermining Vote by Mail than he has worked at anything in his 74 years on the planet.

The torrential tempo of news in the Trump era makes it difficult to separate the serious from the silly. A few weeks ago, Trump proposed delaying the election — something he has no ability to do, but fits with a long running progressive fear about Trump canceling the election and ruling for his remaining days. This absurd proposition dominated the political conversation for days.
Delaying the election cannot and will not happen. Delaying the mail IS happening and it can help Trump steal the election. In many states, ballots mailed before the election that arrive after it, do not count. If you believe — as Trump clearly does — that Democrats will rely on mail balloting more than Republicans, delaying the mail is a very simple way to steal an election.
This is a five alarm fire and we need to respond like the fate our democracy is on the line.
How Should Democrats Respond?
In a world where Trump controls the courts, McConnell is an anti-democratic nihilist, and the idea of checks and balances has crumbled, Democrats admittedly have little leverage and few options. But that doesn't mean we can't fight back. Here are some ideas:
Raise Holy Hell: It is very difficult for Democrats to grab the nation's attention in the middle of a pandemic with a Trump obsessed media, but we have to try. Every elected official, pundit, activist, and Democrat with internet access needs to scream at the top of their lungs about Trump interfering with the mail to help him win the election. Joe Biden has the biggest megaphone in the Democratic Party and he needs to weigh in as well. I believe it is possible to raise the alarm while still driving home the core contrast message of "Trump First, America Last." One iteration could be:

Trump ignored medical experts and made the CoronaVirus crisis worse. He's rushing reopening schools, putting kids, parents and teachers at risk. Now, he is trying to interfere in the election because he's afraid he'll lose. That's the only thing he cares about.

Trump's wannabe strongman persona has some political upsides with some voters. The most effective responses frame his dictator cosplay as something that demonstrates weakness and incompetence, not strength.
Broaden the Issue Beyond Ballots: Trump's gutting of the Postal Service is a very transparent political strategy, but the consequences go far beyond the election. Delays in mail delivery means delays in paychecks, Social Security payments, and prescriptions. According to one report:

The vast majority of Department of Veterans Affairs prescriptions are fulfilled by mail. But as U.S. Postal Service delays mount, more and more veterans are reporting long wait times to receive critical medication and VA staff says the problem is only growing.

Maybe it's just me, but Trump delaying prescriptions for veterans in order to help win an election seems like a winning message for Democrats. All of these anecdotes are tailor-made for digital ads and local media. Readers of this newsletter do not need to wait for a SuperPac to act. Feel free to share stories about those harmed by mail delays with your networks via your social media platform of choice.
Hold Republicans Accountable: There are a bunch of Republican Senators and House members in tough races this fall. We need to put maximum pressure on them and tie them to Trump's actions. We need to ensure that they go on record about Trump's thievery and the integrity of Vote by Mail. Of course, these conservative cowards will practice willful ignorance and do everything they can to avoid taking a stand. Ultimately, we cannot depend on the media to get those answers — it will be up to activists. Just like in the fight to save Obamacare, we need to blow up the phone lines, fill up the inboxes, and push the politicians and the press for answers.
Hearings, Subpoenas, and Lawsuits: Democrats have limited oversight powers because the Trump Administration does not acknowledge subpoenas. This is Constitutionally alarming and very frustrating for Democrats. At some point, some Democrats decided that being constantly stonewalled made them look weak. This notion led them to deemphasize oversight and investigations as part of their strategy. While I am sympathetic to the position House Democrats find themselves in, they need to do everything in their power to highlight what is happening at the Postal Service and hold Republicans accountable. If the Postmaster General refuses to appear, they should hold an empty seat hearing every couple of days until he shows. If the Postal Service or the White House refuse to turn over documents, the Democrats should sue and hold a press conference to announce the lawsuit — even if the odds of resolution before the election are low. We have to throw everything possible against the wall to put public pressure on the Postal Service to ensure ballots are delivered on time.
Trump has survived three years of impeachable, Presidency-ending acts through division and distraction. If Democrats do not unite and focus, Trump may just steal an election from under our noses.

The Message Box by Dan Pfeiffer, Co-host of Pod Save America, Former Senior Advisor to President Obama, Author of Un-Trumping America and Yes We (Still) Can. August 9, 2020.
###
August 10, 2020
Voices4America Post Script. Trump wants to steal another election with Russian help and by stopping votes by mail during a pandemic. His puppet Postmaster General enabled this last week with his #POFridayNightMassacre. But there are solutions. Read and Share!
Dan Pfeiffer says fight!
I say each state should do this.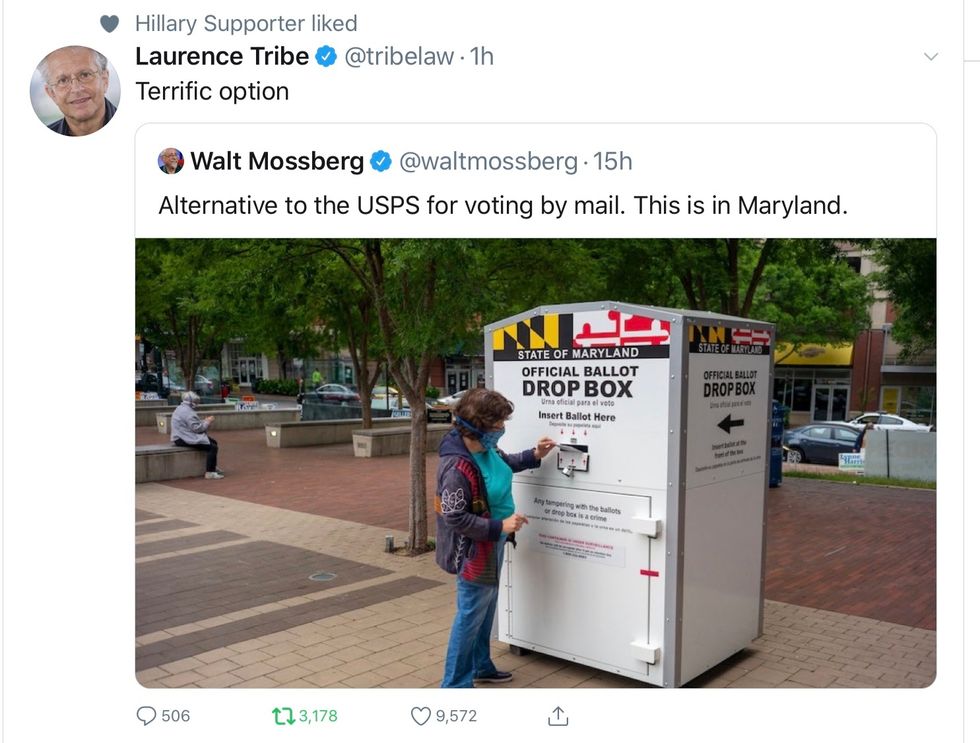 Call your elected officials. #SaveVoteByMail #BallotDropBoxes