You probably heard.
A powerful white male trustee of the University of North Carolina used his power to deny MacArthur Genius and Pulitzer Prize winner, Nikole Hannah-Jones tenure, though the University had recruited her for a chair that had always brought its recipient tenure.
The same Nikole Hannah-Jones - who had used her intelligence, research and insights to put forth The 1619 Project, the most important and challenging revision/reexamination of American history since 1776.
Here is a description of the 1619 Project – It aims to reframe the country's history by placing the consequences of slavery and the contributions of black Americans at the very center of our national narrative.
Thanks to Street and other Protests, last week, the University changed its mind and offered its most distinguished alumna tenure and the Wright chair. On Monday, she turned them down, announced she will be accepting the inaugural Knight Chair in Race and Journalism at Howard University, instead. Hannah-Jones will also lead the university's newly created Center for Journalism and Democracy, which will train the next generation of Black journalists in investigative and foundational journalism skills.
You have been listening to the political Right in our country howling about this reexamination for America's foundation. The fight to remove Confederate statues is one part of the fight. Who are our heroes? What are our values?
As the 1619 Project was described when it first appeared in The New York Times in August 2019: In August of 1619, a ship appeared on this horizon, near Point Comfort, a coastal port in the English colony of Virginia. It carried more than 20 enslaved Africans, who were sold to the colonists. No aspect of the country that would be formed here has been untouched by the years of slavery that followed. On the 400th anniversary of this fateful moment, it is finally time to tell our story truthfully.
Make no mistake. This is a fight for control of the narrative: what is America? What is our history? Who gets to decide?
In 2021, the Nikole Hannah-Jones tussle at UNC is at the center of this.
Watch Hannah-Jones and the great writer/thinker Ta-Nehisi Coates discussing these issues on Joy Reid's show on Tuesday. You won't be sorry you took 11 minutes to do this.

Yes, and feel sorry for the poor students- black and white - who are deprived of Hannah-Jones' insights and guidance these next years.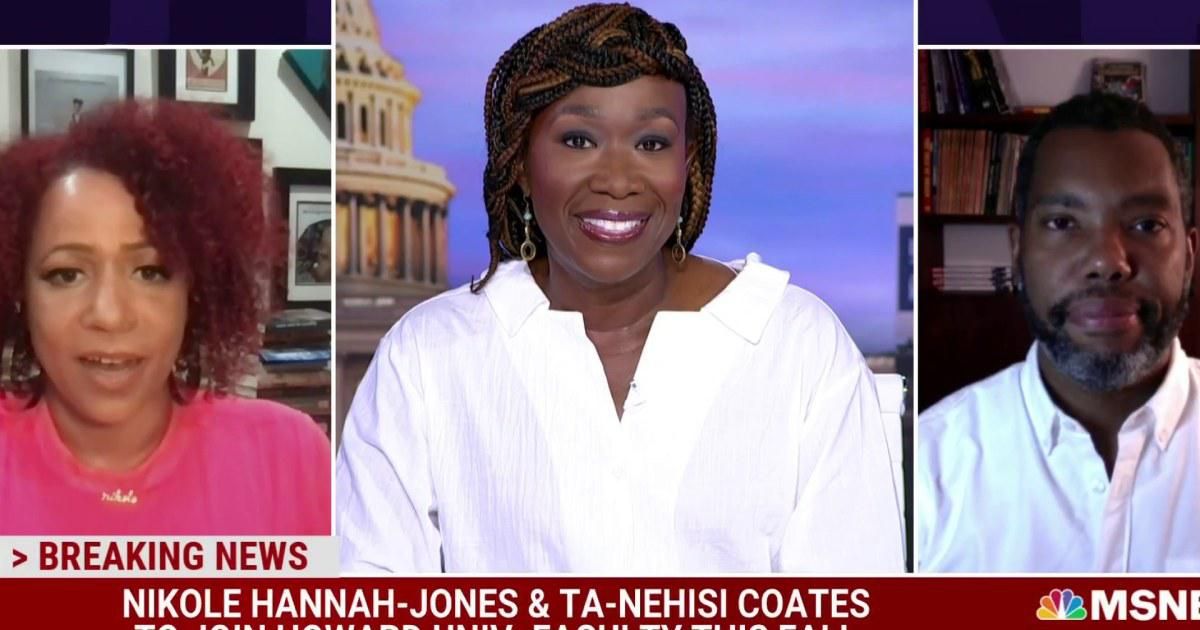 UNC denying me tenure 'confirms my life's work' www.msnbc.com
UNC denying me tenure 'confirms my life's work'
Nikole Hannah-Jones and Ta-Nehisi Coates discuss joining Howard University's faculty this fall. Nikole Hannah-Jones also explains why she chose to join Howard after being offered tenure at UNC-Chapel Hill, after this institution at first denied tenure to this celebrated journalist, leading to a public outcry.
As another great writer/thinker on American history has said:
It's only a matter of time/ Will they tell your story?/ Time…/Who lives, who dies, who tells your story?/Time…/Will they tell your story?/Time…/Who lives, who dies/Who tells your story? (Hamilton 2015).
###
July 7, 2021