The Democratic presidential primary season hit its first major pivot point on Tuesday when California Senator Kamala Harris announced that she no longer had the resources to continue her campaign. Harris was a first-tier candidate when she launched her bid and remained one through most of the summer. Then, in the first debate, she dared call out friendly ol' Joe Biden for the accommodations he'd made with the defenders of white supremacy in the decades since he first got to the Senate. (I mean, it's OK to attend Strom Thurmond's services, I guess, but you didn't have to eulogize the old racist sonuvabitch.)
They can all tap-dance around this as much as they want to, but Harris's audacity shook the comfort zones of a whole lot of people committed to the Democratic establishment, especially those with a history of complicity with the conservative movement. Couple that with the "Kamala Is A Cop" business coming from the portsiders, and Harris soon found that she didn't have a lot of room to maneuver. Her visibility dropped to near-zero. Her fundraising dried up. And, unsurprisingly, since campaign operatives generally have the loyalty of gaboon vipers when things go south, stories blew up over the weekend about what a hopeless mess her campaign had become.
And now she's out, and here the Democrats are. The next debate is on December 19 and, unless things turn around for Cory Booker in one quick hurry, every candidate on stage will be white, and most of them will be men. One of them will be a no-hope billionaire. Still another will be the mayor of a mid-sized Indiana city who won his last race with 8,500 votes. If I were an official of the DNC, and young black activists came up to me and told me to stick my party where the sun don't shine, I'd have a hard time arguing with them.
Harris should still be in the race. She is a brilliant, accomplished woman who showed her leadership chops when she reduced Brett Kavanaugh to tears during his Senate confirmation hearings. (In fact, one of the only upsides to her decision that I can see is that now she'll have all the time she needs to prep for her role in the Senate trial of El Caudillo del Mar-a-Lago.) She got screwed by the political system of legalized influence peddling that we were gifted by the Supreme Court. It has bothered me from the start that fundraising numbers were such an important metric for the DNC in deciding who should be on the stage and who shouldn't. Harris qualified for the December 19 hoedown, but she couldn't sustain her campaign until then. (Two whole weeks!) Instead, we'll get Tom Steyer, but not Julian Castro. Tulsi Gabbard, but (probably) not Booker. How is this good for anyone? In what is arguably a populist moment, this is simply crazy.
Kamala Harris will still be a force. Right now, she has to be at the top of every vice-presidential shortlist. Any Democrat elected has to consider her for attorney general. And, once the Senate trial starts. she'll likely get all the free airtime that she couldn't get while running for president. In addition, she is the most important outstanding endorsement on the board right now. But the field is infinitely poorer without her, and completely out of touch with the actual dynamics of the 2020 election.
Charles P. Pierce, December 3, 2019
###
December 4, 2019
Voices4America Post Script. The next Democratic Debate may well be all white. As the man said, "If I were an official of the DNC, and young black activists came up to me and told me to stick my party where the sun don't shine, I'd have a hard time arguing with them." What can one say?
Kamala made clear what is next for her.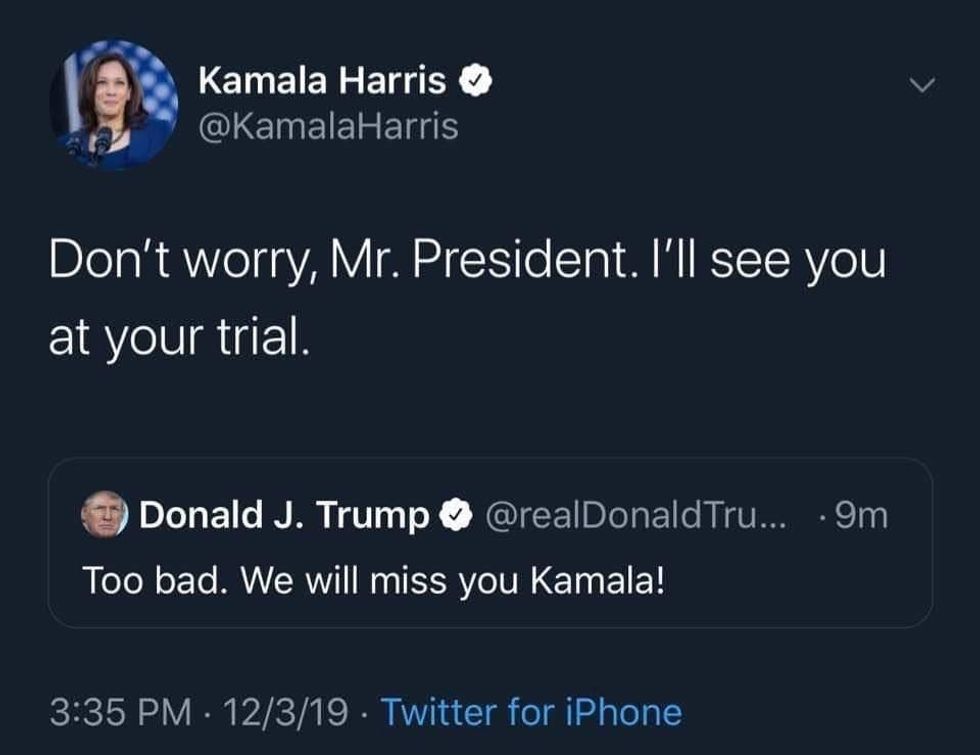 And her husband made clear who will be with her.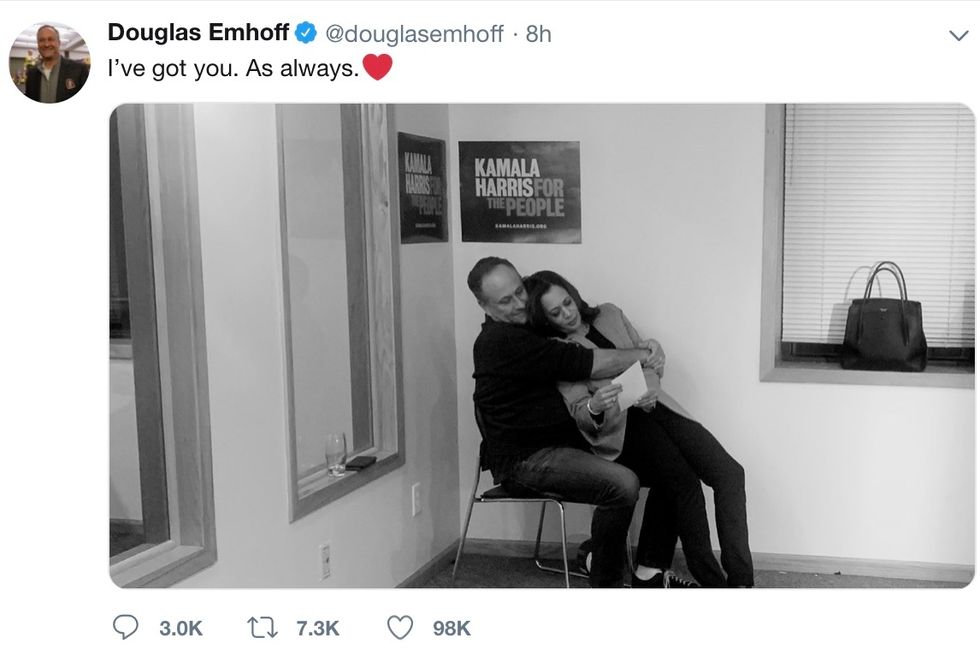 #Kamala4ThePeopleAlways
#WithHerAlways

Thank you letters can be sent to:
Kamala Harris
11845 West Olympic Boulevard,
Suite 1250W
Los Angeles, CA 90064


One other commentary on Kamala.

One from my friend Trevor Church. He posted this on FB. Food for thought.
My thoughts, feelings, and new endorsement for POTUS:
A black woman has to work so damn hard, so much harder than most. I'm really upset and angry, so I'm taking time to myself today to collect my thoughts. My first choice (Kamala) didn't make it. My second choice (Kirsten) didn't make it. This country turned their backs on two of the most qualified people in favor of greatly unqualified people - people Donald Trump can squash, easily.
Make no mistake, it is a combination of racism and sexism that took down Kamala. Most of the candidates stole her platforms. Legit copied and pasted them when it comes to some of our most important issues: healthcare, the environment, gun violence, teacher pay, equal rights, reproductive health, etc. she never got credit. But she released her platforms before the others and hers were better, and they stole them and took the credit.
She was our best shot at beating Trump I believe. She also was our best shot at holding him accountable for trying to sway the election.
So where do we go from here? The obvious choice for me would be Julian Castro. He's absolutely amazing and has great policies and not a lot of baggage. However, for him to pull it off, he would have to have some major surprises in CA, TX, and NV. Right now, I don't see that happening. I don't trust polling much, but he's stayed about the same in polls since he announced, and has been excluded from the debates. Someone might fact check me on this, but I don't think we've ever had a nominee who didn't qualify for the debates. I will continue to donate to him occasionally but I'm angry because I just don't think it will happen.
So out of the people who are left? Amy Klobuchar is the obvious choice for me.

✅ Amy is left of the middle. Her and Biden are fighting for the same voters. With the exception of foreign policy, I believe she has a better understanding of our problems than him.
✅ The other candidates who are further left are promising a lot of great things, but the truth is, unless they're willing to do executive orders or declare a state of emergency for things like climate change and healthcare, none of those things will actually pass. First they would have to get through the house (they won't). Although we have the majority, many of those dems represent moderate areas and will vote against such legislation. Then we have to pass the senate. That won't happen. Even if we hold 51 senate seats.

✅ Amy has consistently been ranked the most effective democratic senator in the US. She passes more bills than other people, and many meaningful bills. She scares a lot of her republican colleagues into voting for her bills. If Amy has important bills stuck in the senate, I believe she will be able to help get them pushed through. The republicans won't throw as many fits with her. The government won't shut down. There won't be filibusters. Things might actually be calm for once. I miss calm.
✅ A lot of people don't like her for speaking her truth about people like Pete, Elizabeth, Tom, and Michael, but hey, she's speaking her truth. She's not gonna lie to you to get votes. I believe she has the most integrity in that regard.
✅ She has turned red areas blue her entire career. People who are independents will most likely vote for her. People like my stepdad will vote for her.
✅ She actually doesn't have much baggage. There's been questionable behavior about her being hard to work for. But that's literally it.

✅ She actually stood up for Kamala when no one else did. She even called Kamala's plans for teacher pay increases one of the best. She's the only white candidate who didn't steal any of Kamala's platforms
✅ Amy supports universal health care for all Americans, and she believes the quickest way to get there is through a public option that expands Medicare or Medicaid. She supports changes to the Affordable Care Act to help bring down costs to consumers including providing cost-sharing reductions, making it easier for states to put reinsurance in place, and continuing to implement delivery system reform.
✅ Amy's dad struggled with alcoholism and she saw the toll that mental health and substance use disorders can take on families and communities. As President, Amy will combat substance use disorder and prioritize mental health, including launching new prevention and early intervention initiatives, expanding access to treatment, and giving Americans a path to sustainable recovery. Her plan will ensure that everyone has the right — and the opportunity — to be pursued by grace and receive effective, professional treatment and help.
✅ She has been protesting for years to protect women's rights... from the steps of the capitol to the senate floor.
✅ Klobuchar will direct the Department of Justice to use Section 3 of the VRA to "bail-in" jurisdictions to its preclearance requirements, allowing federal courts to place jurisdictions under the oversight requirement of the VRA.
✅ She will issue an Executive Order launching government-wide cybersecurity initiatives, fast-tracking and streamlining procurement of modern information technology across agencies. She will also launch a cabinet-level taskforce on election cybersecurity to coordinate across agencies, including the intelligence community, on how the federal government can work with state and local governments to address cyber threats to our democracy and infrastructure.
✅ To tackle unprecedented consolidation and monopoly power, Senator Klobuchar will direct the Department of Justice to update its guidelines to ensure vigorous and aggressive enforcement of our antitrust laws.
✅ To tackle corporate consolidation in what she has called "the new gilded age," Senator Klobuchar will direct her Attorney General to have DOJ's Antitrust Division undertake aggressive retrospective reviews of mergers.
✅ She wants to raise the minimum wage.
✅ She has great plans for immigration reform. Minnesota has a large number of immigrants who have helped their economy so much. She has seen first hand why immigration is important.
✅ She will require publicly traded companies to disclose all political spending over $10,000 to their shareholders.
✅ She has big plans to take on firearms, like closing the boyfriend loophole, universal background checks in place, closing the gun show loophole, and banning bump stocks, assault weapons and high capacity magazines, naming gun violence a public health epidemic which opens funding to the CDC for research.


✅ She wants to end the misguided overuse of secret RFS small refinery waivers that have been granted to big oil companies at the expense of farmers.
✅ Klobuchar will respect tribal sovereignty including by stopping the Department of Justice from taking anti-sovereignty positions in litigation, directing the Department of Health and Human Services from deferring to states on Medicaid rules for tribal members, and increasing meaningful tribal consultation.
✅ Klobuchar will work to close the rural-urban divide by connecting every household to the internet by 2022. This means directing federal support to close the last mile gap, overhauling broadband coverage mapping so areas that need support receive federal funds, and encouraging public-private partnerships in the areas of greatest need.
✅ She has big plans to tackle the climate crisis that include multilateralism, a clean power plan, fuel-economy standards, a massive investment in green jobs and infrastructure, climate research and innovation, environmental justice programs, rural energy development and better greener transportation. In addition to a major direct federal investment, her legislation will create state, local and private incentives for the immediate adoption and deployment of clean energy technology to reduce emissions, including the promotion of green manufacturing. Her proposal will put our country on a path to achieving 100% net-zero emissions no later than 2050, fulfill our responsibility to our communities and workers who have helped power this country, and includes incentives and support for tougher building codes, appliance standards, buy clean, and climate resilience.

✅ Klobuchar will put forward a plan to cut childhood poverty in half in ten years, including expanding the Earned Income Tax Credit, the Child Care Tax Credit, SNAP benefits and overhauling our country's housing policy.
✅ she will ensure funding for Planned Parenthood, end the global and domestic gag rules, and restore the Title X program.

✅ Prevent outsourcing of jobs overseas by closing tax loopholes on corporations' overseas earnings.
✅ Klobuchar will prioritize combating domestic terrorism and empower law enforcement to investigate and prosecute perpetrators of hate-motivated violence, including against minorities, people of color, immigrants, and the LGBTQ community. She will direct the Department of Homeland Security to resume its work tracking right wing extremism, including white nationalism. And she will require federal law enforcement agencies to regularly assess the threat of domestic terrorism and increase training and resources for state and local law enforcement to address it.
✅ klobuchar will reward federal contractors by providing additional points during the contract bidding process if contractors offer paid family leave to their employees or child care benefits.

✅ Create a clemency advisory board and position in the White House that advise the President from a criminal justice reform perspective.
✅ Aggressively combat illegal Chinese steel dumping.
✅ Klobuchar will restore and strengthen rules that allow students who believe they were defrauded by their colleges to apply for loan forgiveness, providing relief to thousands of additional students.
✅ Prioritize LGBTQ antidiscrimination policies across the federal government to address homelessness, suicide and access to life-saving drugs.

There are 10,000,000 other reasons I plan on voting for her. The biggest one? She's an electoral goldmine. The only swing states for her will be FL, NC, and AZ. All the other ones? She's a shoe in. Way more so than any other candidate.
Here is how he sees the Electoral Map.2020.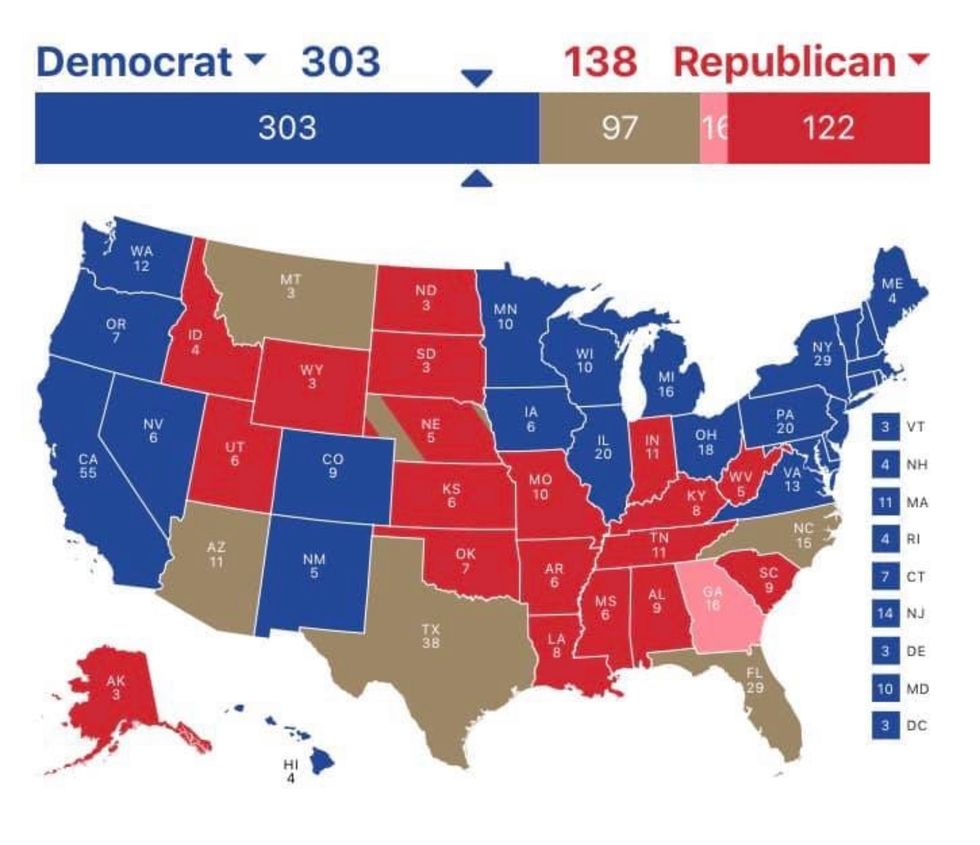 I hope he is right!

I am still in mourning and still undecided on my candidate! #BlueWave2020