Together, in 2006, a group of us produced the play, Frost-Nixon on Broadway. The high point of the dynamic on stage between David Frost, the television interviewer, and a post Watergate Nixon was always the moment when Frank Langella (Nixon) declared, "I'm saying that when the president does it, that means it's not illegal."

Each performance, I waited and each performance, a shocked audience hissed. They knew right from wrong.

This week in the America Senate, a spokesperson for Donald Trump offered a variation of that theme. "Every public official that I know believes that his election is in the public interest," he said. "And if a president does something which he believes will help him get elected in the public interest, that cannot be the kind of quid pro quo that results in impeachment."

The expected hiss was not unanimous - far from it. Yes, Democrats hissed. Republicans either nodded in approval or shrugged - who knows or who cares.

Like the man they chose to unite behind, they no long believed in the Constitution or its well defined separation of powers, nor, in the end, could they tell right from wrong.
The GOP is a party of snakes. They just have lost their hiss.
A 51-49 vote not to allow witnesses or evidence which might supplement the case the House managers made was largely along party lines . Republicans Collins (ME) and Romney (UT) defected for this one vote but how sincerely is open to question, since they had the cover of voting without consequences. Still, some Republican senators now admit that Trump did what House Democrats have spent months proving: that he pressured Ukraine, using taxpayer money and the power of his office to get the President of Ukraine to announce investigations into Joe Biden, Trump's expected political opponent. They just don't think he should be impeached for it.

"It was inappropriate for the president to ask a foreign leader to investigate his political opponent and to withhold United States aid to encourage that investigation," Sen. Lamar Alexander (R-TN) said Thursday night. "The question then is not whether the president did it, but whether the United States Senate or the American people should decide what to do about what he did."

Sen. Rob Portman (R-OH) said in a statement Friday morning, "I do not believe that additional witnesses are needed. I have said consistently for the past four months, since the Zelensky transcript was first released, that I believe that some of the president's actions in this case – including asking a foreign country to investigate a potential political opponent and the delay of aid to Ukraine – were wrong and inappropriate. But I do not believe that the president's actions rise to the level of removing a duly-elected president from office and taking him off the ballot in the middle of an election." Portman and others also decided that there were self-imposed deadlines that took precedence over questions of whether the President of the United States abused his powers.
And, of course, there was Sen. Marco Rubio (R-FL), who asserted, "Just because actions meet a standard of impeachment does not mean it is in the best interest of the country to remove a President from office. ..."
There will be consequences.
As the New York Times reported, Sen. Chuck Schumer (D-NY), Minority leader said."America will remember this day, unfortunately, where the Senate did not live up to its responsibilities, when the Senate turned away from truth and went along with a sham trial. If the president is acquitted, with no witnesses, no documents, the acquittal will have no value because Americans will know that this trial was not a real trial."
As the Washington Post reported, Rahm Emanuel, the former Chicago mayor and once Obama Chief of Staff, said that risk will be especially high for such Republicans if additional, damaging information about the president's pressure on Ukraine to investigate his opponents emerges in coming months.

"If you're one of the five senators, you'd better be sure your vote stands the test of time," Mr. Emanuel says. "You'd better be sure that as more information comes out—and it will come out—that this vote doesn't come back to haunt you."
Yesterday, new evidence already began to be heard. "More than two months before he asked Ukraine's president to investigate his political opponents, President Trump directed John R. Bolton, then his national security" to pressure Ukraine, reported the New York Times on Friday morning.
Or as lead Democratic manager Adam Schiff (D-CA) said, in his last effort to move the Senate toward Witnesses, "The facts will come out in all of their horror, they will come out," "The witnesses the president is concealing will tell their stories," "And we will be asked why we didn't want to hear that information when we had the chance. What answer shall we give if we do not pursue the truth now?"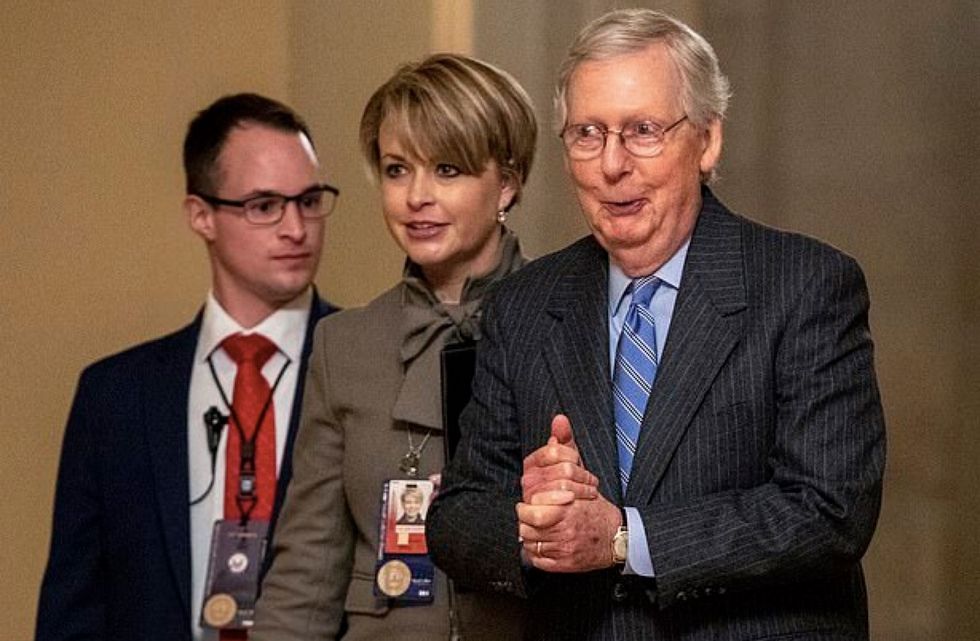 Mitch McConnell's reaction to stopping witnesses. Really.

We all know that this fight is not over. 82% of the American public wanted witnesses.
Will the House once again open hearings and call more witnesses, including John Bolton, Trump lawyer Pat Cipollone, and House Minority Leader Devon Nunes, and this time push the subpoenas? Will an emboldened Trump pull a Mick Mulvaney and confess? What else will we learn?

What should the rest of us do in the meanwhile?

This tweet by a less prominent Tweeter summarizes how I felt yesterday. I suspect you may have felt this way too.

Then, I offer three leadership tweets for your consideration as you recover:

The First is from Kamala:

The next two are from Hillary: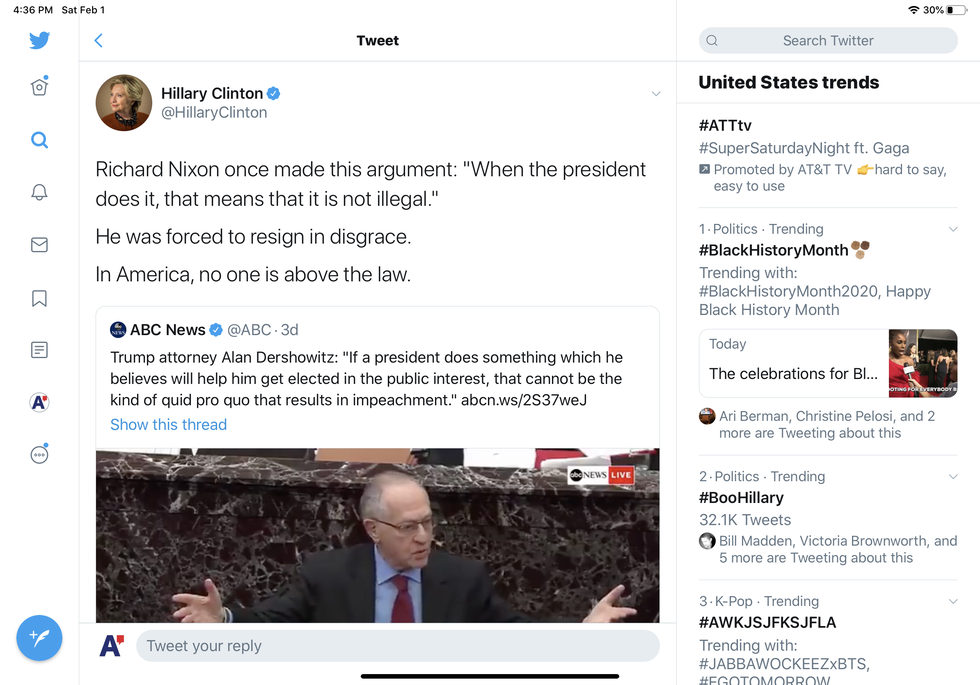 We fight on.
We have no choice, though of us who still have our hiss.
#BlueHouse2020 #BlueSenate2020 #BlueWH2020
###
February 1, 2020
Voices4America Post Script. Oh, a shout out to the Sanders team. Yesterday, the day Republicans voted to let Democracy die, the Sanders team managed to distract us from our anger and sadness at Trump and the GOP by having us watch‬ Representative Rashida Tlaib lead Sanders supporters in booing Hillary, not Trump, in Iowa. #IAmWithHer
#RememberInNovember #StopTheGOP