In most states, control of the state legislature comes with the authority to redraw state and federal electoral maps.
WASHINGTON — Abortion. Guns. Police. Schools. Health care. Covid-19.
These are just a few of the issues that state legislatures will make laws about next year. Not to mention the once-a-decade event: redrawing state and national electoral maps after the decennial census, an exercise that can give one political party a deep and enduring advantage in lawmaking for years.
So, while the campaigns for president and seats in Congress may have absorbed much of the nation's attention, the elections to determine control of state government — more than 5,000 legislative races farther down the ballot — could also have a major effect on Americans' lives.
About 80 percent of the nation's 7,383 state legislative seats are up for grabs this year, with elections in 44 states, according to Tim Storey, an expert at the National Conference of State Legislatures, or N.C.S.L.
The stakes are high for both parties. Democrats are on offense in state elections this year, trying to pry chambers away from G.O.P. control, but Mr. Storey said it was highly unlikely that the Democrats would make gains anywhere close to those that Republicans scored in the 2010 election cycle, when they gained a whopping 24 chambers, the culmination of a historic realignment of Southern legislatures toward the Republican Party.
"If there are gains, they won't be extraordinary or off the charts," Mr. Storey said. Demographic change is slow, he said, and movement of a state from one party to the other is usually gradual.
A few of the chambers Democrats are aiming to flip, he said, are the Texas House, the North Carolina House and Senate, the Arizona House and Senate, the Minnesota Senate, and the Pennsylvania, Michigan and Iowa Houses. Republicans, for their part, are looking to take New Hampshire's House and Senate.
Republicans have a distinct advantage in statehouses today. Of the 98 partisan legislative chambers in 49 states, about three-fifths — 59 chambers — are controlled by Republicans, and the remaining 39by Democrats, according to the N.C.S.L. (Nebraska's legislature has only one chamber and its elections are officially nonpartisan.)
In all but one of the states with two chambers (Minnesota is the exception), the same party controls both chambers. That is an effect of rising polarization and the growing tendency of voters to stick with a single political party up and down the ballot.
The 2010 Republican sweep coincided with a census, giving Republicans disproportionate control just when lines were to be redrawn for Congressional and state electoral districts across the country. The effects are still being felt today.
"I think most people, including Democrats, realize that Republicans were ahead of the game in 2008 and 2009 and 2010, and got control of the legislatures," said Wendy Underhill, a specialist on redistricting at the N.C.S.L. This time, she argued, "both teams are equally well prepared."
The redistricting process begins again next year, when the Census Bureau delivers population data to each state. That usually happens by April 1, though the timeline is less certain this year because of delays caused by the Covid-19 pandemic and by continuing litigation.
Whatever the timing, though, the outcome of next week's balloting will be critical. While some states use nonpartisan or bipartisan commissions to draw electoral maps, the process in most states is controlled by the majority party in the state legislature.
"The state races have never been more important than they are this year," said David Abrams, deputy executive director of the Republican State Leadership Committee, which focuses on electing Republicans to state offices. He said his group is focusing on 14 target states and that in many of them, Democrats who flipped Republican seats in 2018 are vulnerable now. "The conventional wisdom is that we are entirely on defense, but that's not actually true," he said.
Issues beyond redistricting power are at stake, too — for example, health care access, which is especially important during the pandemic.
In North Carolina, where Republicans have controlled both chambers since the national sweep in 2010, Democrats are fighting to take back control, and want to expand Medicaid to cover low-income North Carolinians.
North Carolina is one of 12 remaining states — all with Republican-controlled legislatures and most of them in the South — that have not expanded their Medicaid programs under the Affordable Care Act.
Abortion is another example. Joe Pojman, the executive director of the Texas Alliance for Life, said his organization was focused not just on helping Mr. Trump win the state, but also on the down-ballot races for the Texas House, which Democrats hope to flip.
If that happens, Mr. Pojman said, "it would be very difficult to advance our agenda."
One goal, he said, is a "trigger law" that would ban abortion in the state if and when Roe v. Wade is overturned. The new composition of the Supreme Court is seen as having made such a reversal more of a possibility, and similar bills have passed in other Republican-controlled states.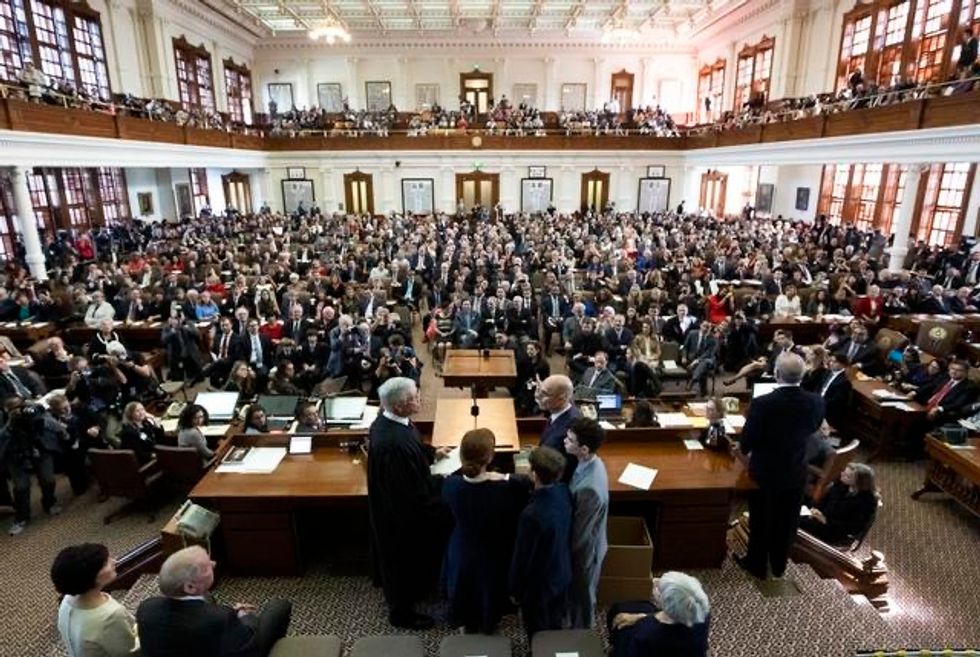 If we add 9 Dems to the Texas State House, not only will we protect a woman's right to choose, but we will stop voter suppression. #,VoteBlue
Abortion rights advocates say they are watching the Iowa House, which Democrats are trying to flip. The chamber voted this year to place on the ballot a proposal to amend the state constitution to say that it does not protect abortion, according to Elisabeth Smith, chief counsel for state policy and advocacy at the Center for Reproductive Rights, an abortion rights group. If Republicans lose control of the Iowa House, she said, the initiative would not pass a second time, a requirement for putting the proposal before the voters.
Elsewhere, efforts at curbing police violence are at stake. In Minnesota, where Democrats control the House and are hoping to flip the Senate, a policing bill that passed the legislature over the summer was weaker than Democrats wanted. It did not require officers to live in the communities they serve, nor did it completely ban choke holds or impose penalties for using them, according to Jessica Oaxaca, a spokeswoman for Senate Democrats. It also lacked protections for police officers who report illegal uses of force, she said, adding that in order to pass tougher changes, Democrats would need control of the Senate.
"We have to win the majority to have the conversation," she said.
Sabrina Tavernise, New York Times, Nov. 2, 2020
###
November 2, 2020
Voices4America Post Script. If you are wondering whether to vote #BlueUpAndDown, read and then share this article. Make sure your friends know how much is at stake.
At stake in your state- health care, abortion, LGBTQ rights, racial justice, minimum wage, voting rights, more.
At stake in the Senate, same plus judges, SCOTUS. #VoteBlue
#BlueAllThrough #BlueState
#BlueHouse #BlueSenate #BidenHarris2020