BREAKING NEWS
*State Department Directed Gordon Sondland Not to Appear for House Testimony — Sondland Lawyer
*Sondland 'Profoundly Disappointed' Not to Testify
*Sondland Was Scheduled to Testify Before House Lawmakers on Tuesday Over Ukraine Efforts
WASHINGTON—The State Department directed the U.S. ambassador to the European Union not to testify before House lawmakers as part of their impeachment inquiry, a lawyer for the ambassador said Tuesday.
Gordon Sondland was set to be deposed Tuesday by House lawyers as part of the congressional impeachment inquiry looking into President Trump's effort to press Kyiv for investigations of Joe Biden and other matters.
Robert Luskin, a lawyer for Mr. Sondland, said his client, who traveled to Washington from Brussels for the deposition, was "profoundly disappointed" not to be able to testify and that he "stands ready to testify on short notice, whenever he is permitted to appear."
The decision by the State Department to bar Mr. Sondland's testimony on Tuesday morning sets up a likely clash over testimony scheduled for later this week by Marie Yovanovitch, the former U.S. ambassador to Ukraine who remains a State Department employee.
The State Department didn't immediately respond to a request for comment.The U.S. ambassador to the European Union was expected to be questioned on matters including the role that he and other officials played in crafting a statement in August in which Ukraine would commit to opening a corruption investigation in exchange for a White House meeting between Mr. Trump and Ukrainian President Volodymyr Zelensky.
In that effort, the U.S. officials turned to an outside adviser: Rudy Giuliani, Mr. Trump's personal lawyer.

Mr. Giuliani had said he met the previous week with a top aide to Mr. Zelensky. After that meeting, Mr. Sondland and Kurt Volker, U.S. special envoy for Ukraine negotiations, learned that Ukraine was considering issuing a statement on investigations they would pursue according to text messages released by House lawmakers last week.
When Mr. Volker and Mr. Sondland discussed the draft statement with Mr. Giuliani, the lawyer asked that it specifically name Burisma Group, a Ukrainian gas company where Mr. Biden's son had once sat on the board, according to a person familiar with Mr. Volker's closed-door testimony to House lawmakers last week.
A draft statement subsequently circulated by Mr. Volker included a line that Ukraine investigate "all available facts and episodes, including those involving Burisma and the 2016 U.S. elections."
Mr. Giuliani didn't respond to a request for comment.
That statement was ultimately scuttled over concerns in Ukraine about being perceived as wading into U.S. elections, among other matters, according to the person familiar with Mr. Volker's testimony to House lawmakers.
But Mr. Sondland and Bill Taylor, a top U.S. diplomat in Kyiv, continued to discuss the possibility of having Mr. Zelensky give a media interview in which he would make similar commitments about Ukrainian investigations, according to the person familiar with Mr. Volker's testimony.
Lawmakers want to know what Mr. Sondland knew and said about Mr. Trump's effort to press Kyiv for investigations, and whether the administration relied in doing so on promises of a White House visit or military assistance.
Mr. Sondland has come under fresh scrutiny in recent days after Sen. Ron Johnson (R., Wis.) told The Wall Street Journal on Friday that Mr. Sondland had told him in August that the decision to hold up nearly $400 million aid to Ukraine was contingent on an investigation desired by Mr. Trump and his allies. Mr. Johnson said the president denied any quid pro quo.
Mr. Sondland doesn't remember his conversation with the senator that way, according to a person familiar with his activities. He understood the White House visit was on hold until Ukraine met certain requirements, but he didn't know of a link to the military aid, this person said.
Yet text messages released by House lawmakers last week suggest some Trump administration officials believed there was a link between the aid to Ukraine and the investigations Mr. Trump sought.
"The nightmare is they give the interview and don't get the security assistance," Mr. Taylor wrote in a Sept. 8 text message to Mr. Volker and Mr. Sondland, referring to the interview they had discussed Mr. Zelensky giving about investigations.
The next day, Mr. Taylor told Mr. Sondland: "I think it's crazy to withhold security assistance for help with a political campaign."
Mr. Sondland called Mr. Trump before texting back less than five hours later, according to the person familiar with his activities.
"The President has been crystal clear no quid pro quo's of any kind," Mr. Sondland said. He added: "I suggest we stop the back and forth by text."
Mr. Sondland is a former hotel executive with no prior diplomatic experience who was nominated as ambassador in May 2018. In February, weeks after Russia seized a Ukrainian navy ship, he unofficially added Ukraine—which isn't an EU member—to his portfolio.
Over the next seven months, Mr. Sondland traveled to Ukraine or met with its top leaders repeatedly, presenting himself as a direct line to the White House, according to Ukrainian officials and documents released in the impeachment inquiry. Mr. Sondland's role continued to grow after Mr. Trump in May ordered the removal of the ambassadorto Ukraine after Mr. Giuliani raised concerns she was undermining his efforts there.
In May, he arranged a flight with Mr. Trump aboard Air Force One for European Commission Vice President Maros Sefcovic. The trip, from Washington to the opening of a liquefied natural gas export terminal in Louisiana, was unprecedented for an EU official and intended to help boost growing European purchases of U.S. liquefied natural gas.
Mr. Trump, in remarks at the terminal in Louisiana, singled out Mr. Sondland's work for praise. "Where is he? Great job. Good," the president said.
Six days later, Mr. Sondland was part of the U.S. delegation to the inauguration of Mr. Zelensky in Kyiv, along with Energy Secretary Rick Perry, Mr. Johnson and Mr. Volker.
During that trip, according to a person familiar with the matter, Mr. Volker informed the other members of the delegation of press reports involving Mr. Giuliani's assertions that Ukrainians had sought to influence the 2016 U.S. election and curry favor with Mr. Biden. Prior to then, the delegation "had no idea" about what Mr. Giuliani had been pushing, the person said.
By Rebecca Ballhaus and Daniel Michaels, Wall Street Journal, October 8, 2019 8:40 am ET.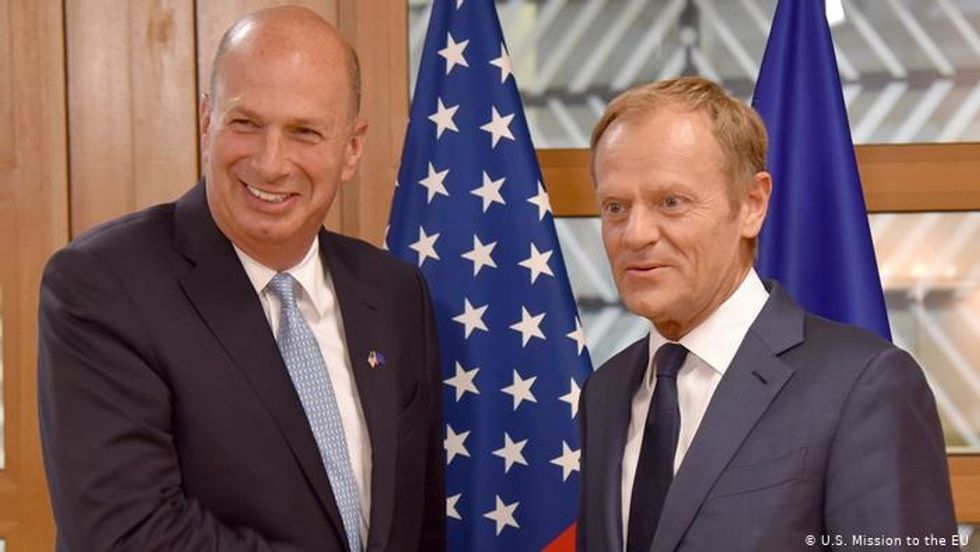 Sondland (left) and Zelensky.
###
October 8, 2019
Voices4America Post Script. Trump thinks not only himself but anyone he chooses is Above the Law. Expect #ContemptCitations to be issued, and fines and perhaps arrests to begin. #StopTrumpNow #NoOneIsAboveTheLaw
if you want to read about the Contempt Authority of the Congress, check this out. https://www.govinfo.gov/content/pkg/GPO-HPRACTICE-...

This is now an update..12:22 pm. The House will subpoena Sundland.
https://www.washingtonpost.com/national-security/gordon-sondland-key-us-official-in-political-storm-over-ukraine-to-be-deposed-in-impeachment-inquiry/2019/10/07/c3c1703e-e942-11e9-9306-47cb0324fd44_story.html