Speaker Nancy Pelosi of California on Wednesday named seven House Democrats to serve as managers of the impeachment case against President Trump, selecting a diverse team to prosecute the case for his removal in the Senate.
As expected, the most prominent leaders of the impeachment investigation, Representatives Adam B. Schiff of California, the chairman of the Intelligence Committee, and Jerrold Nadler of New York, the chairman of the Judiciary Committee, will be part of the group.
Ms. Pelosi also named Representatives Zoe Lofgren of California, Hakeem Jeffries of New York, Val B. Demings of Florida, Jason Crow of Colorado and Sylvia R. Garcia of Texas. Mr. Crow and Ms. Garcia are both first-term members.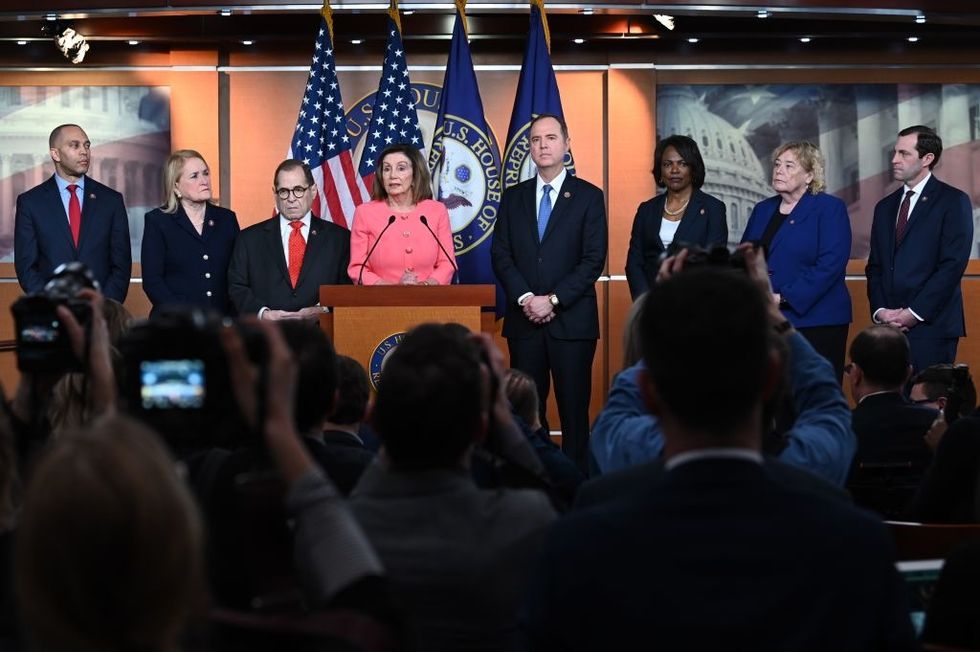 US-POLITICS-IMPEACHMENT. Left to right. Hakeem Jeffries, Sylvia Garcia, Jerry Nadler, Speaker Pelosi , Adam Schiff, Val Demings, Zöé Lofgren, Jason Crow. AFP via Getty Images
The group will serve as the public face of the impeachment process starting immediately. They are expected to carry the two articles of impeachment over to the Senate chamber late Wednesday afternoon. Once the Senate signals it is ready to proceed with the trial, as early as Thursday, the managers will once again cross the Capitol, entering the Senate well to read aloud the charges of abuse of power and obstruction of Congress. And they will be the ones to make opening arguments in the case against the president at the start of the trial — only the third of its kind in American history — most likely beginning next week.

First, House leaders have set an early afternoon vote to formally appoint the managers and transmit the articles to the Senate.
The team, announced by Ms. Pelosi at a morning news conference, is smaller and far more diverse than the 13 white men chosen by Republicans in 1998 to prosecute President Bill Clinton during his Senate impeachment trial.
Emily Cochrane is a reporter in the New York Times, Washington bureau, covering Congress. This appeared on January 15, 2020.
###
January15, 2020.
Voices4America Post Script. As the Impeachment Articles move to the Senate, I thought you would like to see the 7 Reps named Managers by @SpeakerPelosi. #AdamSchiff #JerryNadler #ZoeLofgren #HakeemJeffries #ValDemings #JasonCrow #SylviaGarcia #AmericanDiversity #RemoveTrump