The final day of Supreme Court confirmation hearings for Judge Amy Coney Barrett began with a partisan brawl as Senate Republicans, plowing past Democratic objections, forced through a motion to schedule a committee vote on her nomination next week.
In doing so, they ignored committee rules that require at least two members of the minority party to be present to conduct business. When the hearing began and Senator Lindsey Graham, Republican of South Carolina and the chairman, called the vote, only one Democrat, Senator Richard J. Durbin of Illinois, was present.
"I want to take official note of the fact that I am the only member of the minority that is here, and so we cannot conduct business until that second member of the minority arrives," Mr. Durbin said.
Mr. Graham rejected his claim and proceeded anyway, saying Democrats would do the same if they were in his position.
"It's clear to me from reading in the paper that we are going to be denied the ability to operate as normal," Mr. Graham said, referring to Democrats' public pledge to disrupt "business as usual" around a nomination they view as rushed and deeply unfair.
Democrats appeared to be trying to goad him into violating the rule, with several waiting just outside the committee room as Mr. Durbin sat alone on their side of the dais. As the vote commenced, Senator Richard Blumenthal of Connecticut walked in and was present to cast his "no" vote, while others voted by proxy to block the move.
Still, with Republicans in the majority, the panel approved Mr. Graham's motion, setting its vote on the nomination for Oct. 22 at 1 p.m. If the committee approves the nomination at that point, the full Senate would vote a few days later, as soon as Oct. 26.
Outraged Democrats then moved to shut down the hearing, with Mr. Blumenthal asking to suspend it "indefinitely."
"The time has come to be honest about what is going on here," said Senator Amy Klobuchar, Democrat of Minnesota. "You are just trying to ram through this justice — against your own words, in light of everything this president has said, where he won't even commit to a peaceful transition to power. That is the world we are in right now."
Thursday's hearing is one of the final opportunities for Democrats to delay the confirmation process.
While the question-and-answer segment of the hearing this week was marked by general civility and respect for the nominee, both Democrats and Republicans on the committee raised some sharp questions about the other side's motives.
Republicans frequently accused Democrats of maligning Judge Barrett because of her personal values and religion, even though Democrats determinedly avoided discussion of either topic.
Democrats repeatedly rebuked Republicans for dropping other legislative priorities to rush the confirmation process, and they characterized the last-minute hearings as abnormal and illegitimate.
But with Judge Barrett out of the spotlight, Thursday began with a more argumentative atmosphere in which partisan complaints surfaced anew.
Given that Democrats have few, if any, means to push the confirmation schedule back, the move to delay the confirmation process was likely to be one of their last opportunities to protest the entire confirmation process.
The Senate Judiciary Committee will hear from witnesses on the final day of hearings.
After two days of grilling by the judiciary panel, Judge Barrett is not appearing on Thursday, as the panel debates approving her nomination and two panels of witnesses testify for and against it.
Following Thursday morning's partisan fireworks over moving ahead, the session's focus will shift to a series of speakers who will share their perspectives about confirming Judge Barrett for the Supreme Court seat held by Justice Ruth Bader Ginsburg until her death last month.
A handful of witnesses scheduled to speak have experience working with Judge Barrett or hold influential positions on boards that evaluate nominees for federal judicial posts. Others have minimal legal experience, but were selected to share personal stories that committee members believe relate to cases currently being litigated that Judge Barrett, if confirmed, could eventually rule on.
Two panels will speak about Judge Barrett's merits.
The first panel is to feature two members of the American Bar Association's standing committee on the federal judiciary who will testify about their positive evaluation of Judge Barrett as a Supreme Court nominee.
The committee, which grades federal nominees on their qualifications, has already rated Judge Barrett as "well qualified" and has historically been supportive of the vast majority of nominees.
The association has shown skepticism about a number of President Trump's past judicial nominees, rating 10 as "not qualified" — more than any previous president. However, the first panel is expected to give a laudatory assessment of Judge Barrett, whose career and academic credentials have received significant praise among many jurists.
The second panel will feature a more diverse selection of expertswhose stories will be far more personal and pointed.
Democrats have called Crystal Good, who is expected to speak about her experience having an abortion after being granted a judicial bypass, which allows minors to have the procedure without seeking consent from parents or guardians. Her testimony, along with that of Stacy Staggs, a mother of 7-year-old twins with pre-existing medical conditions, is expected to raise questions about the future of access to abortion and health care in light of pending legal challenges.
To speak to Judge Barrett's character, Republicans have called one of her former clerks and a former student at Notre Dame. They have also called a retired federal judge who recently wrote an opinion article arguing that Judge Barrett's Catholic faith would not color her opinions as a justice.
New York Times, By Nicholas Fandos and Zach Montague, October 15,2020
###

October 15, 2020
Voices4America Post Script. If you believe in Democracy and Due Process, the willingness of Graham (SC)*, Grassley (IA), Sasse (NE), Cruz (TX) , Josh Hawley (MS) , Mike Lee (UT), Joni Ernst (IA)*, Marsha Blackburn (TN), Mike Crapo (IL), John Kennedy (LA) , John Cornyn (TX)* and Thom Tillis (NC)* to vote to set a date for #BarrettCoronation with only one Dem present, in violation of Senate rules should remind you who these folks are. Asterisk indicates Senators up for Re-Election. #VoteThemOut #TakeBackTheSenate #VoteBlue #VoteDemocracy #VoteDecency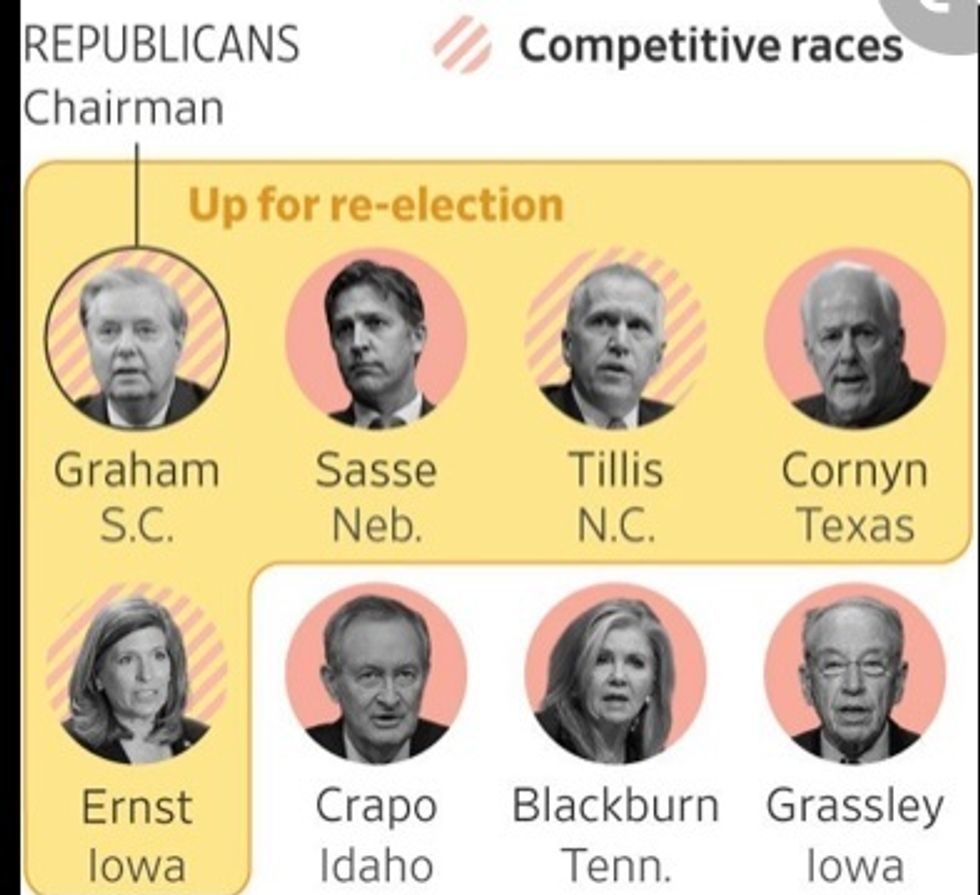 Replace Graham with Jaime Harrison, Sasse with Chris Janicek, Tillis with Cal Cunningham, Cornyn with MJ (Mary Jennings) Hagar, Ernst with Theresa Greenfield.