The midterm election cycle has been defined by female candidates.
Tuesday's primaries in Connecticut, Minnesota, Vermont and Wisconsin continued that trend.
Here are some highlights on women candidates.
Christine Hallquist .
Vermont chose Democrat Christine Hallquist the first-ever transgender gubernatorial nominee from a major party. "I am so proud to be the face of the Democrats tonight," she said.
In Wisconsin, Democratic Sen. Tammy Baldwin was uncontested to reclaim her seat in November.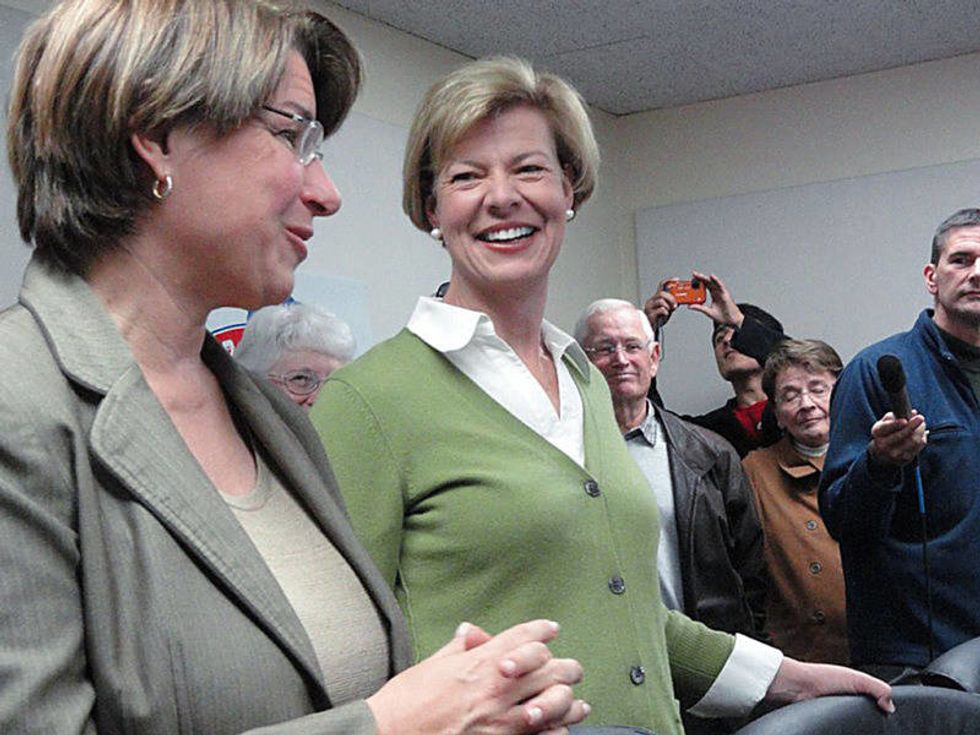 Minnesota Senator Amy Klobuchar with Wisconsin Senator Tammy Grimes. Grimes is up for re-election.
In the Republican Primary, the extreme candidates campaigned brutally, each claiming more and more devotion to Trump. A woman, Leah Vulnik will be Tammy's Opponent.
The good news is that Wisconsin as well as Minnesota had large Democratic voter turnout, and the nonPartisan Cook Report says Baldwin, an out lesbian, will likely win her re-election for a second term.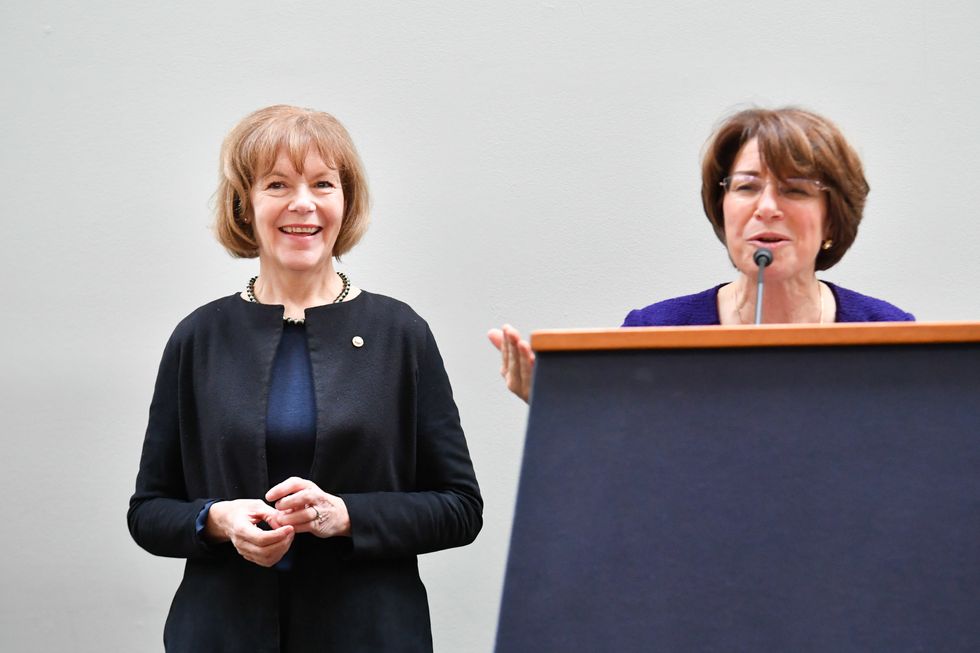 The 2 Female Minnesota Senators. Senator Tina Smith with Senator Amy Klobuchar.
In Minnesota, Tina Smith, appointed to Senate in wake of Al Franken's resignation after a sexual misconduct scandal,won her re-election bid handily, against former Bush administration official and former Republican Richard Painter...76% to 13%.
Summary- From the Broadsheet.
"Across the country, 28 women candidates ran in Democratic or Republican congressional primaries, and half of them advanced to general elections in November.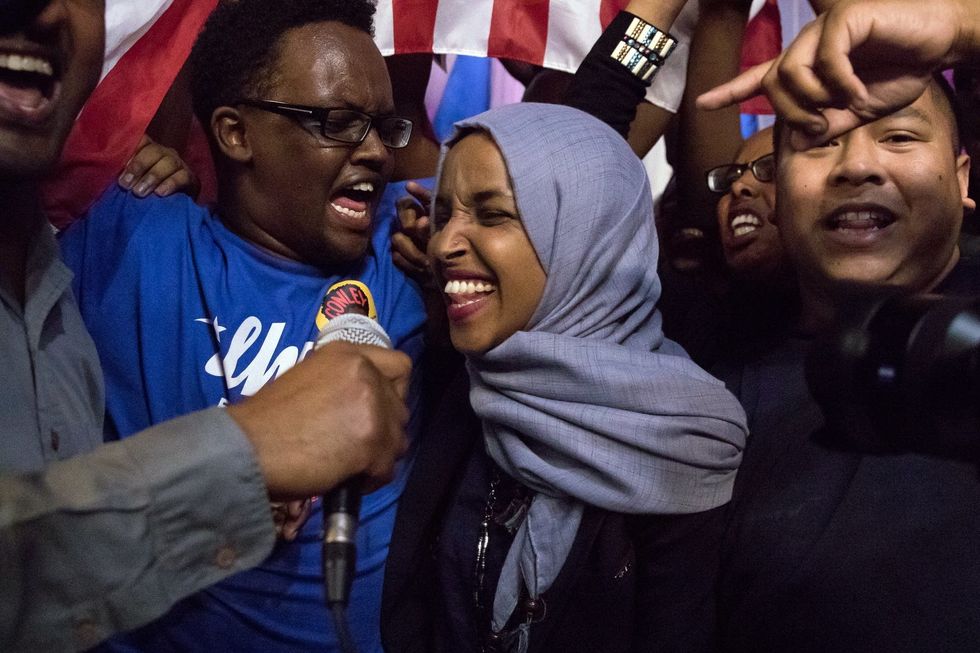 Ilhan Omar.
Ilhan Omar's victory in the Democratic primary for Minnesota's 5th Congressional District is especially notable, since she'll be one of the first Muslim women to serve in Congress if elected this fall.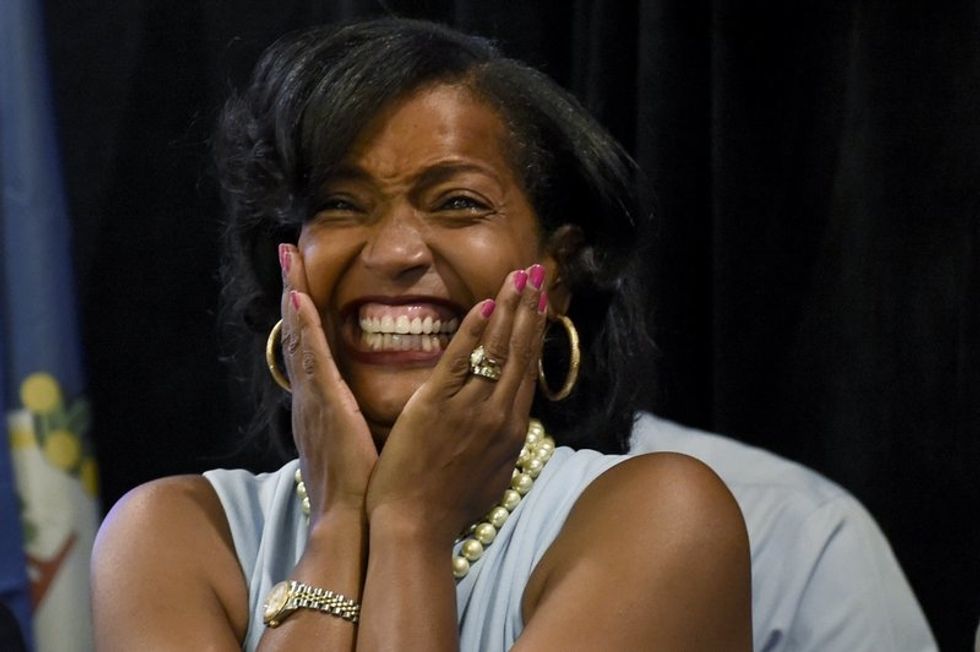 Jahana Hayes.
Likewise, Democrat Jahana Hayes who is looking to make history in Connecticut, after winning the party's nomination for the state's 5th Congressional District. If she wins in November, she'll be the first black woman to represent the state in Congress.

"When we started this campaign a little more than 100 days ago, we had no organization and no network. People told us we had no chance and no business trying to upset the status quo," Hayes, a onetime teen mom and celebrated teacher, told supporters on Tuesday. "And tonight, we proved them wrong."
Jahana was President Obama's Teacher of the Year in 2016.
Here are all the results, for women and men in all four states (Connecticut, Minnesota, Vermont and Wisconsin) where there were primaries yesterday. https://www.vox.com/policy-and-politics/2018/8/14/17686376/minnesota-primary-elections-2018-live-results-keith-ellison

The midterm elections will soon be here.
Check your own voter registration. Remind and register others to vote. Volunteer and donate as you can. We can win on November 6th. #MakeAmericaAmericaAgain
###

August 15, 2018
Post Script. Voter turnout. That is how we win in November. Democrats have the momentum.