If there were any question that President Donald Trump is politicizing the coronavirus pandemic, his notes put that to rest.
Washington Post photographer Jabin Botsford snapped a shot of President Donald Trump's notes from Thursday's coronavirus task force press briefing.
As he shows in the images below, Trump's speech reads "Corona Virus," but the word "Corona" was crossed out with a black marker and replaced with the word "Chinese."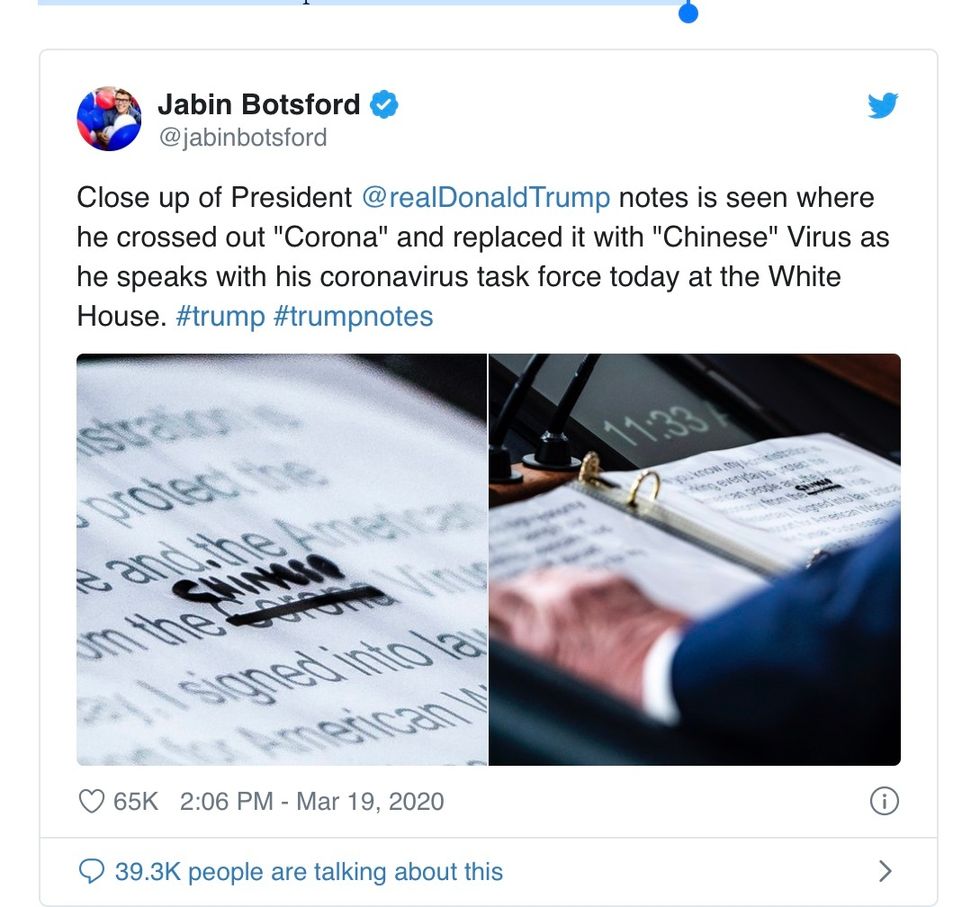 It's unknown who made the change, and it's possible even if that's not Trump's handwriting that he could have directed a staffer to "correct" it for him.

Trump has taken to calling coronavirus the "Chinese virus" all week, ever since his apparent decision to present himself as having known and said the coronavirus crisis was a pandemic all along – which is false. He called it a hoax and worked to minimize its lethality for months.
But on Twitter and in speaking in public Trump has worked to call it the "Chinese virus."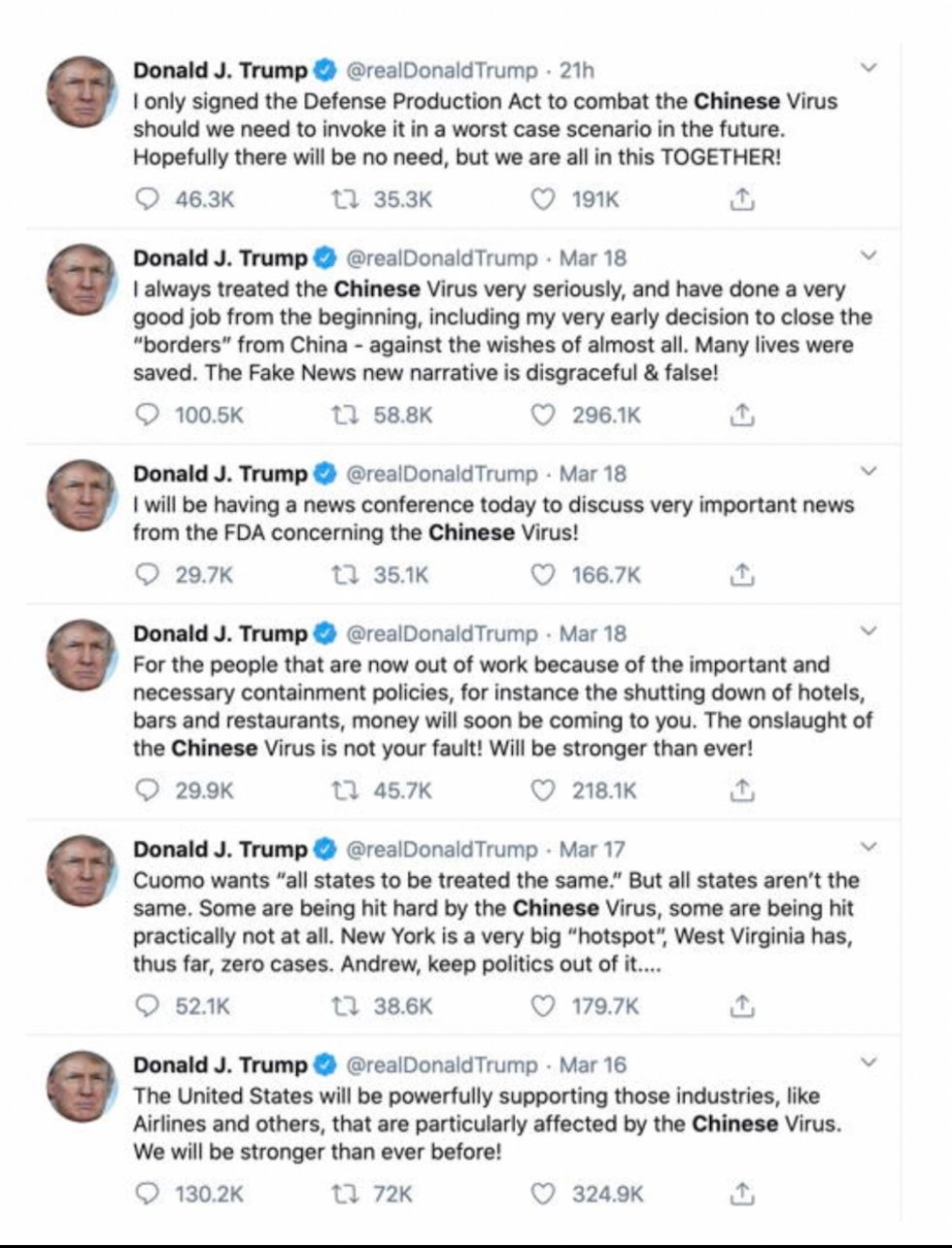 David Badash, New Civil Rights Movement, March 19, 2020
Voices4America Post Script.


Children are being beaten by others, thanks to the hate barbaric, racist Trump generates.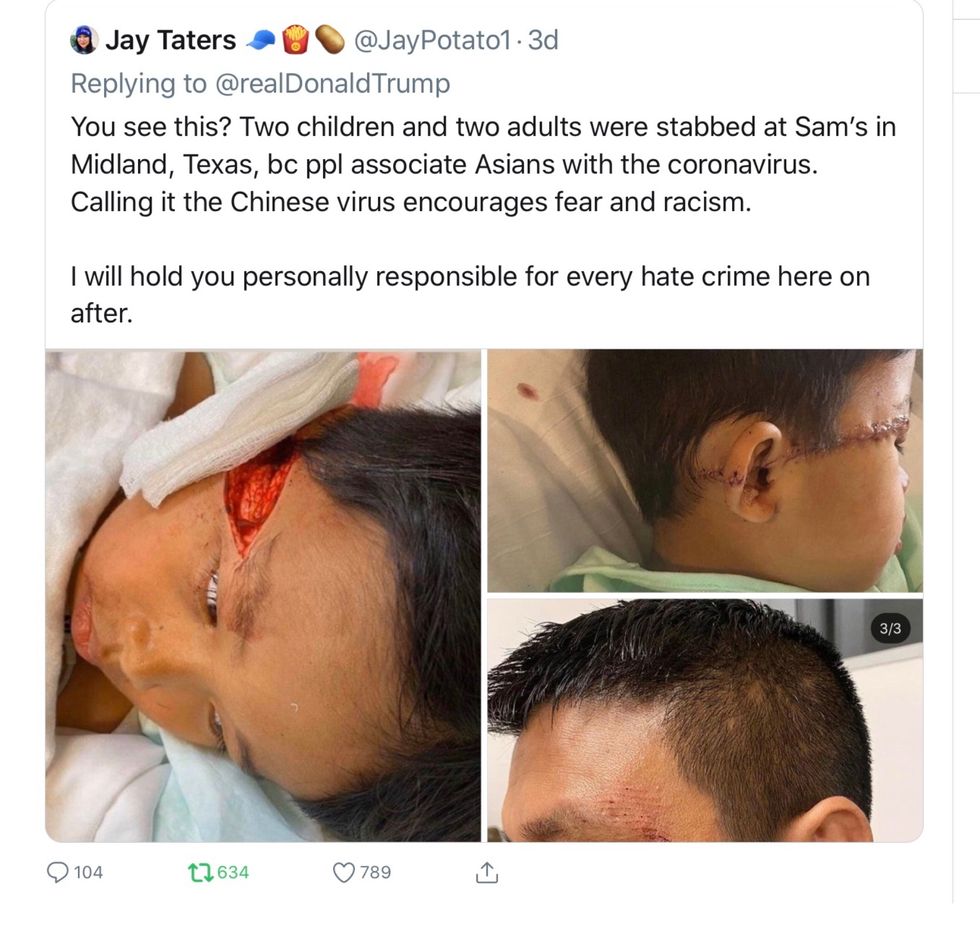 Here is another Commentary, this by the Michelin starred chef/owner of Jejun Noodle Bar in NYC, on the violence inspired by Trump:
"Then I went into the restaurant to talk to my staff. We were going to do a delivery and pickup system, but on Monday, my staff started raising their concerns more. Most of them come from Asian backgrounds. They told me that they have felt threatened on public transportation, and after the mandate happened they felt more scared. My head chef told me, "I don't feel safe being on public transportation." I was like, "Okay, that's a different situation."
My staff was concerned that they would get jumped or beat up by some random people because they're Asian. That, for me, is more scary than anything else. They feel like they are looked at as almost alien because they are Asian. I had started feeling like it could be a little too dangerous, because I was hearing some other Asian people were getting jumped, too. We just felt that maybe I needed to stop this whole operation and think of the safety of our own employees. What happens if somebody is jumped somewhere on the way to work? That is the last thing I want to hear. There are crazy stories. One of my friends owns Chinese restaurants here, and her son, who lives in a very good neighborhood, recently got jumped by three white dudes in his building's elevator."
Racism in #TrumpPandemic
We should make sure we proclaim who failed America and who made this Pandemic worse.

Share this. Make #TrumpVirus trend. #DuckTrump #WorstPresidentEver