More than 860,000 Americans have already cast their vote in the 2020 election—a number much higher than the reported 9,525 votes that were returned at this point in 2016.
At least 866,734 people have voted in this year's election as of September 26, according to the U.S. Elections Project, which is run by University of Florida political science professor Michael McDonald. The number is based on 25 states whose early voting data is available, meaning it does not convey the entire picture.
"These states are those where I have current data on mail ballot activity," McDonald wrote in a blog post Saturday morning. "More states will be added as state reports become available."
Still, the large number is a sign of Americans' excitement for the upcoming election, as well as an increased commitment to voting early fueled by the coronavirus pandemic and concern over U.S. Postal Service delays.
Numbers gathered by McDonald in 2016 highlight just how different this election cycle may be than the previous one. For the week ending September 25, 2016, 9,525 people had voted early, according to the reporting states and localities.
While it is important to note that this number is only an estimate and could've been higher depending on whether McDonald had access to more states' data, the difference of more than 850,000 votes from this time in 2016 is astonishing.
As McDonald acknowledged in a blog post written at the time, the pace of early voting will naturally increase as Election Day draws nearer and more people finalize their choices. Just one week later—on October 2, 2016—at least 78,836 people had cast their ballot early in the reporting states, McDonald found. By October 16, 2016, that number had increased even further to be around 1.4 million voters.
Newsweek contacted McDonald for comment, but did not hear back in time for publication
McDonald's most recent data could provide some indication of which candidates voters might be casting their ballot for, although it in no way gives a complete picture of how the 2020 election will pan out.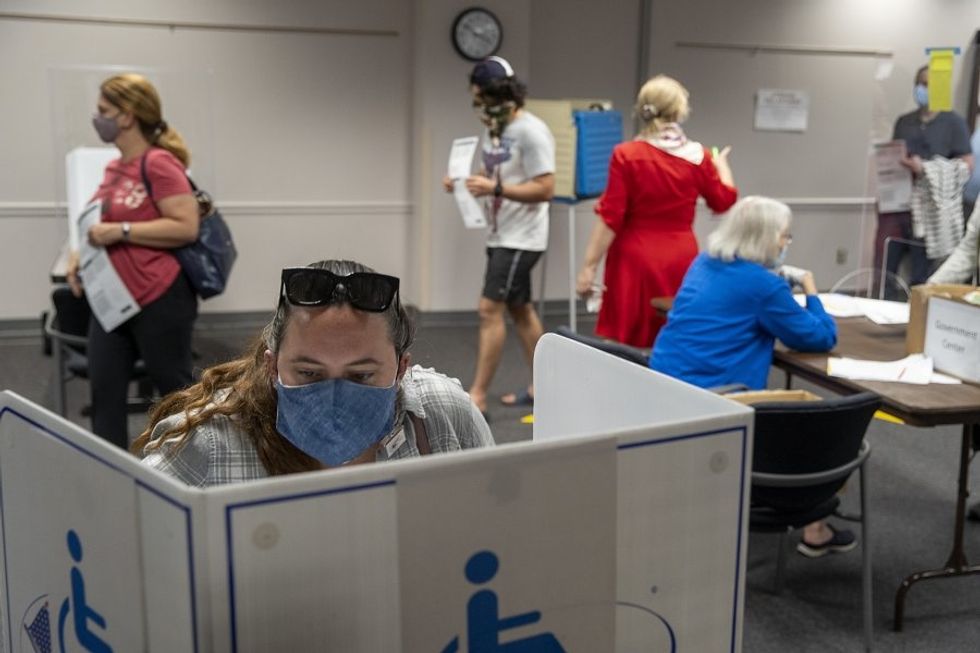 Voters cast ballots, spaced apart due to covid-19 at the Fairfax Government Center on September 18, 2020 in Fairfax, Virginia. Voters waited up to four hours to early vote in the upcoming 2020 presidential election, polls opened at 8am, and people where in line at 5:45am according to poll workers.TA
Out of the three states reporting party registration data—Florida, Iowa and North Carolina—the majority of early voters are Democrats (53.9). Republicans make up 16.7 percent, and those without a party affiliation make up 29.1 percent.
This is not necessarily surprising information: Battleground states including Florida, Iowa, Pennsylvania and North Carolina have seen Democratic voters request more absentee ballots in 2020 compared to Republicans and non-affiliated voters, according to a New York Times analysis.
Democrats are far more likely to vote by mail this year than Republicans, Axios reported. One key reason could be the coronavirus pandemic, which caused a massive push for mail-in voting so that people could cast their ballot from the safety and comfort of their own home, as opposed to potentially exposing themselves to COVID-19 while visiting a polling location.
Many public opinion polls conducted throughout the past six months have found that, on average, people who identify as Democrats are more likely to be concerned about the pandemic.

But with just 38 days until the consequential election, many Democratic leaders are now encouraging their base to vote in-person if they feel comfortable, according to Axios. Threats of U.S. Postal Service delays and higher ballot rejection rates have emerged as worrisome obstacles to Democratic nominee Joe Biden's path to the White House.
President Donald Trump, for his part, is stoking fear among voters by questioning the legitimacy of mail-in ballots—a claim that has been repeatedly proven as false—and refusing to commit to a peaceful transfer of power if he loses to Biden.
"Get rid of the ballots and you'll have a very peaceful—there won't be a transfer, frankly. There will be a continuation," Trump told stunned reporters Wednesday. "The ballots are out of control. You know it, and, you know, who knows it better than anyone else? The Democrats know it better than anyone else."

BY JOCELYN GRZESZCZAKON 9/26/20 AT 1:31 PM EDT, Newsweek.
###
September 27, 2020
Voices4America Post Script. #VoteEarly #VoteNowifYouCan #VoteLaterifYouMust Join 860,000 Americans who have already voted. That compares to 10,000 at this point in time in 2016. This is big! Big! News! #Blue2020 #BidenHarris2020