CHARLOTTE, N.C. — Dan Bishop, a Republican state senator, scored a narrow victory on Tuesday in a special House election in North Carolina that demonstrated President Trump's appeal with his political base but also highlighted his party's deepening unpopularity with suburban voters.
Mr. Bishop defeated Dan McCready, a moderate Democrat, one day after Mr. Trump made a full-throated plea for support for the Republican at a rally on the conservative end of a Charlotte-to-Fayetteville district, which the president carried by nearly 12 points in 2016.
With most votes counted on Tuesday night, Mr. Bishop was ahead by about two percentage points, according to The Associated Press.
The fierce fight for the Ninth Congressional District also brought to an end a tortured political drama: The 2018 midterm race for the seat, in which Mr. McCready barely lost against a different Republican, was in question for months because of evidence of election fraud on the G.O.P. side. The election was finally thrown out, an embarrassing conclusion for state Republicans who had carved the lines of the deeply red district.Now, as Mr. Trump heads into a re-election year, the close outcome in a district that hasn't been held by Democrats since the 1960s confirmed once more that he energizes the left and some independents to fight against him just as much as he inspires Republicans to fight for him. In 2018, Democratic candidates flipped several G.O.P.-held House seats in districts that Mr. Trump had won, a sign of distaste among moderate and suburban voters who reluctantly backed him in 2016.
And that trend shows no sight of abating: on Tuesday, Mr. McCready actually performed better in the district's Charlotte suburbs than he did when he lost by a smaller overall margin last year.
For Democrats looking ahead to 2020, those midterm results and Mr. Bishop's slim margin in a conservative seat offer more evidence that Mr. Trump could face trouble in states such as North Carolina, which is Republican-leaning but filled with the sort of college-educated voters who have grown uneasy with the president.
As even some Republican pollsters and officials acknowledge, Mr. Trump — who enjoys high approval ratings with Republicans, but slipping ratings with voters overall in some recent polls — needs to improve his standing with suburban voters, particularly women. He carried North Carolina by 3.6 percentage points in 2016.
Mr. Trump wasted no time declaring victory for himself along with Mr. Bishop on Tuesday night, asserting on Twitter that the Republican candidate was struggling until he "asked me for help, we changed his strategy together, and he ran a great race."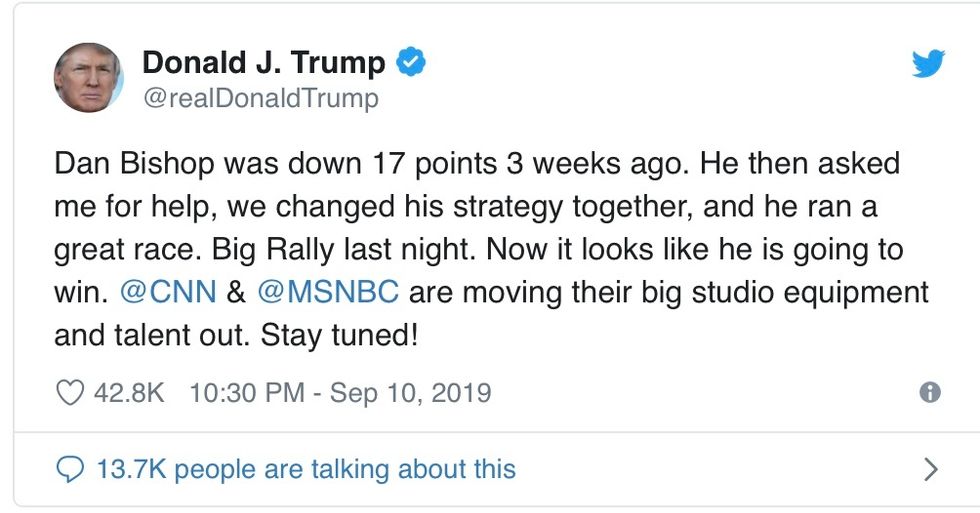 And Mr. Bishop returned the favor. Claiming victory, he called Mr. Trump "the greatest fighter ever to occupy the White House" and told supporters that the president put "himself on the line for this race."
Mr. McCready, appearing before supporters at a Charlotte hotel on Tuesday night, with his wife Laura at his side, offered his support to Mr. Bishop and invoked his campaign slogan, "country before party.""This was never a campaign about partisanship," Mr. McCready said. "This was always a campaign about values. And we rallied together around the idea that as Americans we are all in this together. We may not have won this campaign, but that does not mean that we were wrong."
In Washington, Mr. Bishop's victory was not seen by Republicans as appreciably improving their chances of winning the House back in 2020. Indeed, his win came only after outside Republican groups poured over $5 million into the district.
G.O.P. strategists on Tuesday night said the race was eerily reminiscent of the other, nail-bitingly close special elections in the first year of the Trump presidency, when the party barely hung onto a handful of House seats that in previous years they carried with ease. Those too-close-for-comfort victories, in districts from Kansas and Montana to Georgia and South Carolina, were ominous signs for Republicans ahead of a 2018 midterm election where they lost the House.
And while Republican officials said a loss in North Carolina would have accelerated the trickle of G.O.P. lawmakers retiring, they were skeptical a narrow win would stop the trend entirely given the difficulty of running for re-election with an unpopular president on top of the ticket.But Democrats also got a reminder of their own lingering challenges Tuesday, as Mr. McCready slipped in some of the more lightly populated parts of the district and exposed the challenges his leftward-shifting party has with rural voters in the Trump era.
The House district extends from Charlotte through a number of exurban and rural counties to the east. In 2016, Representative Robert Pittenger carried the district by 16 percentage points. But in the midterms of 2018, Mr. McCready, surfing the national anti-Trump mood, ran a close race, losing by 905 votes to a new Republican candidate, Mark Harris.
Then came one of the more bizarre plot twists in recent American politics: The state elections board threw out the entire election and ordered a new one because of evidence that Mr. Harris's campaign had funded an illegal vote-harvesting scheme in rural Bladen County.Mr. McCready, 36, a businessman, decided to keep running, and had been on the campaign trail for 27 straight months. A centrist, he focused on the issue of health care affordability and criticized Mr. Bishop for opposing the expansion of Medicaid under the Affordable Care Act.
Mr. Bishop, 55, a Charlotte lawyer, is perhaps best known statewide for sponsoring the so-called bathroom bill that required transgender people to use restrooms that corresponded with the gender on their birth certificate. He boasted of his endorsement from the National Rifle Association, and he repeatedly attacked Mr. McCready by lumping him with the more left-leaning elements of the Democratic Party.
Mr. Trump tweeted his endorsement for Mr. Bishop and sent out a fund-raising email on his behalf. In July, Mr. Bishop spoke at Mr. Trump's rally in Greenville, N.C., in which the crowd responded to the president's attacks on Representative Ilhan Omar, a Somali-born Democrat, with chants of "send her back!"
The election was effectively the last campaign of the 2018 season, and what alarmed national Republicans was how ominously it recalled the midterm elections: As with so many races last year, a centrist Democrat raised significantly more money than the Republican candidate. And it happened in a historically conservative district that is now tilting toward the political center because of the suburban drift away from the G.O.P.
At Olde Providence Elementary School in Charlotte on Tuesday afternoon, voters moved in and out of their polling place at a steady trickle, braving 93-degree heat and a gantlet of volunteers for local campaigns who lined the sidewalk outside.
The elementary school is surrounded by a relatively prosperous clutch of neighborhoods in South Charlotte — exactly the kind of place where Mr. McCready needed to rack up votes if he was to score an upset.
Stephanie Dillon exited the polling place with her seven-week-old son, Wells, in a stroller. She considers herself a political independent and she recalled voting for Mitt Romney in a previous presidential election.
Ms. Dillon, 34, represented a kind of nightmare-scenario voter for Mr. Bishop and Mr. Trump. Her conservatism is of the fiscal and business-friendly variety. She works in human resources, though she is on maternity leave now, and has seen the pressures that businesses must overcome to survive. But this time around, she voted for Mr. McCready.
She is not an immigration hard-liner (Mr. Bishop has referred to himself as "pro-wall") and she has very few kind things to say about President Trump. "The whole kind of sexist persona totally turns me off," she said, adding, "Why is he spending his time tweeting to celebrities?"
Caroline Penland, 44, a Republican, said she voted for Mr. Bishop. She is a reliable Republican voter, and a Christian who opposes abortion and favors "keeping God in schools." She also favors some gun control, after being deeply affected by a 2012 shooting that occurred at the high school from which she graduated.
But now, she said, was not a time to stray from the Republican fold. She voted for Mr. Trump and would do so again. "From an economical standpoint he's doing really well," she said.
"First of all, he's in my party. And I'm going to stick to my party right now," Ms. Penland said of Mr. Bishop.
In the late afternoon, Mr. Bishop arrived at an elementary school in a suburb southeast of Charlotte, wearing a Carolina-blue dress shirt and slacks. A group of reporters surrounded him and he reiterated his vision, which is squarely pro-Trump.
"The principles I stand for are timeless," he said. "I think one problem we have is too many politicians shape-shift, and mold themselves to what they think people will want to hear and I don't do that."
Indeed, the fliers his supporters handed out painted a stark contrast between Mr. Bishop ("The Right Dan") and Mr. McCready ("The Wrong Dan"), noting Mr. Bishop's support for Mr. Trump's border wall, his N.R.A. endorsement, his anti-abortion stance and his endorsement from Mr. Trump.
Mr. Bishop criticized the Democratic Party for a leftward lurch, and said that his opponent, who considers himself a moderate, has received funding from "the farthest-left sources of money in the country."
The race, he said, was "a clear clash of different visions."
"I represent a Trump vision of America. I join in President Trump's vision of America of a booming economy and taxes that are lower and jobs that are more plentiful and border security and the idea of American exceptional continuing into the indefinite future."
Mr. Bishop shook a few hands of voters as they made their way in to the polls, then huddled for an extended period of time with one man in shorts and a ball cap. After the man went inside, Mr. Bishop spoke with William Brawley, a former state representative who was defeated in 2018, and was handing out pro-Bishop fliers.
"What was his beef?" Mr. Brawley said of the man in the cap.
"Doesn't like Donald Trump," Mr. Bishop replied.
Richard Fausset, Jonathan Martin, New York Times, September 11, 2019. Headline: Dan Bishop, North Carolina Republican, Wins Special Election. Mr. Bishop's narrow victory over Dan McCready in a conservative district demonstrated warning signs for President Trump in 2020.
###
Voices4America Post Script. N.C. Republican wins special election. What it means? Read this! Trumpet won by 2%, not the 12% of 2016. We need to dig deeper & get more people to vote in 2020. We are the majority. Let's vote our values and GET THIS DONE. #StopTrump #StopTheGOP #BlueWave2020