Yesterday, on Labor Day, as you may have heard, Vice President Candidate Kamala Harris made her first political visit on behalf of the BidenHarris2020 ticket. She went to Wisconsin. Her arrival and her visit caused quite a fuss.

First, Watch her entry. Feel her energy. Look at her feet.
Kamala Harris arrives in Wisconsinwww.youtube.com

Yes, she was wearing black Converse Chuck Taylor sneakers (#Chucks) and Jeans and a Blazer. Her husband, Douglas Emoff wrote this: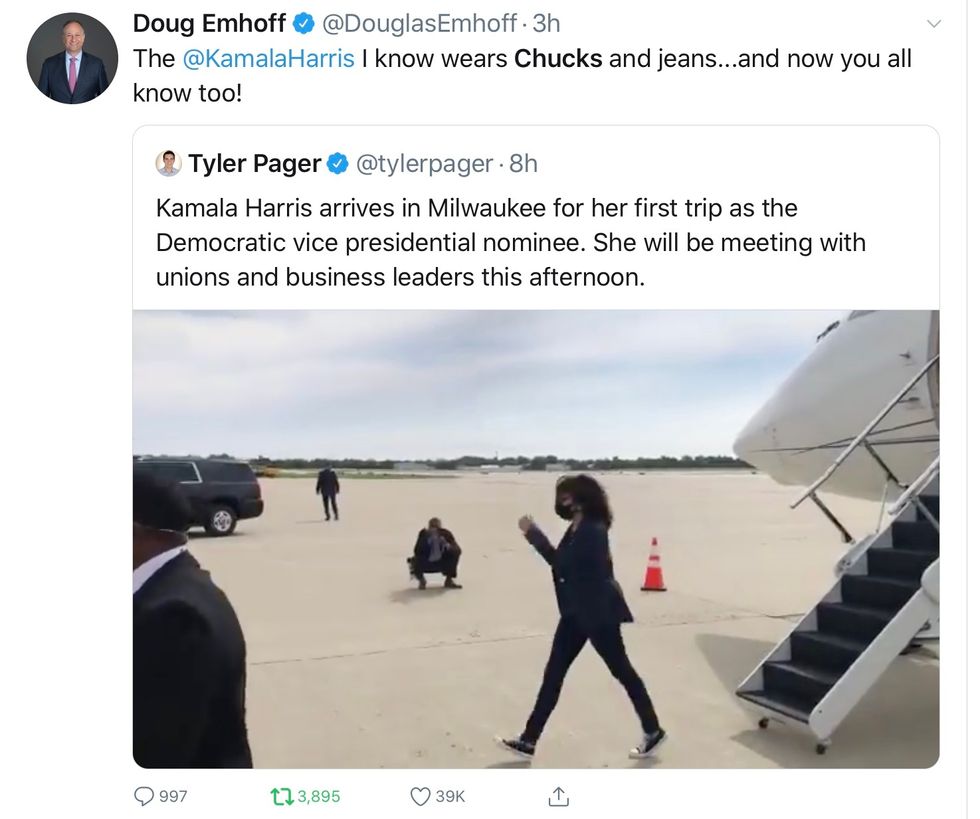 Here is another look at Kamala's arrival:

Kamala pulls off those chucks with style 😊 Anyone else feel refreshed by her vitality, given the images we've been… https://t.co/qmI9ScsrXW

— Leah McElrath 🏳️‍🌈 (@Leah McElrath 🏳️‍🌈) 1599497229.0
The Guardian wrote this about Kamala's footwear choice:
It is a small sartorial detail, but it is linked to the larger cultural moment in which we live. "Sneakers are a form of footwear finding their way into many women's closets as part of a larger challenge to outmoded concepts of femininity," says Elizabeth Semmelhack, the author of Sneaker X Culture: Collab. Traditionally, there is a standard shoe etiquette for women in political office – either alpha (see: Nancy Pelosi's stilettos, Theresa May's leopard print heels) or conservative (Elizabeth Warren's slide sandals, Hillary Clinton's pantsuit-matching kitten heels). Semmelhack believes Harris's shoes signal action. "The sneakers are acting as the sartorial equivalent of being willing to roll up her sleeves," she says. They suggest Harris "is a woman of action".
Nick Engvall, the founder of Sneaker History, thinks Harris's choice of sneakers rather than the traditional business attire worn by politicians on the campaign trail could mean she will "appeal to others like myself who feel it makes her more authentic or normal". Jeff Carvalho, the co-founder of Streetwear website Highsnobiety, thinks they will "help her connect not only to a younger audience but also to the important Gen X crowd".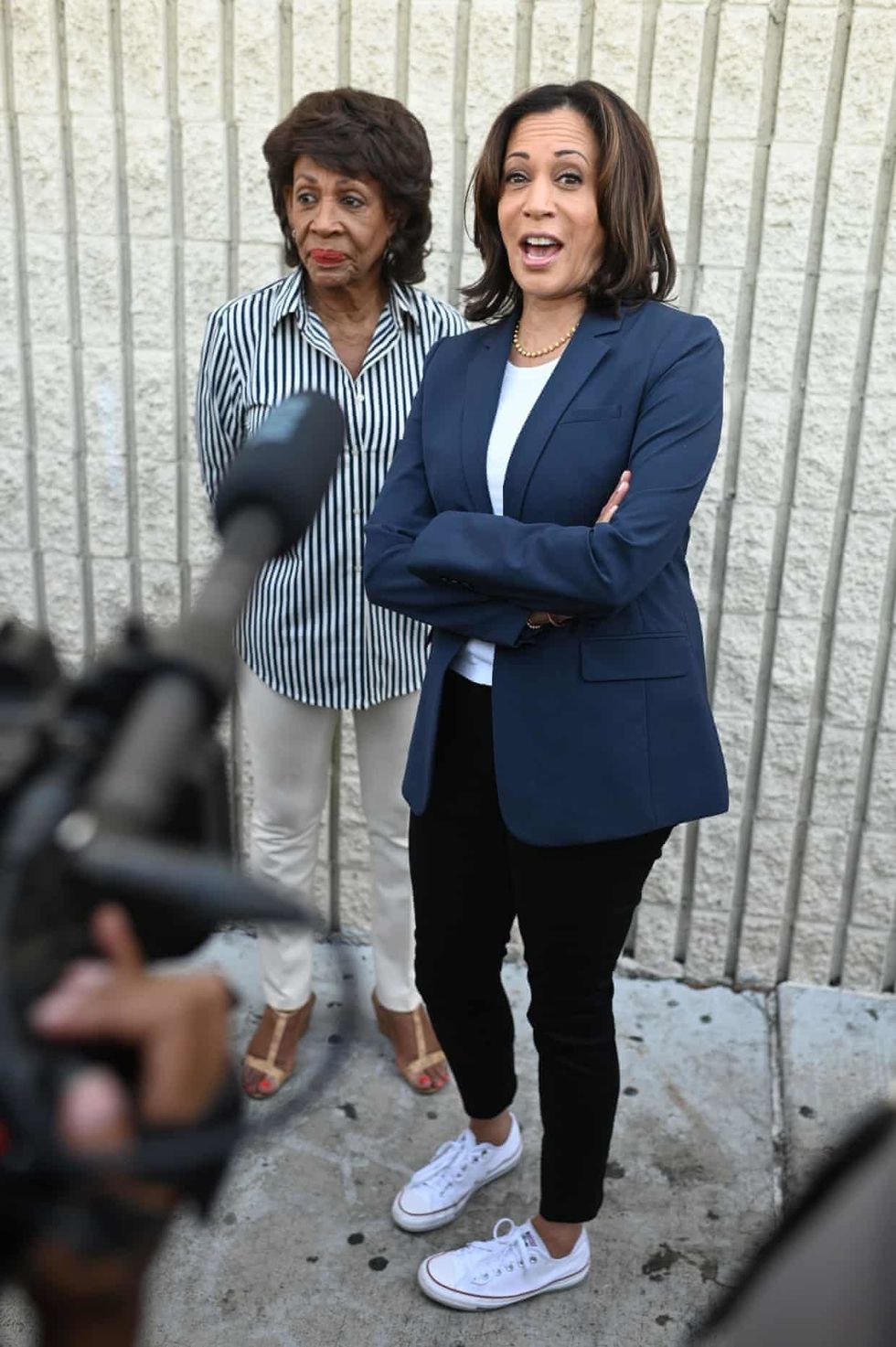 Kamala Harris speaks to the media, accompanied by Congresswoman Maxine Waters, at a Labor Day rally for healthcare workers last September. Photograph: Robyn Beck/AFP/Getty Images
Did we mention branded sneakers have long been images of status and identify in the black community? Did we mention Chucks are American made?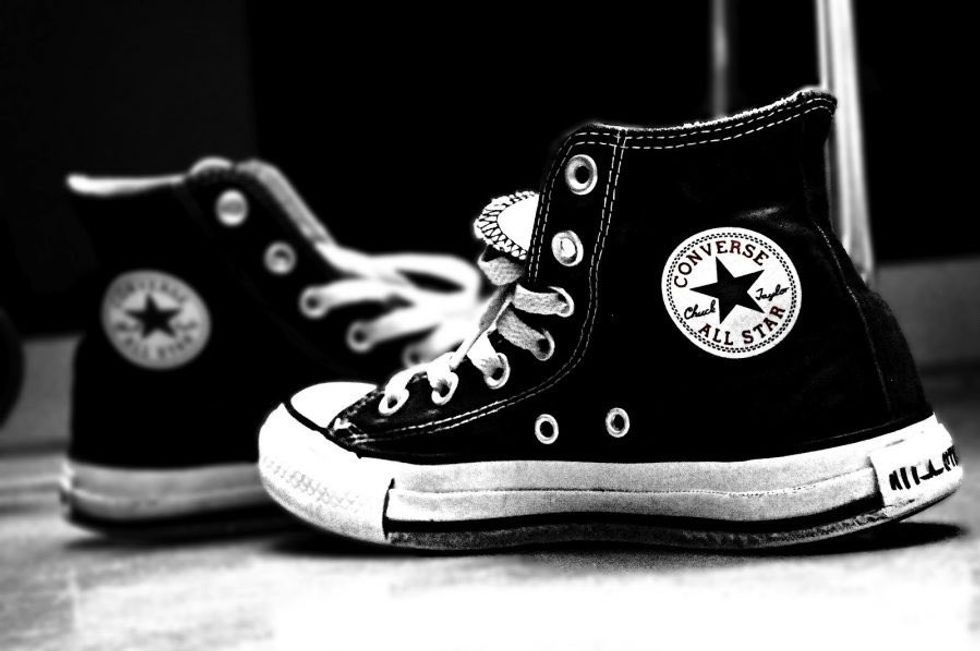 Chuck Taylor Converse All Stars low-tops.
Within 4 hours, the video of Kamala's arrival in Wisconsin had 4 million views, and Chucks were selling out on the internet. That is one badass candidate. She worn Chucks all during her run for the Presidency as well.

On a more serious note, at the airport, Senator Harris met with Jacob Blake's family and legal team, and spoke with Jacob Blake himself on the phone.

Then she went on a tour of an International Brotherhood of Electrical Workers (IBEW) training facility in Wauwatosa, a city five miles west of Milwaukee, and Afterwards, joined a roundtable with Black Milwaukee business leaders in the late afternoon.

She also worked at Get Out the Vote. Watch here.
The Biden campaign needs to get her out there all the time, every day. https://t.co/WNEWj0ER44

— Joe Walsh (@Joe Walsh) 1599520564.0
There is a rumor that Trump's running mate was also in Wisconsin yesterday, but I couldn't find any mention of this on the trending section of Twitter or in the press.

FYI, Senator Harris will debate Trump's running mate in Wednesday, October 7.

Share this post
#BidenHarris2020