Malala Yousafzai has fought for girls' education for more than a decade. Now an Oxford graduate and at a crossroads in her own life, the 23-year-old opens up to Sirin Kale about love, family and the world she left behind, as well as her ambitious new plans for broadcasting her message.


Even the youngest Nobel Peace Prize winner in history is not immune to the occasional life freak out. "This is a question I have for myself every night," Malala Yousafzai says with a groan when I ask her where she sees herself in 10 years' time. "Lying awake in bed for hours thinking, 'What am I going to do next?'"
Malala – fresh from the previous day's Vogue shoot and still only 23 years old – goes on, "Where do I live next? Should I continue to live in the UK, or should I move to Pakistan, or another country? The second question is, who should I be living with? Should I live on my own? Should I live with my parents? I'm currently with my parents, and my parents love me, and Asian parents especially, they want their kids to be with them forever."
We sit in a quiet corner of a central London hotel. Malala's hair is loose and uncovered. Her headscarf rests in the nape of her neck. "I wear it more when I'm outside and in public," she says, seated at a quiet table, her discreet security detail sitting nearby. "At home, it's fine. If I'm with friends, it's fine." The headscarf, she explains, is about more than her Muslim faith. "It's a cultural symbol for us Pashtuns, so it represents where I come from. And Muslim girls or Pashtun girls or Pakistani girls, when we follow our traditional dress, we're considered to be oppressed, or voiceless, or living under patriarchy. I want to tell everyone that you can have your own voice within your culture, and you can have equality in your culture."
For almost 13 years, ever since she began campaigning for girls' rights in Pakistan as an 11-year-old, this has been Malala's message to the world. Under Taliban rule in the city of Mingora in Pakistan's Swat Valley, Malala – all girls – were banned from attending school. Her refusal to forgo her right to education led to an attack on her life aged 15, when a Taliban gunman shot her and two classmates as they travelled home from school in a bus in October 2012. She was airlifted to Queen Elizabeth Hospital Birmingham with her father, Ziauddin, mother, Toor, and younger brothers, Atal and Khushal, made a miraculous recovery – and doubled down on her activism.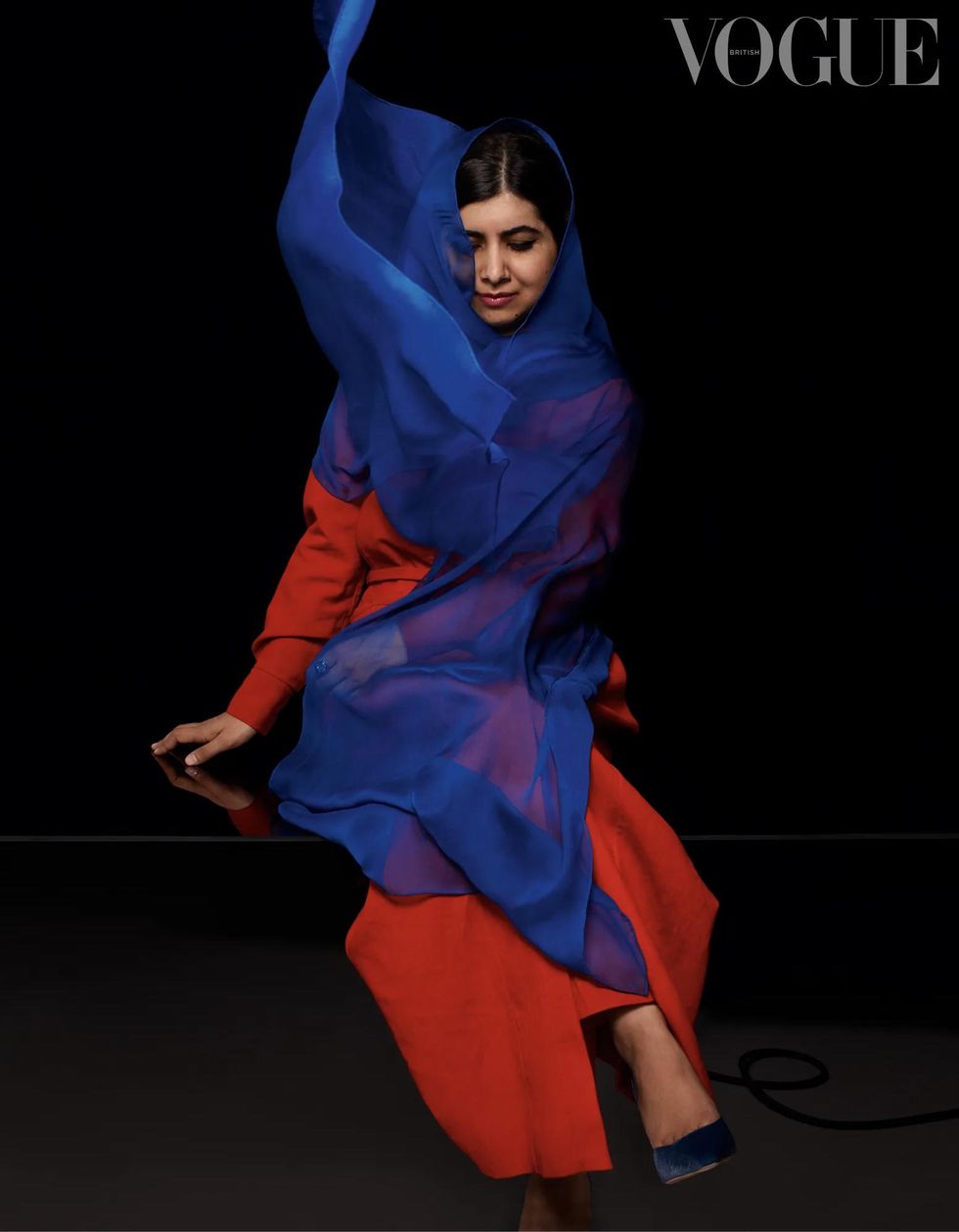 Malala in a linen shirtdress and linen trousers, both by Gabriela Hearst. Styled by Kate Phelan and photographed by Nick Knight.
Her autobiography, I Am Malala, published in 2013, just a year after her attempted assassination, became an international bestseller. At the age of 15, she launched Malala Fund, which has taken her around the world as an advocate for girls' education, campaigning for such causes as the release of the schoolgirls kidnapped by Boko Haram. She has sat with presidents and prime ministers, addressed the United Nations Youth Assembly on her 16th birthday, and become a one-word lightning rod for change across the globe.
Oh, and then there's the Nobel Peace Prize, received at 17, all while she was busy achieving a string of A* grades at GCSE – in her third language – at home with her family in her adopted home city of Birmingham (she can even do a decent stab at the accent). In 2017, she was admitted to Oxford University to study politics, philosophy and economics, and graduated with honours. All of this is to say that there are high-flyers – and then there is Malala.
And yet, as I will discover, she is also a 23-year-old graduate with gap year travel plans thwarted by a pandemic, still living with her parents, playing a lot of the Among Us video game in her room and trying to work out what she wants. As she embarks on adult life after Oxford, the question is, what next for the world's most famous university leaver?
First a little existential panic. It would be "literally 2am", Malala remembers, her voice as warm and considered as ever, drawing you into her world. "I'm sitting in bed, scrolling through my private Instagram, thinking, 'What am I doing?'" Having moved home from university in March last year, to finish her degree and wait out the pandemic, she became a member of the Covid class of 2020: jobless, aimless, bored. From her childhood bedroom, she assessed her options. Naturally, her work with Malala Fund would continue, but at life's great crossroads, what else was she going to do?
Should she look for a job? Apply for a master's? Travel abroad? In the meantime, she slept, enjoyed her mother's lamb curry, read – she has set herself the challenge of reading 84 books this year – and doom-scrolled. "I had a secret Twitter account for a year," she reveals, "before I joined officially, and I had, like, 4,000 followers or something. I was doing really well." (Post-reveal, she has 1.8 million and counting.)
Inspiration came from one of her great loves: television. She has always known the power of storytelling – when she was 11, Malala began blogging for the BBC under the pseudonym Gul Makai, sharing what it was like to live under Taliban rule. Like the Sussexes and the Obamas, who have turned to broadcasting to connect with the public on issues that matter to them, Malala started thinking about making her own programmes, and enlisting talent from around the world to help her do it.
She had meetings with the major streaming platforms: of course, they were interested – but one stood out. In March, she announced a multi-year partnership with Apple TV+ – also home to Oprah Winfrey and Steven Spielberg – and the launch of a brand-new production company, Extracurricular. "I want these shows to be entertaining and the sort of thing I would watch," she says of overseeing the early stages of development. "If I don't laugh at them or enjoy them, I won't put them on-screen," she continues, firmly. So alongside documentaries on serious issues, such as girls' education and women's rights, she wants to make comedies – Malala is a huge Ted Lasso fan, partly because the titular star of the Apple TV+ hit has a moustache a bit like her dad's. She may be a global icon, but she's also just a young woman who loves a Jamaican takeaway and an episode of Rick and Morty.
Specifics are still hush-hush, but we can expect to start seeing her output next year. Animations, dramas, children's shows, it's all in the works – and she also hopes to give a platform to talent from around the world. "I come from a different background," she says, considering the typical fare of the big streamers, "and I also wonder, if a woman from a valley in Pakistan had made South Park, what would that look like?"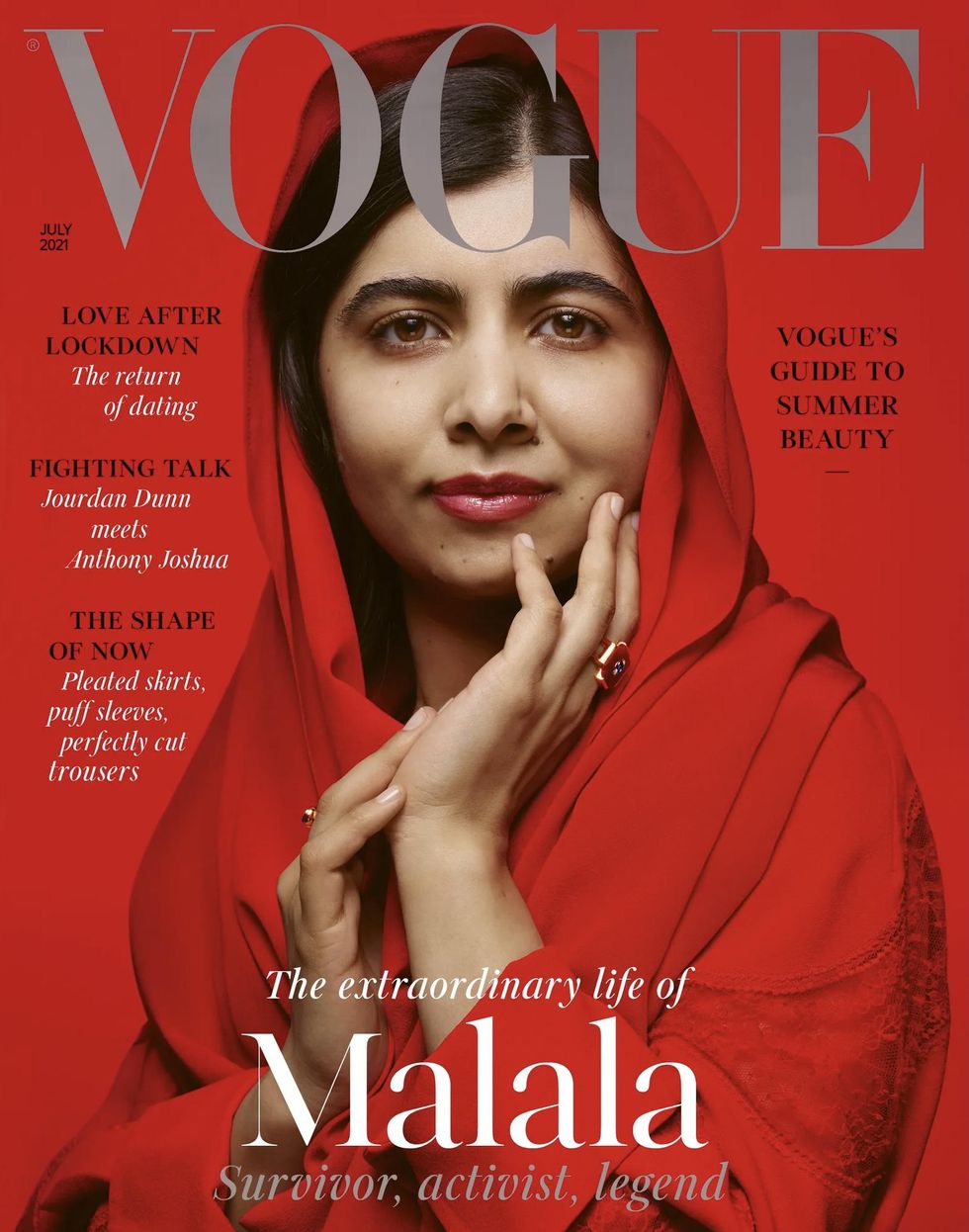 Malala was photographed by Nick Knight for the July 2021 cover of British Vogue, wearing Stella McCartney
She is certainly winning. Worldly yet guileless, she is the first to suggest we take selfies together, and is never less than sincere. Our conversations almost always come back to the subject of girls' education, not in a tedious way, but because it sits forever at the forefront of her mind. Sweet-natured, to her close friends she is Mal, a young woman who laughs at her own jokes, bites her nails, loves to watch cricket (a five-day Test match is heaven), and will always text you back in a crisis. She is slyly funny – at one point, she confides that she lost out on the head girl position at her school. "Who could be more qualified than you?" I exclaim. "The school didn't think that!" she replies, rolling her eyes conspiratorially, humble enough to send herself up about it.
Sometimes, she is cynical. The inertia she regularly confronts when advocating for girls' education is irritating. Politicians promise to build schools, then spend the money on tanks and bombs. "Initially you believe what they're saying and think they will act on it and deliver the goals they have set," she says. "But with time, I saw that some of them do, and some of them don't." Yet her style is more about consensus than call-outs: she prefers to work with people, and she can get fatigued by the attention economy of social media-driven activism, fuelled by clicks rather than change, outrage rather than action. "Right now," she says wryly, "we have associated activism with tweets. That needs to change, because Twitter is a completely different world."
She is already something of an elder stateswoman for the new cohort of Generation Z activists, and is friends with 18-year-old climate change activist Greta Thunberg, who visited her at Oxford, and 21-year-old gun control campaigner Emma González. Both text her for advice. "I know the power that a young girl carries in her heart when she has a vision and a mission," says Malala.
It is exactly this quality that the Obamas recognised in her. "Malala has generated so much glowing praise over the last few years," Michelle Obama tells me via email, "but here's the thing: it's all true. She's truly extraordinary. Barack and I first met Malala when she visited the White House in 2013, and right away, it was clear she belonged in a room with the President of the United States. Her poise, her wisdom and her earnest belief in the power of every girl – it all couldn't have been clearer from that very first meeting."
Yet the thing about Malala is that she never chose any of this. She didn't choose to be born to an activist father who taught her to fight injustice wherever she sees it. "My dad," she says, "he would always take action on things when he felt that something was not right." Nor did she choose for the Taliban to come to the Swat Valley. "My activism started at such a young age," she says, "and was influenced by things that were happening externally, that were not in our control."
But at university, for the first time in her life, Malala had choices. She could stay up late, go shopping, order takeaway. "I was excited about literally anything," she says. "Going to McDonald's [a sweet chilli chicken wrap and a caramel frappe is her go-to order] or playing poker with my friends or going to a talk or an event. I was enjoying each and every moment because I had not seen that much before. I had never really been in the company of people my own age because I was recovering from the incident [the Taliban's attempt on her life], and travelling around the world, publishing a book and doing a documentary, and so many things were happening. At university I finally got some time for myself."
Before she started as an undergraduate in 2017, her college principal at Lady Margaret Hall, former Guardian editor Alan Rusbridger, offered to email students, asking them to respect Malala's privacy. She demurred. "I didn't want them to see me as like, you know, what they see on TV, and how other people would define Malala," she says. "I just wanted them to see me as any other student."
As a teenager newly arrived in England, she had been lonely, struggling to find her footing at Edgbaston High School for Girls in Birmingham. "People would ask me things like, 'What was it like when you met Emma Watson or Angelina Jolie or Obama?'" Malala recalls. "And I wouldn't know what to say. It's awkward, because you want to leave the 'Malala' outside the school building, you want to just be a student and a friend." She admits that she "didn't write anything about the Nobel Prize" on her personal statement for Oxford. "I felt a bit embarrassed."
Malala told herself that things would be different at university, where "all the freshers are new, and haven't made friends yet". She quickly found her circle. "When she came in," says her best friend, Vee Kativhu, "she was great at being the Malala the world knows; being around adults and handling situations with diplomats and world leaders. She was a little more reserved, and serious, because she had to carry herself in those settings. She came into university as an adult, and left it as a young adult."
In fact, it was adjusting to academic life that was the hard part. "At school in Pakistan I was the A* student," says Malala. "But when I joined Oxford, I remember the first few tutorials, I was really sad. All of a sudden, you become an average student in Oxford, and you're competing with some of the brightest minds, literally, in the world." Instead of trying to keep up with the leaders of the pack, Malala chose to have fun. "I decided that if I got a good 2:1," she says, "I would be very happy. You know, there's a saying: there are three things at Oxford, sleep, socialising and study, and you can't have them all. Socialising was my one."
Indeed, her room at university was the hang-out spot, because Malala always had snacks – something she learnt from her parents, hospitality being a huge part of Pashtun culture. She doesn't drink alcohol, but would go to pubs with her friends and watch, amused, as they got drunk and shouted at each other about Brexit. She was forever running to the college hall to get breakfast before it stopped serving, and was the essay crisis queen, perpetually starting assignments the night before they were due. "Every week!" Malala exclaims. "I would be so annoyed with myself, like, 'Why am I sitting here at 2am, writing this essay? Why haven't I done any reading?'" Malala would submit a "horrible essay" at 8am, right before the deadline, and go to bed, vowing never to repeat the experience – only to find herself right back in the same situation the following week.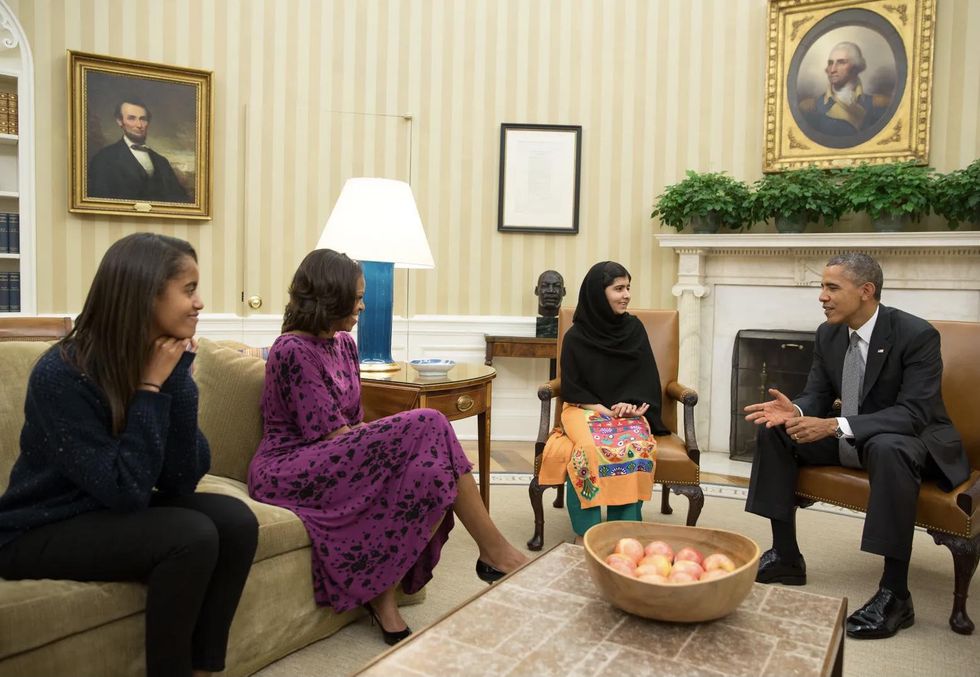 Malala with Barack, Michelle and Malia Obama in the Oval Office in 2013. THE WHITE HOUSE
And what about relationships? Did she meet someone at Oxford? She looks as though she's about to spontaneously combust from embarrassment. Pausing in horror, she finally offers, "I would say that I have come across people who have been great, and I hope that I do find someone who understands me, respects me, and loves me and takes care of me." I feel like I'm torturing a kitten, and switch topic. Does she ever get star-struck? She tells me about meeting Brad Pitt. Was he really handsome? "Yeah!" Malala giggles, covering her mouth with both hands.
The people around Malala refer to what happened as "the incident", which seems an oddly diminished way of describing the attempted murder of a child. After the attack, the Pakistani Taliban issued a second threat on her life. Malala and her family moved to Birmingham, where they have lived ever since, and from where she criss-crossed the globe promoting Malala Fund. On these flights, she would often daydream about going home. "I used to look at the screen with the map on it," she remembers, "and imagine the plane landing in Pakistan." To feel more centred, she would marvel at the clouds; their shape and structure, how they coiled and wisped. Her private Instagram account is all pictures of the sky.
Malala longed to return to Pakistan, but the Pakistani authorities kept fobbing her off, citing security concerns. In March 2018, she had had enough of their excuses. "I told my father," she remembers, "in Pakistani politics, you will never find the right time. There will always be something happening." He agreed. "As soon as the plane landed," says Malala, "and we were breathing in the air of Pakistan, it felt surreal. I couldn't believe it." She got to see her grandmother and her aunt one last time – both women have since died.
Her biggest fear, she tells me, is of failing the voiceless girls who rely on her: the girls whose parents save their money to send their brothers to school; the girls married off to men much older than them; the girls who can't read. Malala thinks about these girls all the time. "I care a lot about my work and I worry about how long it would take to reach the goals we have set," she says. "People say, 'Malala, don't worry, it's not your responsibility, leaders should worry!' But if I have the capacity to do something to keep raising awareness, then I should."
Surely, I say, you could have more impact on the inside, as a politician. She smiles enigmatically: "It is not something I have rejected completely." Generally speaking, Malala avoids talking politics. Malala Fund operates in eight countries, and wading into politics could imperil its vital grassroots work. But in February, she made an exception, after a Taliban member connected to her shooting, Ehsanullah Ehsan, escaped from prison and threatened her on Twitter. "How did he escape?" Malala tweeted, tagging Prime Minister Imran Khan. "He has claimed responsibility for killing so many people," says Malala to me, frustration in her voice, "and he was the spokesperson of a terrorist organisation, and people are just going to let it go, and allow it?
I do think before entering politics you should know what exactly you are there for, who you want to work with," she continues. "You know, all of the political parties that are there in Pakistan don't have a clean history. Do you defend them, do you not defend them? Do you change the political party? Do you form your own political party? Imran Khan did that, and it took him over 30 years."
We leave the hotel and walk through nearby St James's Park, past pelicans and picnicking families, Malala, bundled up in a puffer jacket, clicking alongside me in her heels. Nobody recognises the Nobel laureate in their midst. Unexpectedly, her talk turns back to love. She explains that she feels as though all her friends are finding partners, and she's not sure if that's what she wants. "I'm slightly nervous," she tells me. "Especially [in terms of] thinking about relationships. You know, on social media, everyone's sharing their relationship stories, and you get worried…" About romantic relationships? I ask. "Yeah…" she says, thinking carefully. "If you can trust someone or not, [and] how can you be sure."
Malala's parents had an "arranged love marriage", as she describes it – they liked the look of each other, and their parents worked out the rest. She isn't sure if she'll ever marry herself. "I still don't understand why people have to get married. If you want to have a person in your life, why do you have to sign marriage papers, why can't it just be a partnership?" Her mother – like most mothers – disagrees. "My mum is like," Malala laughs, "'Don't you dare say anything like that! You have to get married, marriage is beautiful.'" Meanwhile, Malala's father occasionally receives emails from prospective suitors in Pakistan. "The boy says that he has many acres of land and many houses and would love to marry me," she says, amused.
"Even until my second year of university," she continues, "I just thought, 'I'm never going to get married, never going to have kids – just going to do my work. I'm going to be happy and live with my family forever.'" She turns to me, full of revelation. "I didn't realise that you're not the same person all the time. You change as well and you're growing."
After a life of extraordinary resilience, it seems all the options are finally on the table for her. "You have to find a future for yourself," she says, smiling. If anyone knows how to do that, it's Malala.
The July 2021 issue of British Vogue is on newsstands on 4 June.
BY SIRIN KALE
1 JUNE 2021, British Vogue.
###
June 2, 2021
Voices4America Post Script. Who doesn't want to read about Malala as she graduates from Oxford and decides next steps!