With each passing day, the attacks on abortion rights are becoming increasingly frequent and extreme. In the past three months, three states have passed bills that ban abortion after six weeks — a time when many women are unaware they're even pregnant. Last week, Alabama governor Kay Ivey signed a near-full ban on the procedure, the harshest anti-abortion measure in the country. And any day now, Missouri governor Mike Parson is expected to pass yet another one, which bans the procedure after eight weeks, with no exceptions for rape, incest, or survivors of human trafficking.

In response to the flurry of anti-abortion legislation, on May 21 more than 50 organizations, including Planned Parenthood, SisterSong, and the Women's March will hold 350 demonstrations across the country as part of the National Day of Action to Stop the Bans. "Across the country, we are seeing a new wave of extreme bans on abortion, stripping away reproductive freedom and representing an all-out assault on abortion access," reads the event website. "Politicians shouldn't be making decisions best left to women, their families, and their doctors."
Below, here's what to know about the upcoming #StopTheBans actions.
When is the main protest?
Per the #StopTheBans website, the flagship event on May 21 will kick off in front of the U.S. Supreme Court in Washington, D.C., at 12 p.m., where everyone from NARAL president Ilyse Hogue to members of Congress are expected to be there.
Is there a demonstration in New York City?
Yes! New York City's event will start at 5:30 p.m. at Foley Square, and is expected to go until 7:30 p.m. (You can RSVP to the Facebook event here.)
Are other cities hosting their own events?
Nearly every state across the country, from California to Indiana to Florida, will host at least one event. To find the closest protest to you, visit the #StopTheBans website, which features a map of the 350-plus registered events. (As you'll see on the website, there are additional events throughout the week.)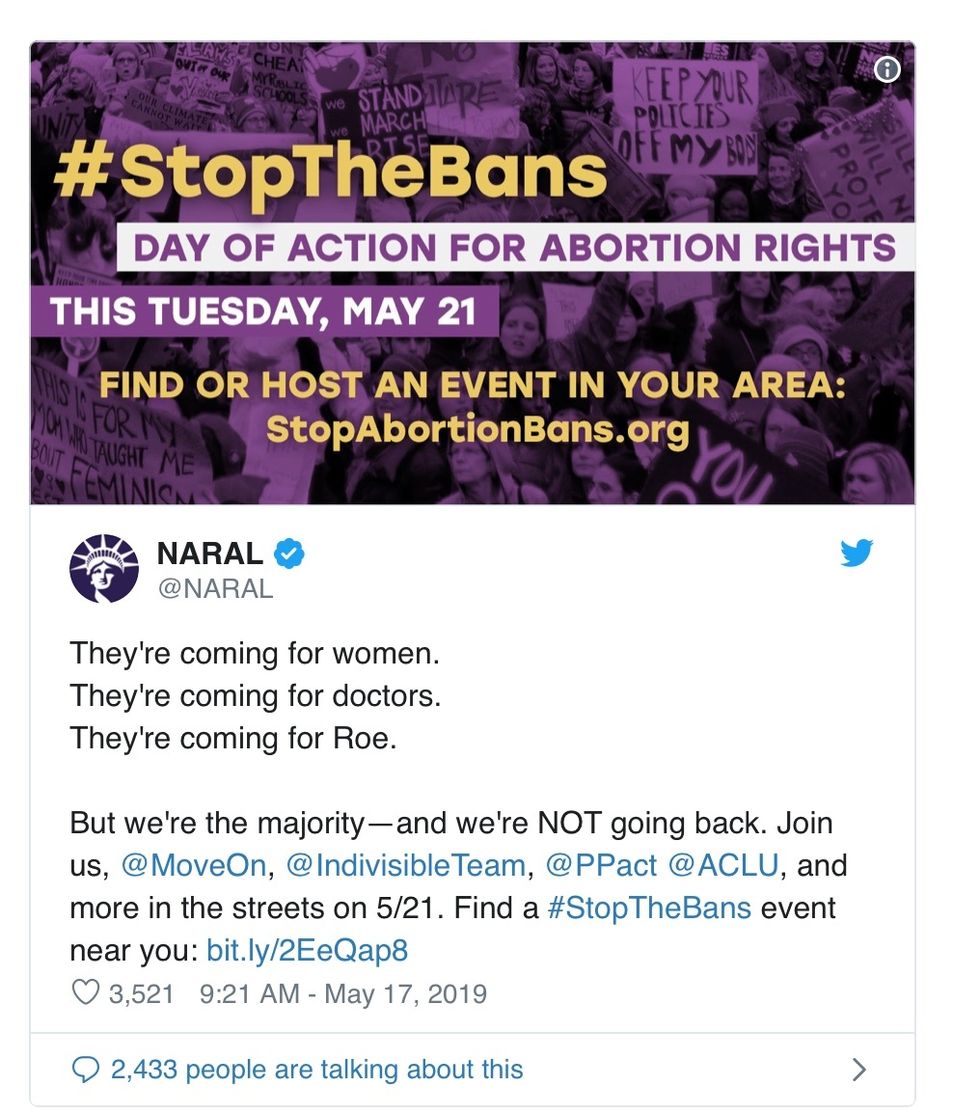 Is there anything I can do if I can't join a protest?
Absolutely. If you can't make it to an event, donate to grassroots organizations that are fighting for abortion rights in states with restrictive laws, or consider becoming an abortion-clinic escort. As advocates have repeatedly stressed, these relentless attacks on reproductive rights are not going anywhere; the time to fight back is now.
Amanda Arnold, The Cut, May 20, 2019
###
May 21, 2019
Voices4America Post Script. There are 400 protests happening across the country today. I hope you will join me and hundreds of thousands of others, to protest the extreme bans against abortion, passed in GA,AL, MO,MS! This article tells you where to find the protest near you. #OurBodiesOurSelves #StopTheBans