A group of top former intelligence and military leaders are sending a message to the nation's troops and spies: think twice before following President Trump's orders in a crisis.
In times of crisis, the leaders of the military and intelligence communities try to put aside their differences, often many and sundry, and work together for the good of the country. That's what's happening today with a remarkable group of retired generals, admirals and spymasters who have signed up for the resistance, telling the president of the United States, in so many words, that he is not a king.
Thirteen former leaders of the Pentagon, the C.I.A. and the F.B.I. have signed an open letter standing foursquare against President Trump, in favor of freedom of speech and, crucially, for the administration of justice. They have served presidents going back to Richard M. Nixon mostly without publicly criticizing the political conduct of a sitting commander in chief — until now.
"We have never before seen the approval or removal of security clearances used as a political tool, as was done in this case."
They rebuked Mr. Trump for revoking the security clearance of John Brennan, the C.I.A. director under President Obama, in retaliation for his scalding condemnations and, ominously, for his role in "the rigged witch hunt" — the investigation into Russia's attempt to fix the 2016 election, now in the hands of Robert S. Mueller III, the special counsel. The president's latest attempt to punish or silence everyone connected with the case, along with his fiercest critics in political life, will not be his last.
First he went after his F.B.I. director, James B. Comey, and the acting attorney general, Sally Yates. Then he came for Mr. Brennan. Now it's Bruce Ohr, a previously obscure Justice Department official targeted by right-wing conspiracy theories, a man who will lose his job if he loses his clearances. Tomorrow it may be James Clapper, the former director of national intelligence, a cable-news Trump critic and a co-signer of the letter. It's clear there will be more.
The president aims to rid the government and the airwaves of his real and imagined enemies, especially anyone connected with the Russia investigation. Somewhere Richard Nixon may be looking up and smiling. But aboveground, the special counsel is taking notes.
The list of the signatories to the open letter defending Mr. Brennan is striking for the length and breadth of their experience. I never expected to see William H. Webster — he's 95 years old, served nine years as F. B.I. director under Presidents Jimmy Carter and Ronald Reagan, then four more as C.I.A. director under Reagan and President George H. W. Bush — sign a political petition like this. The same with Robert M. Gates, who entered the C.I.A. under President Lyndon Johnson, ran it under George H. W. Bush and served as Secretary of Defense under Presidents George W. Bush and Barack Obama. These are not the kind of men who march on Washington. These are men who were marched upon.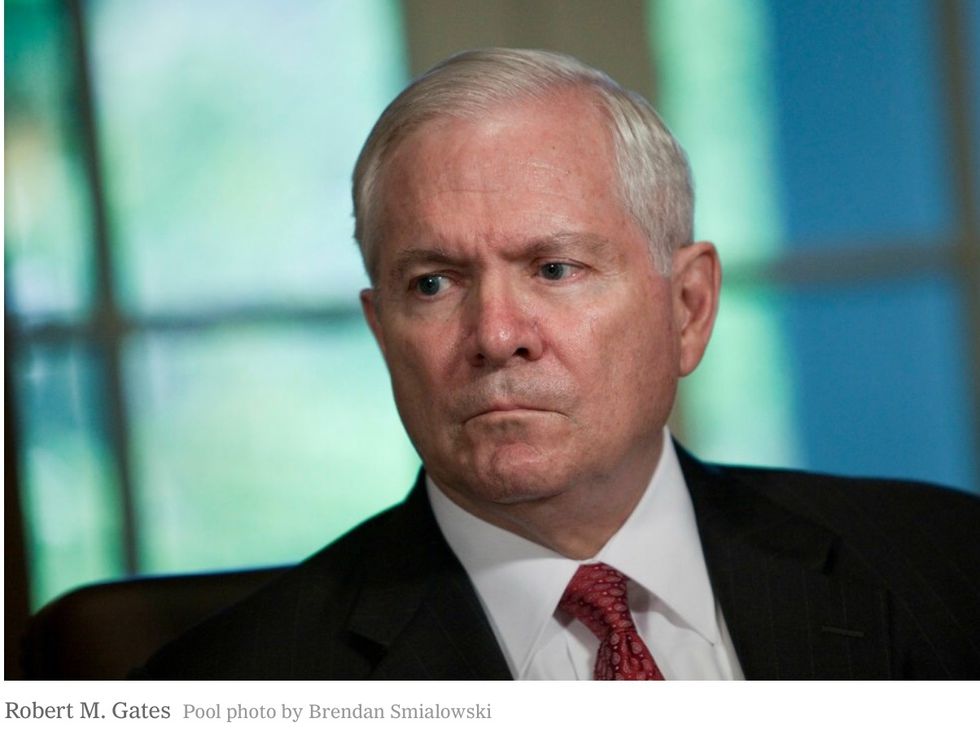 The text was equally striking: "You don't have to agree with what John Brennan says (and, again, not all of us do) to agree with his right to say it, subject to his obligation to protect classified information," they wrote. "We have never before seen the approval or removal of security clearances used as a political tool, as was done in this case." The president sent "a signal to other former and current officials" to refrain from criticizing him, the letter continued, and "that signal is inappropriate and deeply regrettable."
"Decisions on security clearances should be based on national security concerns and not political views," they conclude.
In a separate six-paragraph open letter published by The Washington Post Thursday afternoon, a few hours before the national-security emeriti weighed in, retired Adm. William H. McRaven, head of the Special Operations Command during the 2011 killing of Osama bin Laden, dared the president to pull his security clearance as he had Mr. Brennan's. "If you think for a moment that your McCarthy-era tactics will suppress the voices of criticism, you are sadly mistaken," Admiral McRaven wrote.
It's clear that Mr. Brennan's fierce political and personal attacks rattled the china in the Oval Office. The president essentially has accused Mr. Brennan of lèse majesté — the crime of criticizing the monarch, tantamount to treason. Remarkably, this relic of the days when kings were deemed divine remains on the books in some European monarchies as well as nations like Saudi Arabia, where a critique of the crown is considered terrorism.
It's not a crime in the United States. That's why we fought a revolution against a mad king.
For nine months now, the president has been ranting about the "Deep State." He sees it as a coterie of present and former leaders of F.B.I. gumshoes and C.I.A. spooks who are out to get him through leaks and lies. There is no deep state in America — at least, there hasn't been the threat of one since J. Edgar Hoover died in 1972, six weeks before the Watergate break-in. But in the mind of Donald Trump, if any group of retired military and intelligence officers could serve as the shadow cabinet for a silent coup, it's men like Bill McRaven and Bob Gates. They worked for Obama! (Yes, and Reagan, too.)
You don't need a secret decoder ring to see what's happening here. John Brennan, who knows whereof he speaks, believes that the president is a threat to the security of the United States — a counterintelligence threat, no less, in thrall to President Vladimir Putin of Russia. The president attacks him, severing Mr. Brennan's access to classified information. The deans of national security rise up to defend him — and, by implication, intelligence officers and federal investigators who are closing in on the White House.
They are sending a message to active-duty generals and admirals, soldiers and spies. Remember your oath to protect and defend the Constitution against all enemies, foreign and domestic. Think twice before following this man's orders in a crisis. You might first consider throwing down your stars.
Tim Weiner, a former reporter with The Times, is author of "Enemies: A History of the F.B.I.," and "Legacy of Ashes: The History of the C.I.A." He wrote this in the New York Times, August 17, 2018
###
August 18, 2018
Post Script. "We have never before seen the approval or removal of security clearances used as a political tool, as was done in this case." 13 former leaders of the Pentagon, CIA and FBI have spoken up. it is time the People did too. Call your elected officials. #TrumpIsNotKing