President Trump on Thursday held a roundtable at the White House with Hispanic leaders, and signed an executive order on his Hispanic Prosperity Initiative, which assigns an advisory commission to improve education and business opportunities for Hispanic Americans.
But following the event, Goya Foods finds itself in the social media crosshairs after Goya CEO Robert Unanue said at the roundtable, "Mr. President, what can I tell you? I'm so blessed to be here in the most prosperous country in the world, the greatest country in the world. And we're so blessed to have you as our leader, as we continue to build this country and make it the most prosperous nation in the world."
Goya, privately-held and based in Jersey City, N.J., was founded in 1936 by Prudencio Unanue, who emigrated from Spain to Puerto Rico and on to New York. Robert Unanue (Prudencio's grandson) is the third-generation Unanue to run Goya, which touts itself as the largest Hispanic-owned U.S. food company.
After briefly relaying that origin story, Unanue also told Trump at the roundtable, "You are an incredible builder."
The comments did not land well with a number of prominent people on social media.
#Goyaway."" data-reactid="33" style="font-size: 16px; margin-bottom: 1em; caret-color: rgb(0, 0, 0); color: rgb(0, 0, 0); font-family: "Yahoo Sans Finance", "Helvetica Neue", Arial, sans-serif; -webkit-text-size-adjust: 100%;">Julian Castro, the former housing secretary from Texas, tweeted on Thursday night that Goya "has been a staple of so many Latino households for generations. Now their CEO, Bob Unanue, is praising a president who villainizes and maliciously attacks Latinos for political gain. Americans should think twice before buying their products. #Goyaway."
Rep. Alexandria Ocasio-Cortez, (D-NY), tweeted, "Oh look, it's the sound of me Googling 'how to make your own Adobo.'"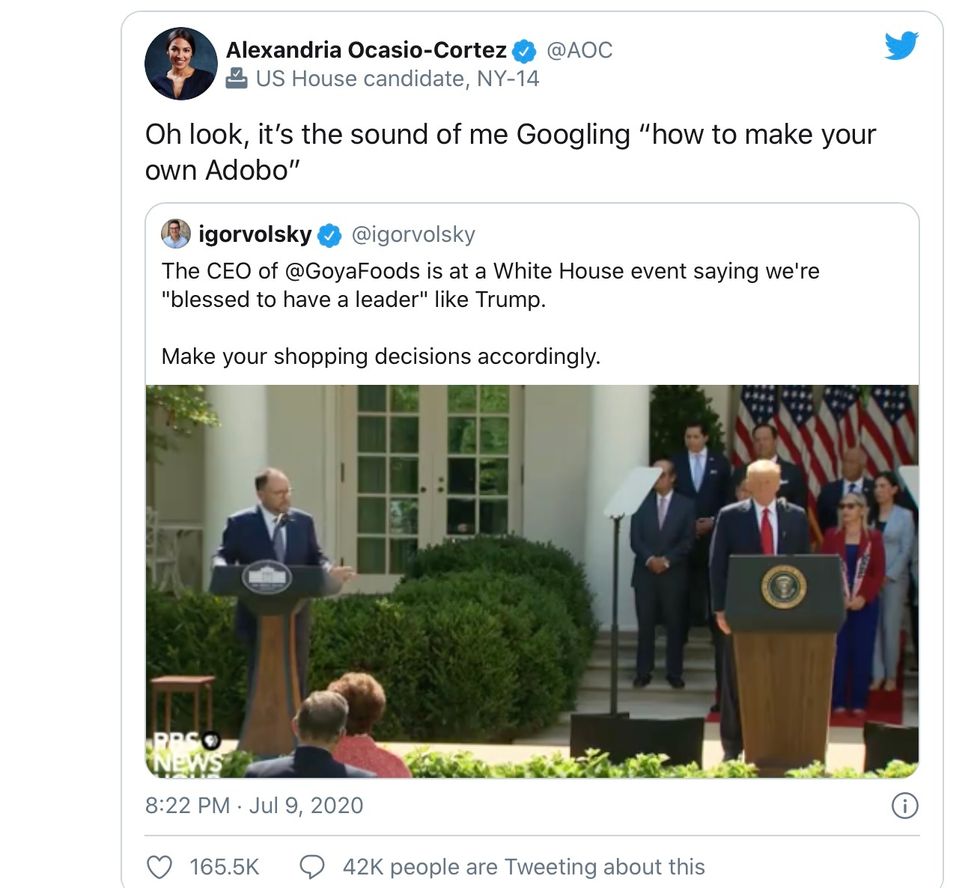 Chrissy Teigen, the model and bestselling cookbook author, tweeted about the comments, "F*******CK. A shame. Don't care how good the beans taste though. Bye bye." In followup tweets, she added, "The next step republicans will do (mark my words, they did this with my equinox tweets as well) is say you aren't supporting the workers if you boycott. You ARE. They should never feel they have to work for someone who agrees Mexicans are 'vile' 'rapists' - F*CK this guy."
#BoycottGoya was the No. 2 trending topic on Twitter by Friday morning.
The comments by Unanue and the resulting backlash are reminiscent of what happened to Under Armour founder Kevin Plank when he said on CNBC, one month into the Trump presidency, "To have such a pro-business president is something that's a real asset for this country... There's a lot that I respect there." Under Armour sponsored athletes including Steph Curry and Dwayne "The Rock" Johnson posted on social media condemning Plank's comments.
The speed of the backlash to Unanue's praise for Trump is also yet another sign of the current politically-charged cultural moment, in which consumer-facing brands that for years tried to remain apolitical are finding themselves in the crosshairs either because of one executive's support of Trump (see: Equinox and Miami Dolphins owner Stephen Ross) or a brand's sponsorship of a sports league or team (see: FedEx and the Washington Redskins).
Goya declined to comment on the social media reaction to Unanue's comments about Trump, but Unanue doubled down on his comments in an interview on "Fox & Friends" on Friday, saying: "You make a positive comment, all of a sudden that's not acceptable? If you're called by the President of the United States, you're going to say, 'No, I'm sorry, I'm busy, no thank you?' I didn't say that to the Obamas and I didn't say that to President Trump."
Unanue called the backlash to his comments "suppression of speech."
Daniel Roberts, Yahoo News, July 10, 2020
###
July 11, 2020
Voices4America Post Script. #BoycottGoya There are no other words needed. Except Share it.