3 days left, and there is a 3 prong approach to volunteerism as we come down to the wire - phone bank, text, donate - applies to any candidate you choose to help.

Of course, if you are wherever your favorite candidate is, go knock on doors.
There are many close races for Congress, Senate and Governors.
These races affect us all, impact our lives even if we don't live nearby.

You may think people know Election Day is Tuesday but they forget. Our job is to remind them.
GOTV.
The Race to Control the House of Representatives
The DCCC's online volunteer portal is where you can sign up to volunteer for candidates across the country and get involved with their Get Out the Vote efforts from now through Tuesday. Phone bank, Text, Donate.
https://volunteer.dccc.org/

FYI, the DCC says that these folks can win but they need funds now.
Your support now for these candidates can mean the difference between a loss and a victory for them on Election Night. Please consider contributing to them today to ensure that they can make their plans for the final few days.

Final Week Red Alert Priorities:

Sean Casten (IL-06) https://secure.actblue.com/donate/castenwebsite2018?refcode=website&recurring;=auto&amount;=10&amounts;=15,25,50,100,250,500,1000

Brendan Kelly (IL-12) https://secure.actblue.com/donate/dw4brendank2018


Elissa Slotkin (MI-08) https://secure.actblue.com/donate/slotkinforcongress

Andy Kim (NJ-03) https://secure.actblue.com/donate/ak_wsite?refcode=main

Lizzie Fletcher (TX-07) https://secure.actblue.com/donate/fletcherforcongress?refcode=website


Colin Allred (TX-32) https://www.colinallred.com/
The Race for Control of the Senate
These are the Senatorial races which can change America.
Needless to say, Beto O'Rourke in Texas, followed by KyrstenSinema in Arizona, Phil Bredesen in Tennessee, Jacky Rosen in Nevada, Heidi Heitkamp in North Dakota, Claire McCaskill in Missouri, Joe Donnelly in Indiana, Bill Nelson in Florida, Mike Espy in Mississippi, and Joe Manchin in West Virginia.
Repeat - Your support now for these candidates can mean the difference between a loss and a victory for them on November 6, and the Control of the Senate. Get out the Vote and we can win these.
The Governors Races
State elections matter. Here are ones that super matter - close contests where our efforts now can make a difference.
Sample. Volunteer or make calls, text or donate for Stacey Abrams, Georgia Governor Race (see below) or Tony Evers in Wisconsin or Gretchen Whitmer in Michigan or Andrew Gillum in Florida or Janet Mills in Maine or RIchard Cordray in Ohio or Steve Sisolak in Nevada or Fred Hubbell in Iowa or Laura Kelly in Kansas.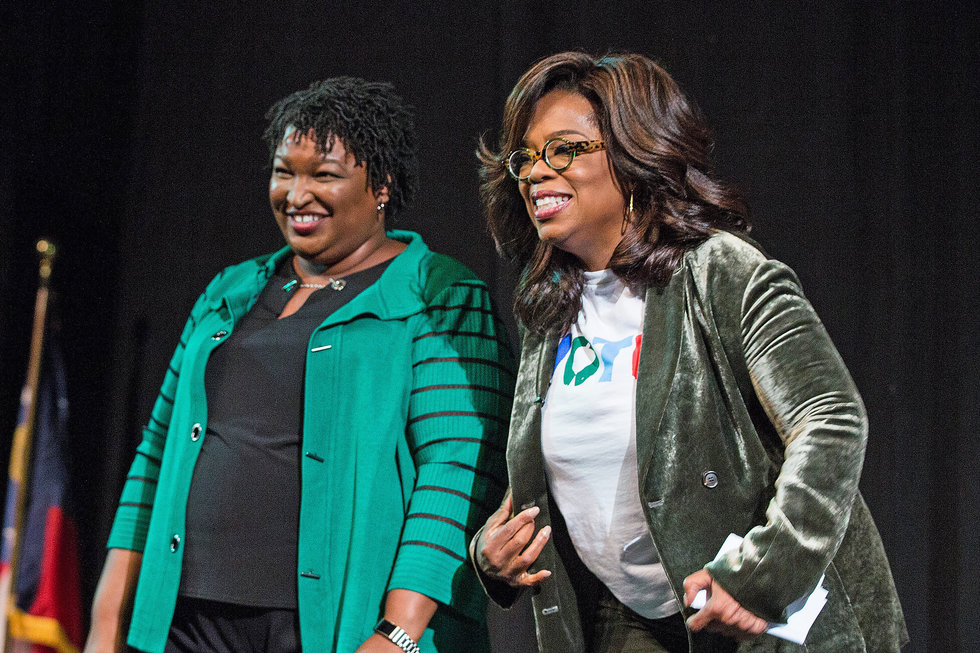 Stacey Abrams, Democratic candidate for Governor in Georgia with Oprah, yesterday.
Here is a sample of what to do and why...using the example of Stacey Abrams, from Blavity.

Phone Bank
If you have a phone, you can call Georgia voters on Stacey's behalf and join her virtual phone bank. The campaign will provide you with call lists and scripts. If you prefer not to call strangers, you can call everyone you know in Georgia and everyone you know who knows someone in Georgia and tell them about Stacey Abrams.
Text
Not into calls? You can still help. If you have a cell phone, you can text Georgia voters using the Hustle App once you're signed up to help with the campaign. Your phone number will remain private and messages will be automatically uploaded. All you have to do is hit the send button. On primary day, I texted about 500 people in one hour.
Contribute
No amount is too small. Trust me on this one. $5, $10 or $25 will help. If you believe $5 is insignificant, you can schedule reoccurring contributions that will total to any amount that you deem significant. The fact is, campaigns need money to reach voters and spread their message. It is an expensive endeavor. They need funds for television commercials, buttons, stickers, lawn signs, posters, staff, etc. Seriously, any amount will help.
To support Stacey Abrams, you can complete the volunteer form and make a donation there. Someone from the campaign will contact you regarding volunteer opportunities. Sign-up and follow her on social media to receive campaign updates.
Here is the general link to sign up, linked too above as well.
https://georgiadems.bsd.net/page/s/volunteer?Source=Abrams
3 Days to Go. Get Out the Vote, fighters for Democracy.
#StopTrump #StopTheGOP
Think how good it will feel to wake up on November 7th.
Mitch McConnell will no longer be Senate Majority Leader, Kevin McCarthy won't rule the House, and we have elected people whose goal is to #MakeAmericaBeAmericaAgain.
###
November 3, 2018