Gabriel Sterling, a high-ranking Georgia elections official, walked to a lectern in the State Capitol in Atlanta on Tuesday and angrily denounced the violent threats and harassment directed at people working on elections issues, urging President Trump to condemn it.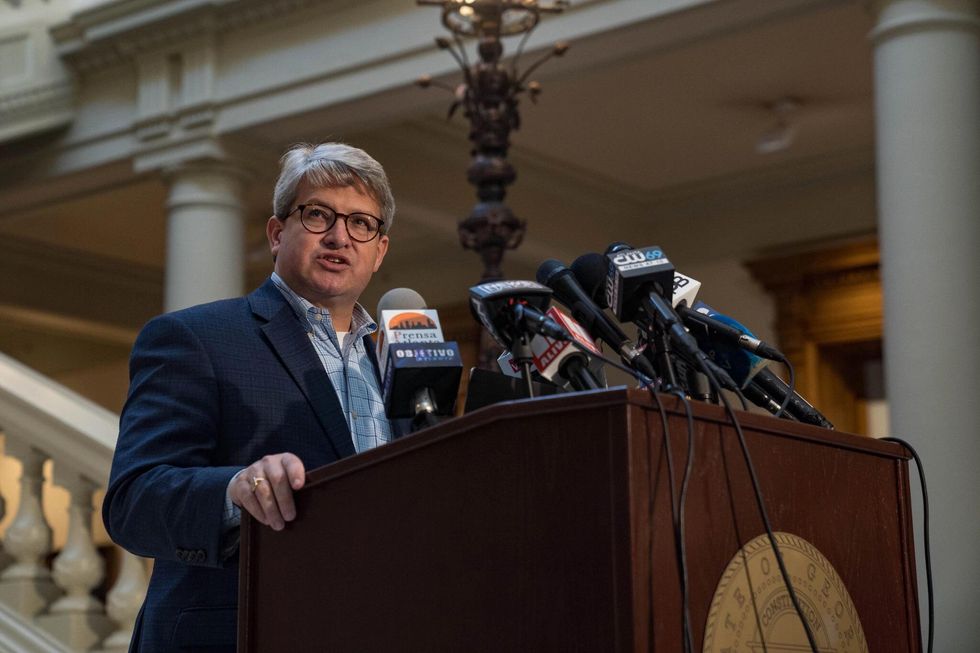 Gabriel Sterling, the voting system implementation manager for the Georgia secretary of state's office, urged President Trump to condemn the violent threats and harassment directed at people working on election issues.Credit...Megan Varner/Getty Images
"It has to stop," said Mr. Sterling, a Republican. "Mr. President, you have not condemned this language or these actions. This has to stop. We need you to step up, and if you're going to take a position of leadership, show some."
Mr. Sterling, a wonkish former city councilman in the Atlanta suburb of Sandy Springs, has taken on a starring role as Georgia's voting system implementation manager while the president continues to call the election "rigged" and urge for the results to be nullified.
"Mr. President, it looks like you likely lost the state of Georgia," Mr. Sterling said on Tuesday. "We're investigating. There's always a possibility, I get it, you have the right to go to the courts. What you don't have is the ability to — and you need to step up and say this — is stop inspiring people to commit potential acts of violence. Someone's going to get hurt. Someone's going to get shot. Someone's going to get killed."
Mr. Sterling's boss, the Republican secretary of state Brad Raffensperger, has come under fire from Trump allies, particularly Senators Kelly Loeffler and David Perdue of Georgia, Republicans who criticized Mr. Raffensperger's handling of the election and called for him to step down.
A number of lawsuits have been filed seeking to halt the certification of the results in Georgia. A second of two recounts, requested by the Trump campaign, is being conducted. The internet and right-wing news media have flooded the state with baseless conspiracy theories.
Mr. Sterling, who seems to know the ins and outs of the election and recount process in more detail than Mr. Raffensperger, has had the shared duty of explaining and defending these processes, which the secretary of state's office oversees. The two officials have said that their office is investigating reports of irregularities in the state. But both have maintained that the election results are trustworthy, and that President-elect Joseph R. Biden Jr. narrowly defeated Mr. Trump.
Speaking loudly, emotionally and deliberately, Mr. Sterling said that Mr. Raffensperger had intruders on his personal property. He said that Mr. Raffensperger's wife was "getting sexualized threats through her cellphone." Mr. Sterling said he had police protection outside his own house.
He mentioned reports that Joe diGenova, a lawyer for the Trump campaign, said that Christopher Krebs — a federal cybersecurity official who was fired shortly after saying that the election was fair — should be shot.
But Mr. Sterling said that "the straw that broke the camel's back" had to do with a contractor for a voting system company in Gwinnett County who was targeted by someone who hung a noose and said he should be "hung for treason" simply for doing a routine element of his job.
"This is elections," Mr. Sterling said. "This is the backbone of democracy, and all of you who have not said a damn word are complicit in this. It's too much. Yes, fight for every legal vote. Go through your due process. We encourage you, use your First Amendment, that's fine. Death threats, physical threats, intimidation — it's too much, it's not right. They've lost the moral high ground to claim that it is."
He continued: "I can't begin to explain the level of anger I have right now over this. And every American, every Georgian, Republican and Democrat alike, should have that same level of anger."
— Richard Fausset, New York Times, December 1, 2020
###
December 2, 2020
Voices4America Post Script. Trump and his Trumpers inspire violence. Steve Bannon urged Dr. Fauci be beheaded and Joe DiGenova, one of Trump's lawyers said someone should shoot Krebs, the head of Cyber Security who cdeclared these were the most secure elections ever. GAofficials have had enough, as they receive death threats. Read and share.