France celebrated public health workers as heroes during Bastille Day celebrations on Tuesday for their role during the pandemic, a day after granting them 8 billion euros ($9.06 billion) in pay raises.
The traditional Bastille Day parade down the Champs-Élysées in Paris was canceled because of the pandemic. Instead, after a military parade on the Place de la Concorde, President Emmanuel Macron and his government watched from a platform as doctors, nurses and other workers in their white hospital attire were honored.
A military choir sang the Marseillaise, France's national anthem, and fighter jets streaked the sky with blue, white and red as they flew over. Long minutes of applause followed. Over 800 health workers from around France were also invited to a thank-you reception on Monday night in Paris.
Doctors, nurses, retirement home employees and others were widely praised for their role in the coronavirus crisis, and the French government had promised to address longstanding requests for increased hospital funding, better pay and more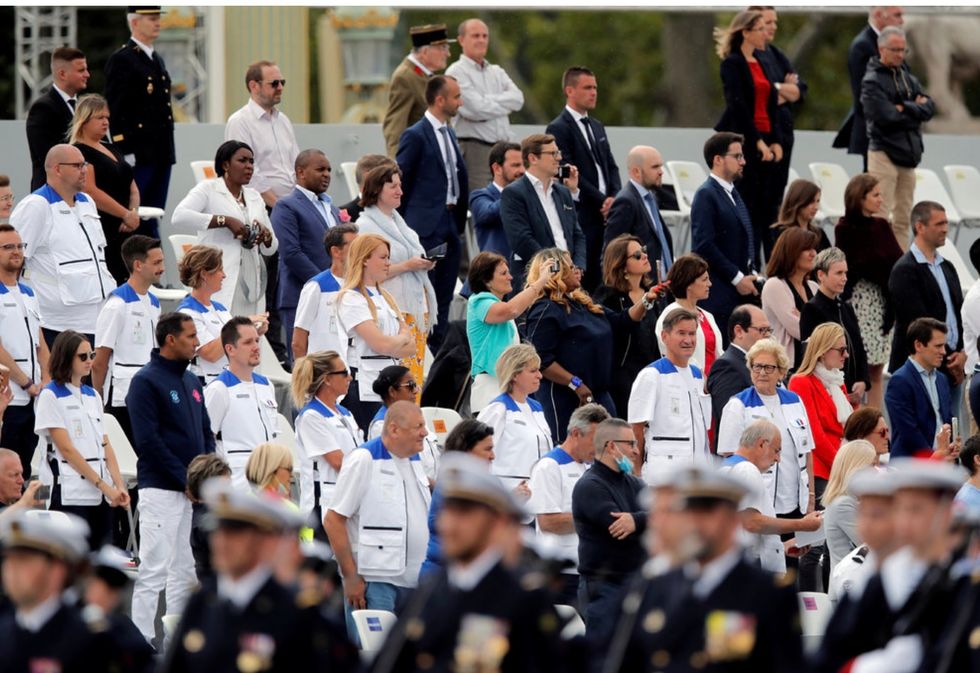 Health workers dressed in white hospital attire attended a Bastille Day military parade honoring them in Paris on Tuesday.Credit...Pool photo by Christophe Ena
After seven weeks of intense negotiations with the government, most health care unions and the government struck a deal that gives nurses, aides and other hospital or nursing home workers over $200 in monthly raises, as well as new bonuses for overtime and night work.
The deal also provides 450 million euros for doctors, mostly to increase an existing bonus for those who choose to work only in the public sector. Over all, the deal affects about 1.8 million health workers.
Jean Castex, Mr. Macron's new prime minister, called the raises a "massive" investment in France's public health system.
Not all unions signed the deal, and critics said it did not go far enough with structural reforms.
New York Times, July 14, 2020
###
July 14, 2020
Voices4America Post Script. This is how France, where Covid is under control, celebrated Bastille Day - honoring health care workers and granting them $9 billion in raises. Here, thanks to Trump,and his GOP enablers, the virus is out of control, millions, including health care workers - many low paid - remain in danger, and 1.6 million Americans have lost health insurance tied to lost jobs.

Did I mention 44 million are unemployed, 1/3 of Americans are behind on mortgages and rent, and we are being pressured to put our kids in school - endangering them, their teachers, and their and their teachers' families?
America is broken. We need to fix it. #Biden2020
Share this!
one more thing. Remember this. The one constant in Trump's presidency: Tomorrow will be worse.
https://www.washingtonpost.com/opinions/2020/07/13/one-constant-trumps-presidency-tomorrow-will-be-worse/