Michael Cohen, the former Trump lawyer, confidante and self described "fixer, will be a witness testifying at the Congressional Oversight Committee today.
As you may recall, Cohen's testimony was originally scheduled for February 7th, but was delayed, with Cohen citing threats to him and his family by Trump and his current lawyer, Rudy Giuliani, as the reason for the delay.
On January 18th, Trump tweeted the following threat at Cohen.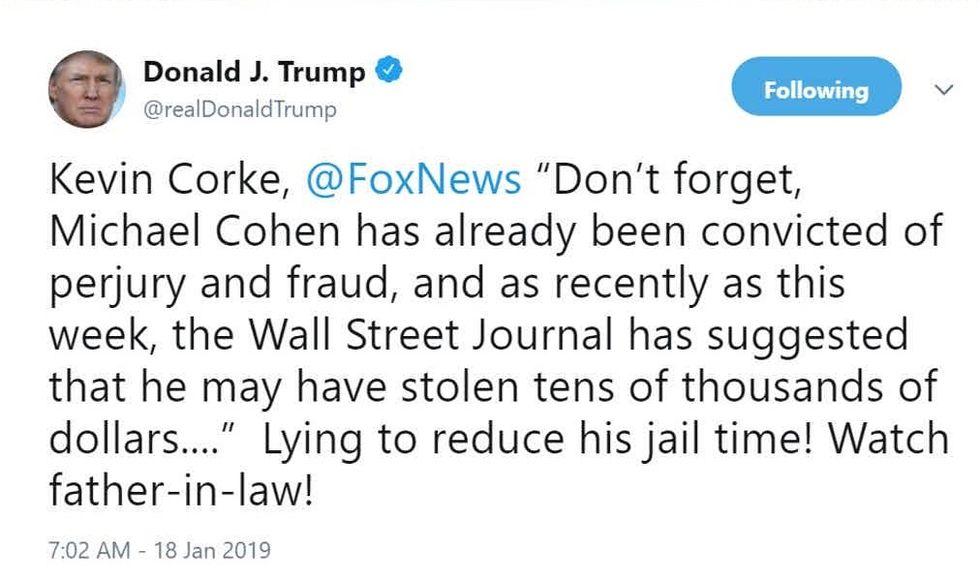 The New York Times' Maggie Haberman was one of many in January who cited Trump's tweet as witness tampering and intimidation.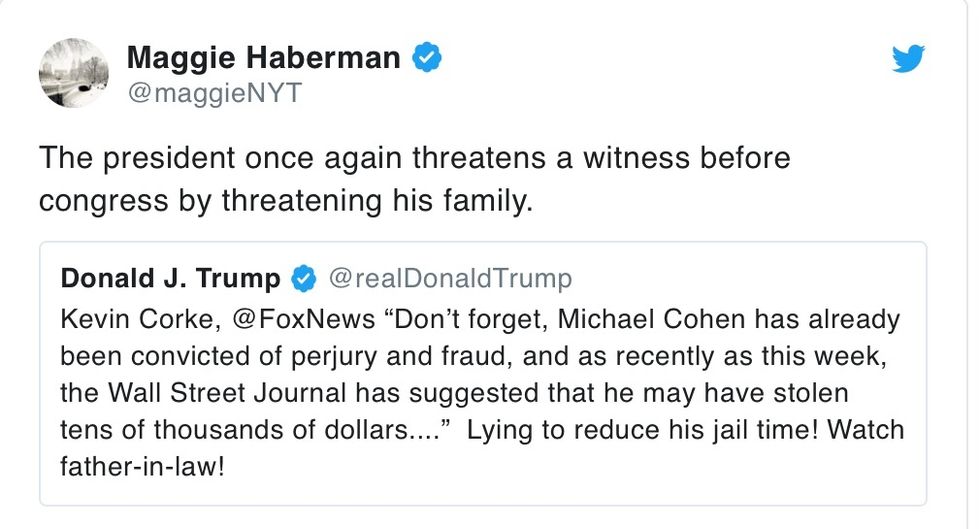 On January 23rd, Lanny Davis, Cohen's lawyer issued a statement in response to Trump's tweet, "By advice of counsel, Mr. Cohen's appearance will be postponed to a later date." "Mr. Cohen wishes to thank Chairman Cummings for allowing him to appear before the House Oversight Committee and looks forward to testifying at the appropriate time."
"This is a time where Mr. Cohen had to put his family and their safety first."
With regard to the delay, Rep. Elijah Cummings, chairman of the House Oversight and Reform Committee, and Rep. Adam Schiff, chairman of the House Intelligence Committee, said in a joint statement, "We understand that Mr. Cohen's wife and other family members fear for their safety after these attacks, and we have repeatedly offered our assistance to work with law enforcement to enhance security measures for Mr. Cohen and his family,"
"This will not stop us from getting to the truth," the statement continued. "We expect Mr. Cohen to appear before both Committees, and we remain engaged with his counsel about his upcoming appearances."
Today is the day of that rescheduled appearance at the Oversight Committee. Cohen is also speaking behind closed doors in other hearings at the House this week, including at the Intelligence Committee.
Once again, the Trump mob has come out in full force to threaten Michael Cohen, with Matt Gaetz, a sitting member of Congress from Florida CD -1, picking up from Trump's earlier attack, by a tweet aimed at Cohen's family.

That tweet was immediately recognized at once for what it was, an attempt to affect the testimony of a witness scheduled to speak before Congress, and, as such, at minimum a violation of House ethics rules, and perhaps even a punishable criminal offense.
Bill Kristol, the neoconservative political analyst who has become a vocal Trump critic, offered this quick rebuttal to Gaetz's behavior which was described by Kristol and others as a form of witness tampering.

Kristol followed his original assessment of Graetz's tweet with two other concerns.

Speaker Pelosi also responded to the threat by Graetz with a statement.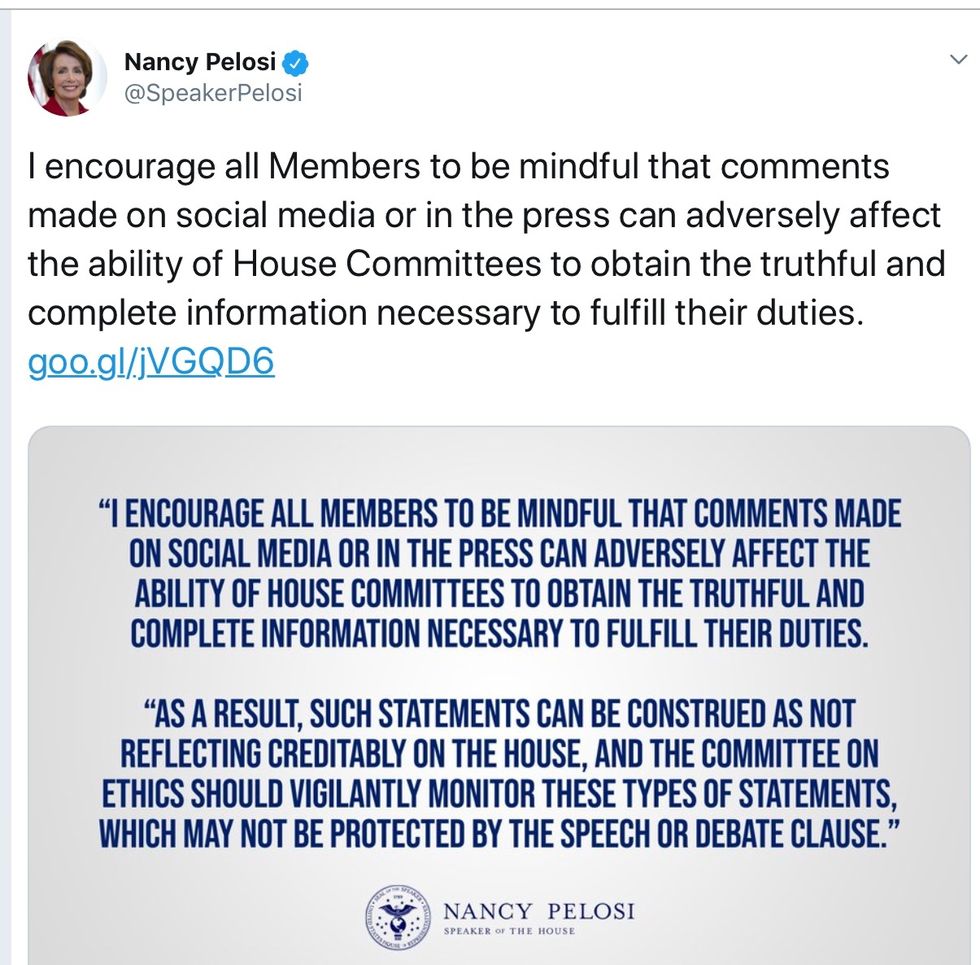 It is not clear what may happen to Graetz because of his assigned or self-assigned role as a henchman for Trump. He eventually deleted the offending tweet.
Others in the GOP, including Kevin McCarthy, the minority leader for the Republicans in the House and a close Trump ally, seem ready to fall on a sword for the current occupant of the White House.
What is clear, though, is that this is going to be a contentious and critical day at the televised hearing from the House, in which Cohen is expected to describe criminal activities by Trump while holding the office of President. The level of accusations against Cohen by Trump supporters will surely follow.
In the end, the only thing we know now is that Cohen is not a man being investigated. Cohen has already been found guilty of multiple crimes that will put him in jail for 3 years.
The investigation of Donald Trump and the Trump organization in Congress formally begins today.
Expect the evidence Cohen presents to lead to House action for impeachment, and to actions by the all those currently investigating Trump including the Special Counsel, the Federal office in the Southern District, and eventually the New York AG.
Fireworks will fly.
This is not going to be a good day for Donald Trump.
###
February 27, 2019
Post Script. This is my summary ofwhere we are as Cohen enters, after Trump and GOP mafioso style threats. #SadDay4Trump #IndictTrump #IndictTrumpOrg
One further comment, this from Senator Warner from Virginia.