Most of the political world's attention on Tuesday will be focused on Virginia, where former Gov. Terry McAuliffe, a Democrat, is trying to return to his old office in a run against Glenn Youngkin, a wealthy Republican business executive.
Polls show the race is a dead heat. And the themes of the contest — with Mr. McAuliffe trying relentlessly to tie Mr. Youngkin to former President Donald J. Trump, and Mr. Youngkin focusing on how racial inequality is taught in schools, among other cultural issues — have only amplified the election's potential as a national bellwether. The results will be closely studied by both parties for clues about what to expect in the 2022 midterms.
The Virginia governor's race is seen as a bellwether

Democrats have won Virginia in every presidential contest since 2008. Last year, it wasn't particularly close. Mr. Biden won by 10 percentage points.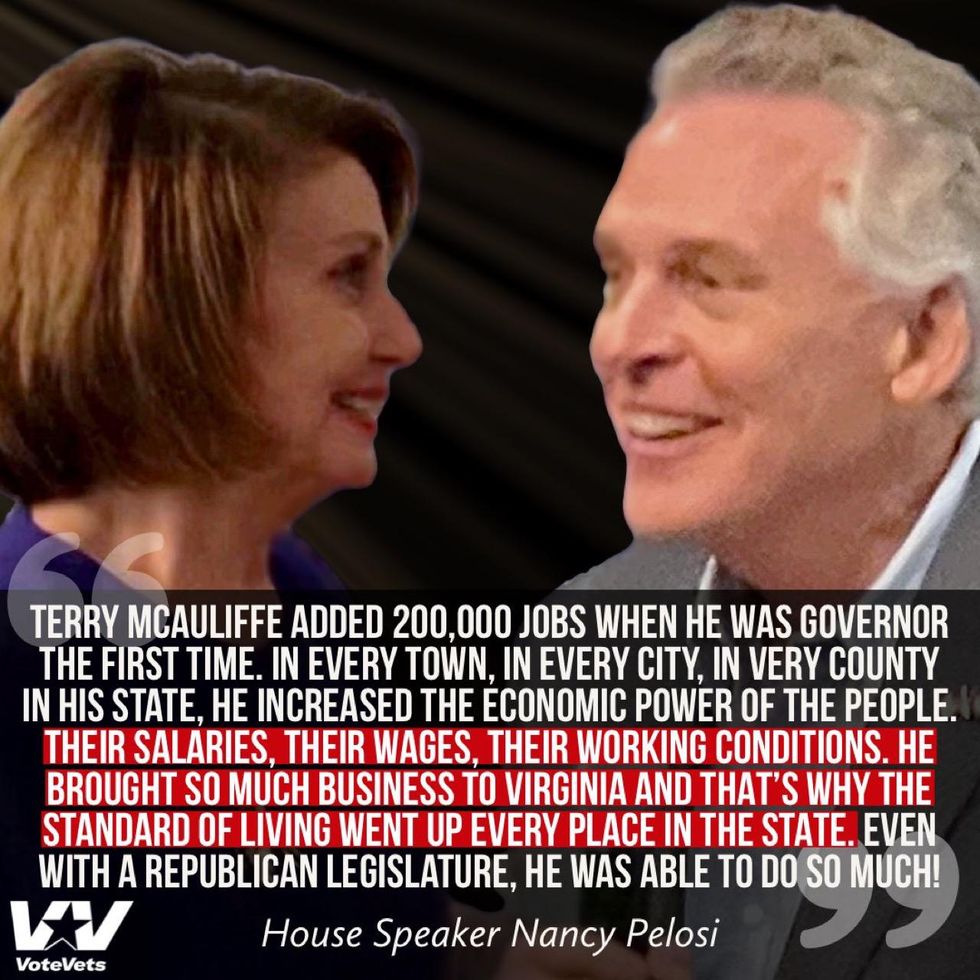 But Virginia also has a history of bucking the party of a new president — the state swung to the G.O.P. in 2009, during former President Barack Obama's first year in office — and Republicans hope Mr. Youngkin has found a formula for success in the post-Trump era.
To prevail, Mr. Youngkin needs to cut into the margins in suburban Northern Virginia, where voters have made the state increasingly Democratic, while also turning out a Republican base that remains motivated by Mr. Trump.
His playbook has focused heavily on education, attacking Mr. McAuliffe for a debate remark that parents should not be directing what schools teach and capitalizing on a broader conservative movement against schools teaching about systemic racism. The result: Education has been the top issue in the race, according to an October Washington Post poll, giving Republicans the edge on a topic that has traditionally favored Democrats.
Mr. McAuliffe has aggressively linked Mr. Youngkin to Mr. Trump, who endorsed the Republican but never traveled to Virginia to campaign for him. If Mr. Youngkin loses, it will showcase the G.O.P.'s ongoing challenge in being associated with Mr. Trump, even without Mr. Trump on the ballot. But if Mr. McAuliffe loses, it will intensify pressure on Democrats to develop a new, proactive message.
Control of the Virginia House of Delegates is also up for grabs. For now, Democrats have an edge of 55-45 seats that they built during the Trump years.
In the New Jersey governor's race, the Democratic incumbent, Philip D. Murphy, is up for re-election. Polls have shown Mr. Murphy ahead, but Mr. Biden's weakening job approval rating in the solidly Democratic state — which stood at 43 percent in a recent Monmouth poll —is a cause of concern. The results will be watched for evidence of how much of the erosion in Mr. Biden's support has seeped down-ballot.
Big mayoralties: Boston, Buffalo, Atlanta and more
It is not the biggest city with a mayor's race on Tuesday, but the City Hall battle in Buffalo, N.Y., may be the most fascinating.
India Walton, who would be the first socialist to lead a major American city in decades, defeated the incumbent Democratic mayor, Byron Brown, in the June primary. But Mr. Brown is now running a write-in campaign.
Ms. Walton has won the backing of progressives, such as Representative Alexandria Ocasio-Cortez, and some party leaders, like Senator Chuck Schumer, but other prominent Democrats have stayed neutral, most notably Gov. Kathy Hochul, a lifelong resident of the Buffalo region.
Policing has been a major issue. Though Ms. Walton has distanced herself from wanting to reduce police funding, Mr. Brown attacked her on the issue in a television ad.
In Boston, the runoff puts two City Council members, Michelle Wu and Annissa Essaibi George, against each other, with Ms. Wu running as the progressive. Ms. Wu, who is backed by Senator Elizabeth Warren of Massachusetts, finished in first place in the primary.
In New York City, Eric Adams, the borough president of Brooklyn and a Democrat, is expected to win the mayor's race and has already fashioned himself as a national figure. "I am the face of the new Democratic Party," Mr. Adams declared after his June primary win.
In Miami, Mayor Francis Suarez, a rare big-city Republican mayor, is heavily favored to win re-election and is lined up to become the president of the U.S. Conference of Mayors, giving him a national platform.
And in Atlanta, a crowded field of 14 candidates, including the City Council president, Felicia Moore, is expected to lead to a runoff as former Mayor Kasim Reed attempts to make a comeback.
The future of policing is front and center
One recurring theme in municipal races is policing, as communities grapple with the "defund the police" slogan that swept the country following the police killing of George Floyd last year. The debate is raging inside the Democratic Party over how much to overhaul law enforcement — and over how to talk about such an overhaul.
Perhaps nowhere is the issue more central than in Minneapolis, the city where Mr. Floyd was killed, sparking civil unrest across the country. Voters there will decide on a measure to replace the troubled Minneapolis Police Department with a new Department of Public Safety.
Mayor Jacob Frey, who is up for re-election, has opposed that measure and pushed for a more incremental approach. His challengers, among them Sheila Nezhad, want a more aggressive approach.
Policing is a key issue not only in the Buffalo mayor's race, but also in mayoral contests in Seattle, Atlanta and in Cleveland, where an amendment that would overhaul how the city's police department operates is on the ballot as well.
The mayor's race in Cleveland puts Justin Bibb, a 34-year-old political newcomer, against Kevin Kelley, the City Council president. Mr. Bibb supports the police amendment and Mr. Kelley opposes it.
House races and Pennsylvania's court battle
There are two special elections for House races in Ohio, with Shontel Brown, a Democratic Cuyahoga County Council member, expected to win a heavily Democratic seat in Cleveland. Mike Carey, a longtime Republican coal lobbyist, is favored in a district that sprawls across a dozen counties.
Mr. Carey faces Allison Russo, a Democrat endorsed by Mr. Biden. Mr. Carey's margin in a seat that Mr. Trump carried by more than 14 points last year will be another valuable indicator of the political environment.
In Florida, a primary is being held for the seat of Representative Alcee Hastings, who died earlier this year. The winner will be favored in a January special election.
The only statewide races happening in Pennsylvania on Tuesday are for the courts. The most closely watched contest is for the State Supreme Court, which features two appeals court judges, the Republican Kevin Brobson and the Democrat Maria McLaughlin. Democrats currently hold a 5-2 majority on the court and the seat being vacated was held by a Republican, so the result will not swing control.
But millions of dollars in advertising are pouring into the state, a sign not just of the increasing politicization of judicial contests, but also of the state's role as a top presidential battleground.
New York Times, November 2, 2021
###
November 2, 2021
Voices4America Post Script. Election Day 2021. #VOTEBLUE If you live in Virginia, #VOTETerry. #Vote4Democracy.