The cover story New York published today details an encounter the writer E. Jean Carroll had over two decades ago with Donald J. Trump, in which the then–real-estate mogul allegedly assaulted her in a dressing room of the Bergdorf Goodman department store in midtown Manhattan.
The episode is one of six incidents Carroll details in the article of attacks on her by men over the course of her life. Another episode involves the disgraced former CEO of CBS, Les Moonves. The cover story is an excerpt from her newest book, What Do We Need Men For? A Modest Proposal, which will be published on July 2 by St. Martin's Press.
When Carroll meets Donald Trump in Bergdorf Goodman, the encounter starts as a friendly one. Trump recognizes her as "that advice lady"; Carroll recognizes him as "that real-estate tycoon." Trump tells Carroll that he's there to buy a gift for "a girl," and though we don't learn the identity of this mystery woman, Carroll places the ensuing incident in late 1995 or early 1996, during which time Trump was married to Marla Maples.
When Trump asks Carroll to advise him on what to buy, she agrees, and the two eventually make their way to the lingerie section. Trump suggests a lace bodysuit and encourages Carroll to try it on; she, deflecting, jokingly suggests that he try it on instead. After they reach the dressing rooms, events turn violent.
In Carroll's account, Trump shoves her against a wall inside a dressing room, pulls down her tights, and, "forcing his fingers around my private area, thrusts his penis halfway — or completely, I'm not certain — inside me."
New York has verified that Carroll did disclose the attack to these friends at the time, and has confirmed that Bergdorf Goodman kept no security footage that would prove or disprove Carroll's story.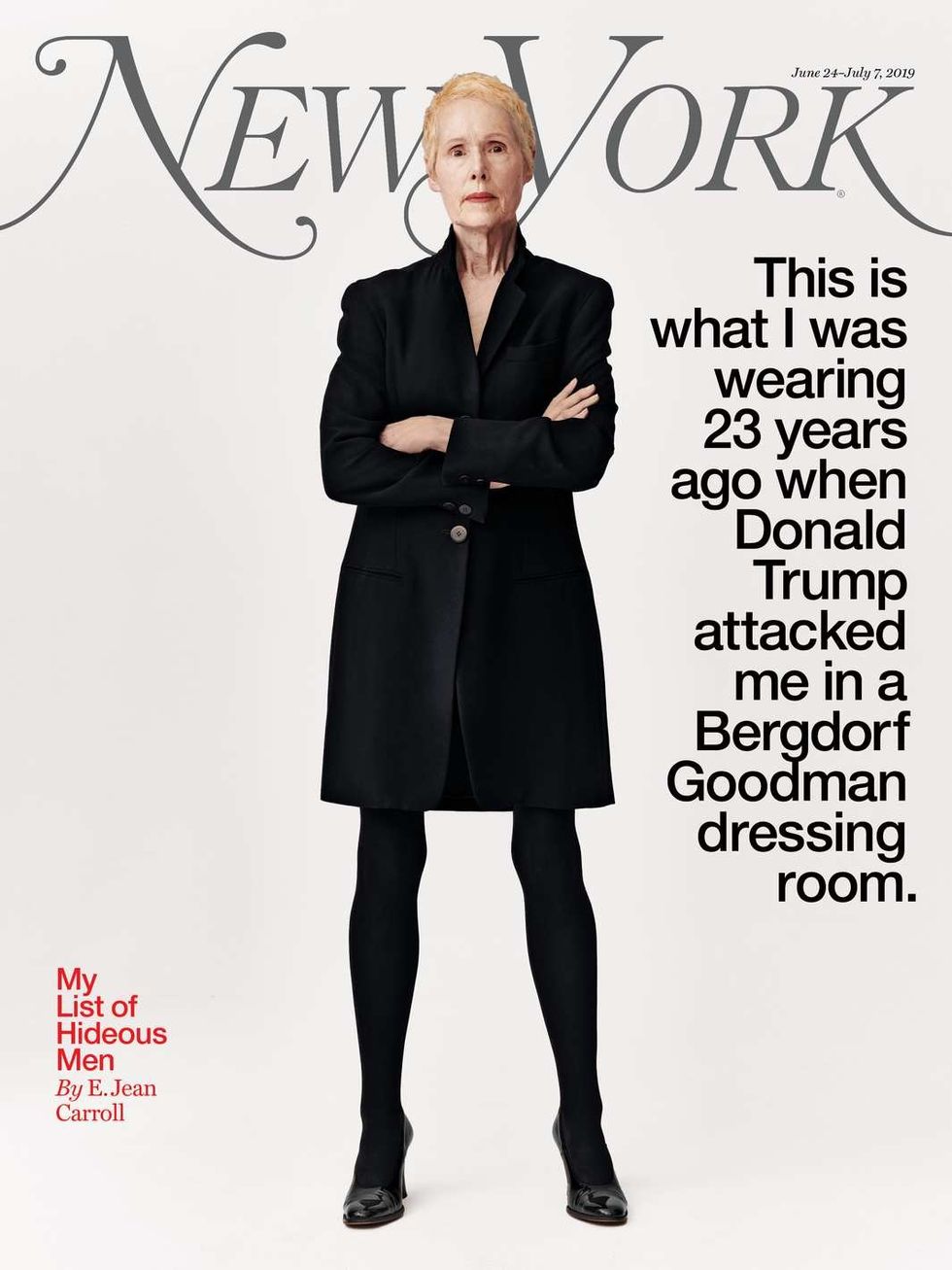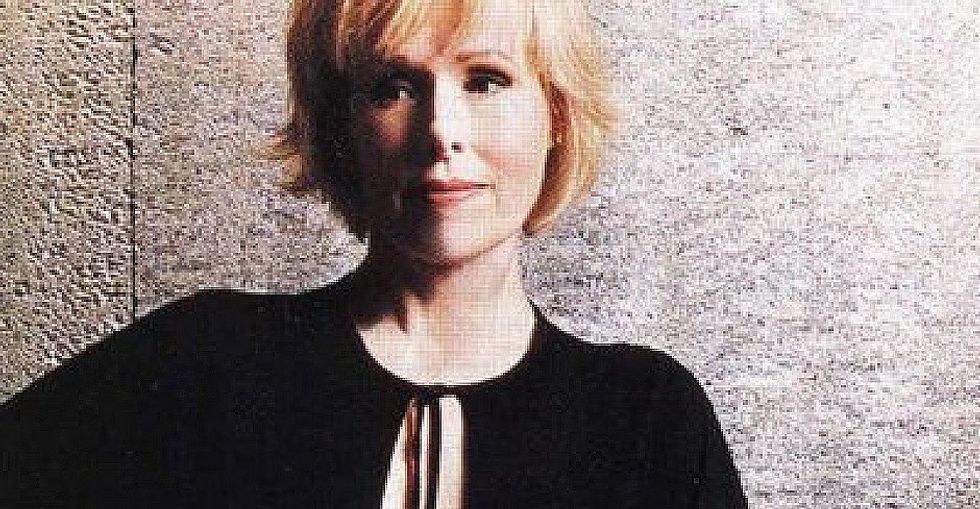 Trump's accuser #16. E. Jean Carroll, younger.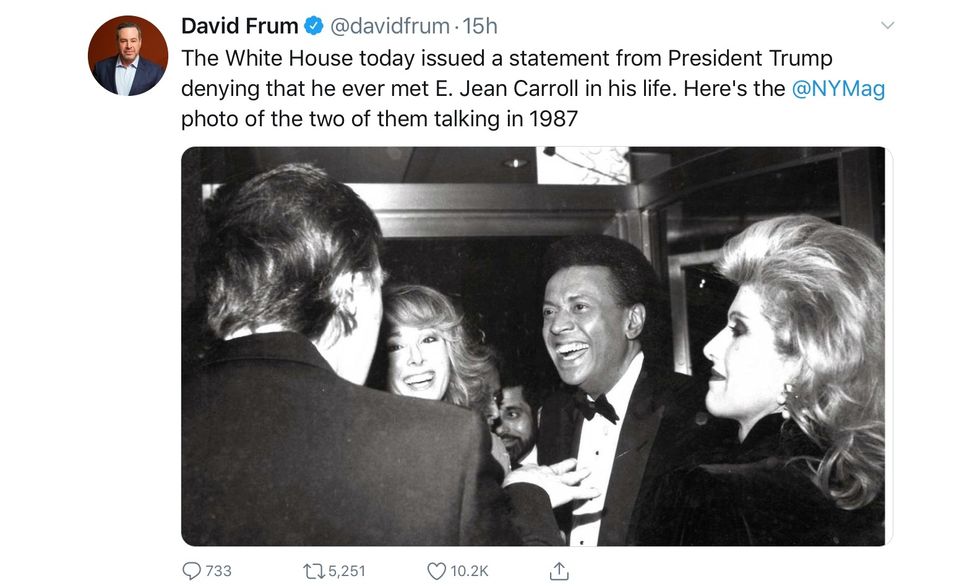 New York has also sought comment from Moonves and Trump. Through his representative, Moonves told New York that he "emphatically denies" the incident occurred. A senior White House official said in a statement, "This is a completely false and unrealistic story surfacing 25 years after allegedly taking place and was created simply to make the President look bad."
As for why Carroll has come forward only now, she writes that she dreaded the public humiliation that awaits her.
"Receiving death threats, being driven from my home, being dismissed, being dragged through the mud," she writes, "and joining the 15 women who've come forward with credible stories about how the man grabbed, badgered, belittled, mauled, molested, and assaulted them, only to see the man turn it around, deny, threaten, and attack them, never sounded like much fun."
New York Magazine, June 21, 2019
###
June 22, 2019
Voices4America Post Script. E. Jean Carroll's accusation of rape by Trump is #16. #TrumpAccuser16
Update: In a statement released to the White House Press Pool, Donald Trump denied Carroll's allegation, saying that " I've never met this person in my life." The full statement is below.
Regarding the "story" by E. Jean Carroll, claiming she once encountered me at Bergdorf Goodman 23 years ago. I've never met this person in my life. She is trying to sell a new book - that should indicate her motivation. It should be sold in the fiction section.


Shame on those who make up false stories of assault to get publicity for themselves, or sell a book, or carry out a political agenda – like Julie Swetnick who falsely accused Justice Brett Kavanaugh. It's just as bad for people to believe it, particularly when there is zero evidence. Worse still for a dying publication to try to prop itself up by peddling fake news – it's an epidemic.


Ms. Carroll & New York Magazine: No pictures? No surveillance? No video? No reports? No sales attendants around?? I would like to thank Bergdorf Goodman for confirming they have no video footage of any such incident, because it never happened.


False accusations diminish the severity of real assault. All should condemn false accusations and any actual assault in the strongest possible terms.


If anyone has information that the Democratic Party is working with Ms. Carroll or New York Magazine, please notify us as soon as possible. The world should know what's really going on. It is a disgrace and people should pay dearly for such false accusations.