DeSantis wants voters' signatures to match. Would his pass the test?
If the Florida governor gets his way, mail-in ballot signatures would have to match the most recent signature on file with the state. His own signature history shows how autographs evolve.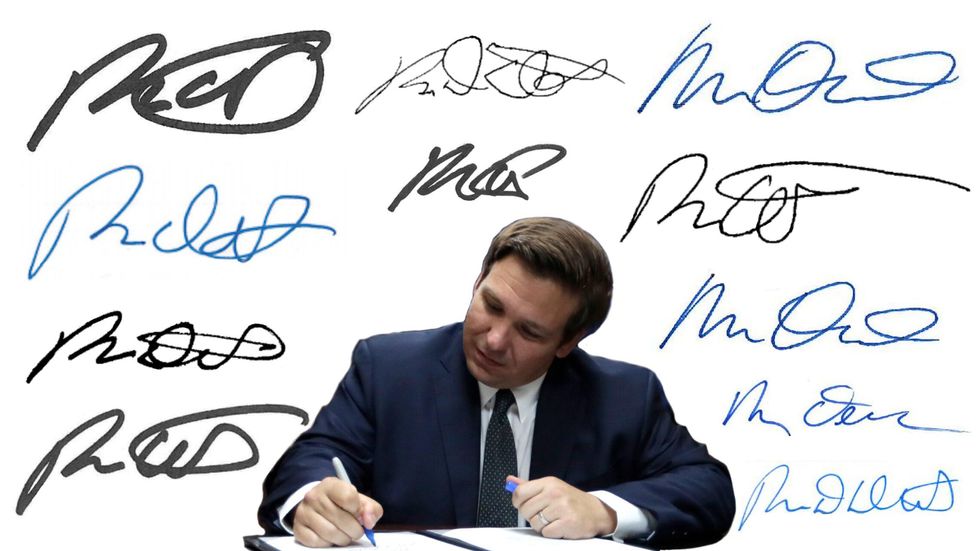 Gov. Ron DeSantis' signature has varied over the years. Here's how he has signed official documents from 2008 to 2021. [ ASSOCIATED PRESS | Photo illustration by ASHLEY DYE | Times ]

Ronald DeSantis had just turned 30 when the up-and-coming prosecutor sent a Mayport Navy sailor to prison for six years on child pornography charges. DeSantis' signature on the 2008 plea agreement was crisp and elegant: A sharp "R" to start; a stately "D" for Dion, his middle name; and "DeSantis" written with an artistic flourish.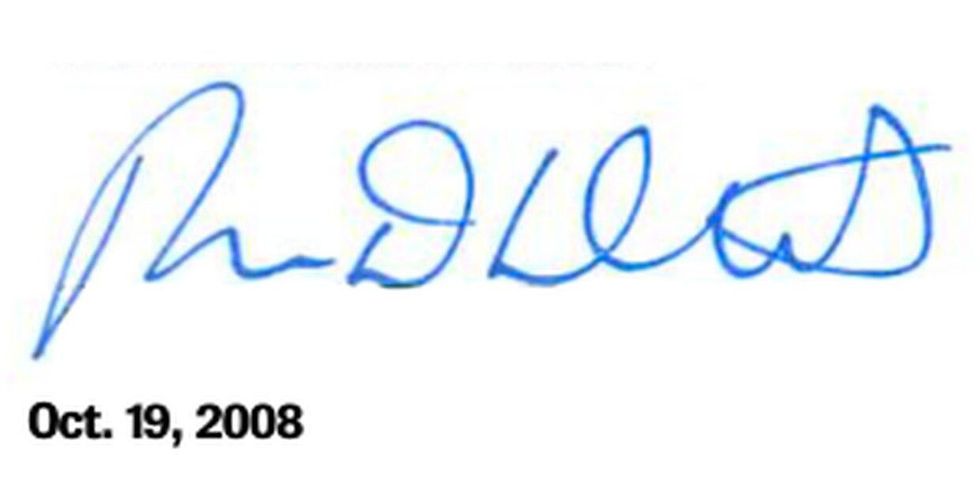 Gov. DeSantis' signature as special assistant U.S. attorney in a plea agreement for a court case in 2008. [ U.S. District Court for the Middle District of Florida ]
Over the next 13 years, DeSantis' signature would evolve from the neat cursive of his youth to the hurried one he uses frequently today as Florida's governor. Along the way, he dropped the middle initial. He altered the look of the "R," and then switched it back. A quick squiggle and a big swoop replaced most of the letters in his last name.
Gov. DeSantis' signature from an April 2, 2021, executive order. [ State of Florida ]
Handwriting experts say no two signatures from one person are the same. It's why Florida election officials for years have used all the signatures at their disposal — sometimes more than a dozen — when they authenticate a voter's signature on a mail-in ballot.
DeSantis wants to rein-in that long-standing practice. Vote-by-mail signatures "must match the most recent signature on file" with the state Department of Elections, DeSantis declared in February. A bill moving through the Florida Senate would make that the law.
Some election officials say limiting signature samples could make it harder to authenticate the identities of voters who choose to cast their ballot by mail. Signatures change over time, they say, and are often affected by the choice of pen, the writing surface, fatigue or a person's health. A new requirement for a one-to-one match could lead to more rejected ballots.
DeSantis' own John Hancock has undergone a transformation during his time in government, as demonstrated by 16 of his signatures compiled by the Tampa Bay Times from publicly available sources between 2008 and now.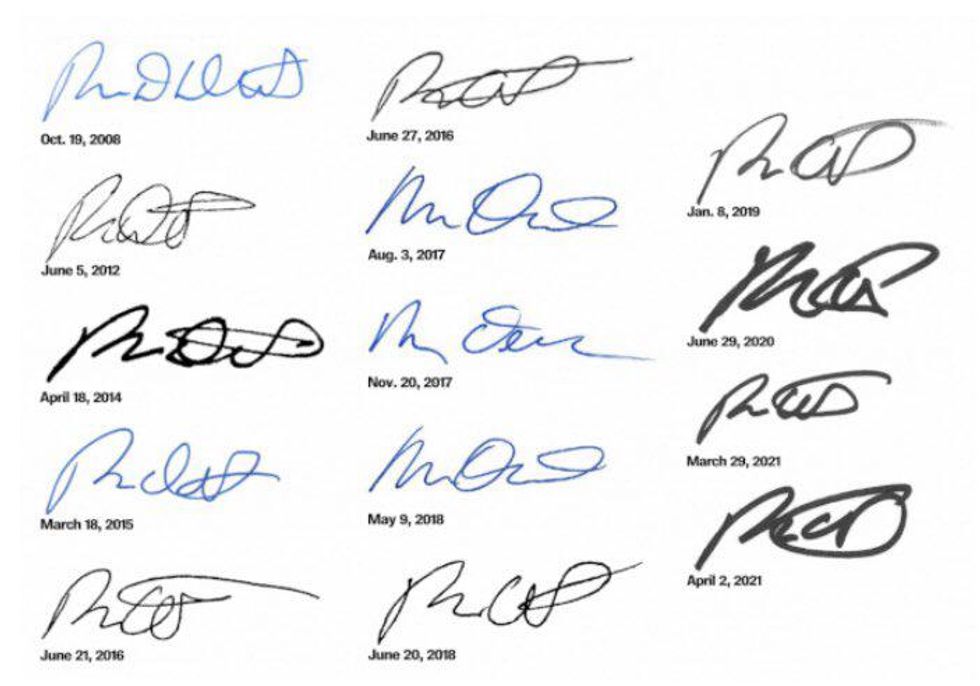 Gov. Ron DeSantis' signature variations are seen from 2008 to this year on official documents from the state and the federal government. [ Photo illustration by ASHLEY DYE | Times ].
Experts and election officials who reviewed DeSantis' signature history for the Times said some of the modifications in his penmanship could have posed trouble for election workers, especially if constrained to one point of comparison. In a handful of instances, it's possible the ballot could have been rejected, they said.
"It shows why it is better to have multiple signatures for review than to have one," said Tom Vastrick, a forensic document examiner based in Apopka.
The Times sent DeSantis' office samples of his signatures along with a summary of the opinions from experts interviewed for this story. His spokespeople did not respond to a request for comment on the analysis nor did they say why this change in law is needed.
The new limitations on signature matching are included in a larger bill, sponsored by Sen. Dennis Baxley, an Ocala Republican, that would overhaul mail-in voting. Baxley said comparing the signature on the ballot to the most recent one on file with the state will simplify the verification process.
It's the most current and more likely to be how they're signing things now," Baxley said. "That is the key."
The proposal is part of a package of voting legislation that Florida Republicans are pushing this session to the state's election system, even though DeSantis praised Florida for how it conducted its 2020 election. "The way Florida did it, I think inspires confidence, I think that's how elections should be run," DeSantis said at the time.
Yet five months later, Florida has joined other GOP-controlled states in proposing restrictions on voting. That includes limits on mail-in ballots, a form of voting that former President Donald Trump used as a Florida resident but ridiculed in his failed bid to overturn the election.
The bill is scheduled for a committee vote Wednesday. Baxley said changes could be forthcoming.
The past and the present
The signature on the state paperwork for DeSantis' first congressional campaign in 2012 bears only a passing resemblance to the one he often scribbles these days on executive actions.

At left, DeSantis' signature appears on a federal candidate oath in 2012; at right, his signature on a March 2021 executive order. [ U.S. government and State of Florida ]

Steve Contorno, Tampa Bay Times, April 13, 2021
###
April 14, 2021
Voices4America Post Script. #GOPGOTCHAGames about Signature matching are part of #GOPVOTERSuppression. I believe in Democracy. #LetMyPeopleVote #StopDeSantis aka #TrumpLite. Check this Florida article on his signature.