In Detroit's Fox Theatre tonight, and tomorrow night, CNN will host the 2nd round of Debates for the Democratic aspiring to be President of the United States.
When are the Democratic debates?
When: 8 p.m. EDT Tuesday, July 30, and 8 p.m. EDT Wednesday, July 31
Where: The Fox Theatre in Detroit
Each night is expected to last two hours.
Where can I watch the Democratic debates?
Through an agreement with the Democratic National Committee, CNN has exclusive rights to both nights of the debates and if you want to watch, you'll have to watch there. If you don't have cable or a streaming service that provides CNN, you're not necessarily out of luck: It will be streamed live on CNN.com for free and without requiring a cable provider login.Here are the rundowns for each night.
(Source, USA Today)
Who are the Democratic candidates?
Here is the breakdown of candidates appearing each night.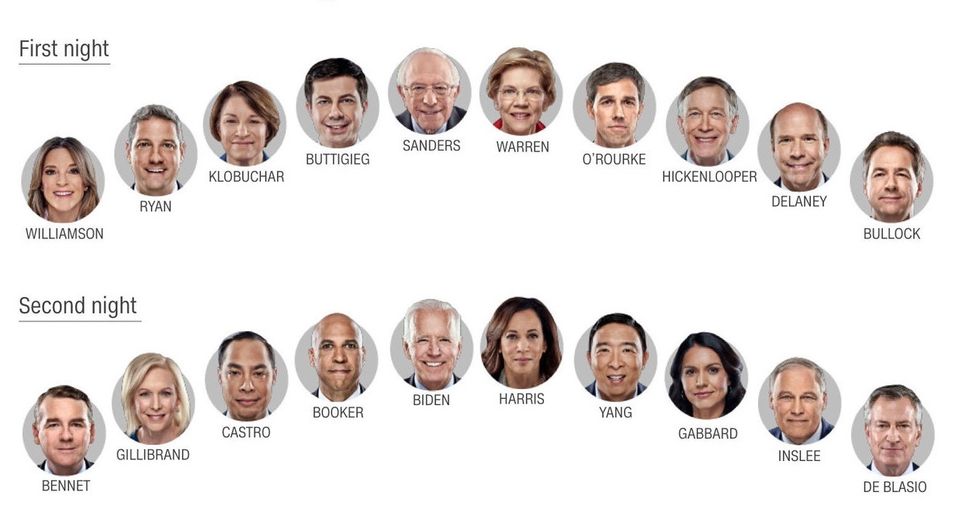 Almost all of the candidates who qualified for the June debate will appear, in part because the June and July debates had the same qualifications (candidates had to register at least 1% in three polls from a predetermined set of surveys, as well as recruit 65,000 individual donations).
The one exception? Montana Gov. Steve Bullock will be new to the stage. Bullock is replacing California Rep. Eric Swalwell, who dropped out of the race on July 8.
The candidates who qualified are, in alphabetical order:
Colorado Sen. Michael Bennet
Former Vice President Joe Biden
New Jersey Sen. Cory Booker
Montana Gov. Steve Bullock
South Bend, Ind., Mayor Pete Buttigieg
Former Housing and Urban Development Secretary Julián Castro
New York Mayor Bill de Blasio
Former Maryland Rep. John Delaney
Hawaii Rep. Tulsi Gabbard
New York Sen. Kirsten Gillibrand
California Sen. Kamala Harris
Former Colorado Gov. John Hickenlooper
Washington Gov. Jay Inslee
Minnesota Sen. Amy Klobuchar
Former Texas Rep. Beto O'Rourke
Ohio Rep. Tim Ryan
Vermont Sen. Bernie Sanders
Massachusetts Sen. Elizabeth Warren
Marianne Williamson, self-help author
Andrew Yang, businessman
Each night, the debate will be moderated by 3 CNN personalities: chief political correspondent Dana Bash, CNN Tonight anchor Don Lemon and chief Washington correspondent Jake Tapper (anchor of The Lead and State of the Union).
(Source, Time magazine)
Why should I watch?
Well, Democracy and the future of the world are at stake.😘
You are the American People and your support and enthusiasm will help the Democratic Party pick a candidate to beat Donald Trump in 2020.
Remember to post and tweet before, during and after each debate! to make your views known. Tell friends and family too.
And yes, donate to the candidate of your choice.
#BlueVictory2020
Voices4America Post Script. Happening tonight and tomorrow. #DemDebates Who? Where? When? Why? All in this post. Why should I watch? Well, Democracy and the future of the world are at stake.😘
Spread the word! Share this post.