Stacey Abrams, Georgia's 2018 Democratic gubernatorial nominee, announced Wednesday that she is pursuing a bid for governor in 2022.
The move means Abrams could face a rematch against Georgia Gov. Brian Kemp (R), to whom she narrowly lost the governor's race three years ago.
In a video shared on social media, Abrams said she's running "because opportunity and success in Georgia shouldn't be determined by your Zip code, background or access to power."
Stacey Abrams announces Georgia gubernatorial run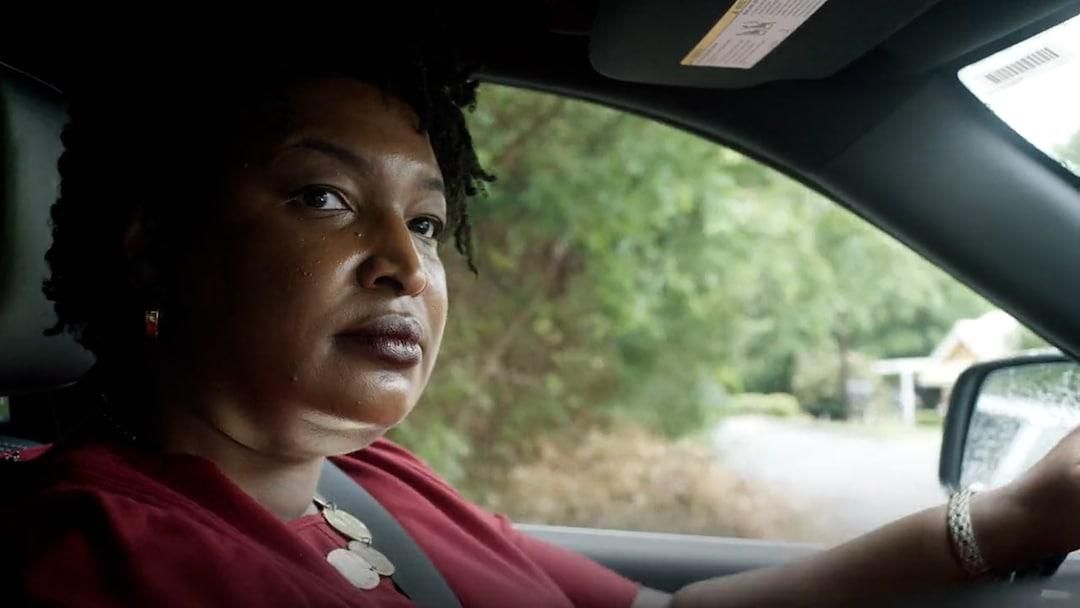 Stacey Abrams announces Georgia gubernatorial runwapo.st
In a video posted to Twitter on Dec. 1, Stacey Abrams announced that she would enter the 2022 Georgia governor's race.
The Democrat was widely credited with boosting voter turnout in Georgia in 2020, helping Joe Biden defeat President Donald Trump in the state and aiding two Democrats — Raphael G. Warnock and Jon Ossoff — in capturing Senate seats this past January.
"If our Georgia is going to move to its next and greatest chapter, we're going to need leadership," Abrams said in her announcement video. "Leadership that knows how to do the job. Leadership that doesn't take credit without taking responsibility. Leadership that understands the true pain folks are feeling and has real plans. That's the job of governor, to fight for one Georgia — our Georgia. And now, it's time to get the job done."In 2018, Abrams became the first Black woman to win a major-party gubernatorial nomination. Next year could mark the first time a Black woman is elected governor, and not just if Abrams wins. New York state Attorney General Letitia James (D) is also pursuing a gubernatorial bid.
Abrams's campaign said that Georgia Democrats "are riding a wave of momentum into the gubernatorial race" and said that, under Kemp's leadership, the state "has endured ongoing attacks on the right to vote and freedom to choose."
Noam Lee, executive director of the Democratic Governors Association, called Abrams "a powerhouse leader who has spent her life fighting for equal opportunity for all Georgians."
"With a historic campaign built on expanding access to health care and creating good-quality jobs, Abrams already came well within striking distance of Brian Kemp in 2018 — before she mobilized millions of Democrats to flip Georgia blue in 2020," Lee said in a statement. "Now more than ever, it's clear Brian Kemp's days as governor are numbered."
The Republican Governors Association fired back, with spokesperson Maddie Anderson arguing that Abrams was "once again using Georgia to boost her own star while she plots a path toward her real career goal: President of the United States."
Abrams, 47, has previously said that the presidency is a position that she wants "to one day hold."
"Over the past four years, Governor Kemp has exhibited courageous leadership for Georgians and guided his state through a turbulent time," Anderson said in a statement. "Stacey Abrams spent her time touring the country in search of fame and fortune. The RGA looks forward to ensuring Abrams is once again soundly defeated."
When the 2018 gubernatorial contest ended with Abrams trailing Kemp by 55,000 votes, she refused to concede — a decision that Republicans have criticized. Instead, Abrams filed a lawsuit against the state for "gross mismanagement" in managing the election and formed a political group called Fair Fight Action, focused on battling restrictive laws and educating people on how to protect their right to vote.
In remarks to liberal activists in November 2020, Abrams said that since 2018, 800,000 new voters had been added to Georgia's voting rolls, 49 percent of whom were younger than 30 and 45 percent of whom were people of color, both groups more likely to vote Democratic.
Abrams's entry into the race further thrusts Georgia into the national political spotlight in 2022.
Kemp may face a primary challenge from former senator David Perdue (R-Ga.), who lost his seat to Ossoff earlier this year and has increasingly echoed Trump's criticism of the governor's handling of the 2020 election. Trump has reportedly urged Perdue to run.
Former football star Herschel Walker, another Trump-favored candidate, is running in the GOP primary to face Warnock. Walker has garnered support from a growing number of Republicans despite allegations that he threatened the lives of two women, including his ex-wife, and embellished his business record.
Trump issued a statement Wednesday night in which he aimed most of his criticism at Kemp, arguing that it would be difficult for the governor to win because "the MAGA base will just not vote for him after what he did with respect to Election Integrity and two horribly run elections, for President and then two Senate seats."
"But some good Republican will run, and some good Republican will get my endorsement, and some good Republican will WIN!" Trump said.
December 1, 2021
###
December 2, 2021
Voices4America Post Script. Stacey is running in Georgia. Who is with her! Donate! Volunteer! #Stacey4GA #Beto4TX #Blue2022