AOC has a problem with Kimberly Guilfoyle — and it wasn't even the rather loud delivery of her monologue during to the Republican National Convention on Monday.
Rep. Alexandria Ocasio-Cortez (D-N.Y.) took Donald Trump Jr.'s girlfriend to task for calling herself a child of immigrants and a "first-generation American," claims are only partially true because while Guilfoyle's father was from Ireland, her mom was from Aguadilla, Puerto Rico and therefore, a U.S. citizen.
"The woman the GOP picked as their 'proud' Latina ... didn't seem to know that Puerto Rico is already part of the United States," Ocasio-Cortez wrote on Twitter Tuesday morning.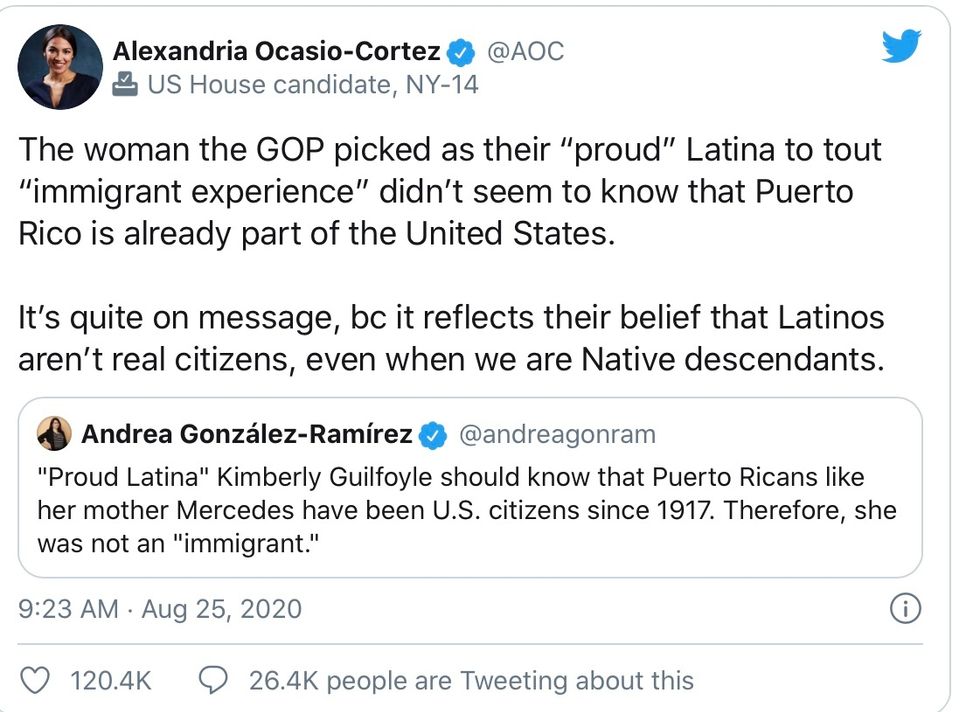 AOC, a firebrand lawmaker with roots on the island, noted that Puerto Ricans have been U.S. citizens by birthright for more than a century.

She slammed Guilfoyle for backing the Republican portrayal of Latino Americans — and Puerto Ricans in particular—- as foreigners in the land of their birth.
"It reflects their belief that Latinos aren't real citizens," wrote Ocasio-Cortez, who is cruising to reelection for a second term representing chunks of Queens and the Bronx.

Guilfoyle, a former Fox News personality and prosecutor, got low marks for her Monday speech that she shouted into the camera even though there was no live audience.
Guilfoyle is also somewhat of a political chameleon when it comes to her romantic life. Born in San Francisco, she was married to Gavin Newsom, now the Democratic governor of California, when he was the mayor of the liberal beacon of Northern California.
President Trump has repeatedly taken embarrassing potshots at Puerto Rico, most notably during his botched response to the devastating Hurricane Maria in 2017, which devastated the island. He downplayed the death toll from the ferocious storm and resisted giving sufficient aid, pointing to alleged corruption.
He also reportedly floated the idea of selling the island or trading it for the Danish territory of Greenland, which he covets for its mineral wealth and strategic locations.
Dave GOLDINER, NY Daily News, August 25, 2020
###
August 26, 2020 Women's Equality Day
Voices4America Post Script. Kimberley Guilfoyle, Fox News ranter, for whom Don Jr. left his wife/5 kids, screamed into an empty room at the RNC. She was supposed to be #immigrant. Her parents were Puerto Rican Americans. AOC set her straight. Thought you would like to know. #BidenHarris2020
Yes, Guilfoyle is the ex-wife of Gavin Newsom, Gov. of CA. His state was the subject of Guilfoyle's mad tirade on Monday.

Was this Foreplay for red-eyed Jr?

Did I just say that?