An American View- Everything you need to know about Boris Johnson's No-Deal Brexit.
First, What Is Brexit? What is a No-Deal Brexit?
Brexit is an abbreviation for "British exit," referring to the U.K.'s decision in a June 23, 2016 referendum to leave the European Union(EU). The vote's result defied expectations and roiled global markets, causing the British pound to fall to its lowest level against the dollar in 30 years. Former Prime Minister David Cameron, who called the referendum and campaigned for Britain to remain in the EU, announced his resignation the following day.
Theresa May, who replaced Cameron as leader of the Conservative party and prime minister, stepped down as party leader voluntarily on June 7, 2019, after facing severe pressure to resign.The deal May negotiated with the EU was rejected by the House of Commons three times, and she shelved plans to put it to a vote a fourth time after the changes and compromises she was willing to make angered many senior members of her party.
On July 23rd, 2019, Boris Johnson, the Conservative Party leader, former Mayor of London, British Foreign Minister, and editor of The Spectator newspaper, was elected Prime Minister.
Johnson campaigned on a platform to leave the EU by the October 31st, 2019 deadline "do or die". Britain has to ratify a withdrawal agreement with the EU before leaving if it wants to avoid a chaotic "no-deal" exit.
What Happens Next.
Britain has managed to avoid crashing out of the EU without a deal by extending the negotiating period twice. This did mean it was forced to participate in the EU Parliament elections held on May 23. Britain can leave the EU before October 31 if it chooses to, either with a deal or without.
Johnson, a hardline Brexit supporter, is prepared to leave the EU without a deal. If Britain leaves the EU without the ratification of a deal in what is known as 'Hard Brexit', there will be no two-year transition period. The U.K and the EU are meant to negotiate a new, long-term trade agreement during the transition period. In the absence of a deal, World Trade Organization rules will come into effect.
Most economists are not sanguine about the results should a No-Deal Brexit occur. On August 18, the London Times leaked a government analysis of the chaos and economic damage that might result from a No-Deal Brexit. This was the Washington Post's follow up:
LONDON — An increasingly likely "no-deal" Brexit could wreak havoc on Britain's economy, infrastructure and social fabric, the government says in classified documents leaked to a British newspaper.
The costs of food and social care would rise, while medicines could be delayed, the Sunday Times reported. Border delays would interrupt fuel supplies. Ports would suffer severe disruptions and recover only partially after three months, leaving traffic at 50 to 70 percent of the current flow.
Those are some of the effects predicted by "Operation Yellowhammer," which the newspaper said was compiled this month by Britain's Cabinet Office and available to those with "need to know" security clearances.
(The material above is mostly sourced from Investopedia but the section on the economists is from the Washington Post, as noted).
What Happened Yesterday. What is Prorogue? Is Prorogue legal?
Johnson declared he was going to the Queen, asking her to suspend Parliament to allow him to push through a No-Deal Brexit. His unprecedented call for a so-called Prorogue was seen widely as undemocratic. The Prorogue would shorten the time Parliament has to debate Brexit.
Here is a summary from the BBC, August 28, 2019, of the present situation.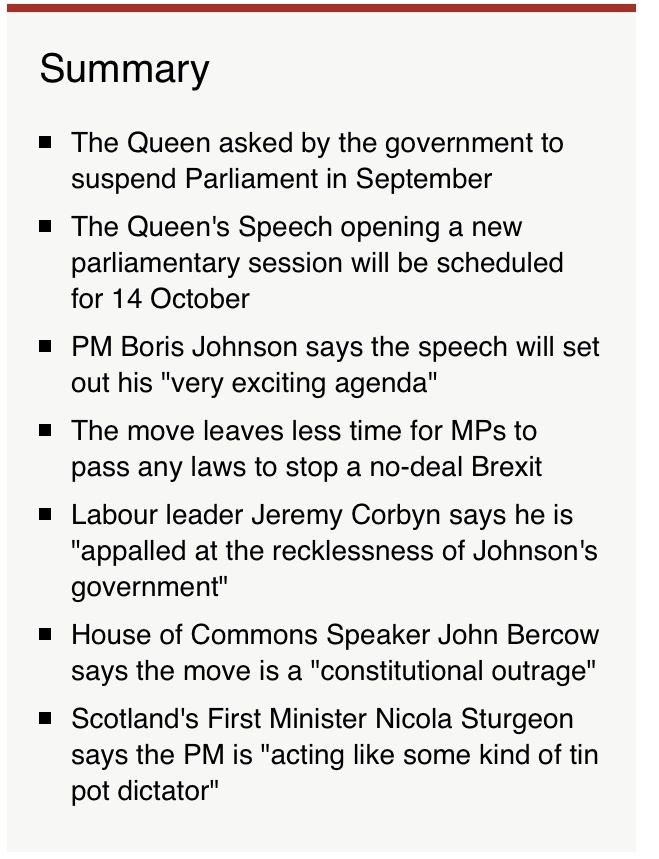 There has been outrage at the Johnson move, including calls for street protests, as well as multiple opposition (Labour) negative responses to this. Jeremy Corbin, the Labour Leader who was planning to propose a Parliamentary debate and vote to oppose a No-Deal Brexit has written to the Queen, as have other Parliamentary leaders.

This is from today's New York Times:
The move elicited furious cries of outrage from opposition politicians, who denounced it as undemocratic and possibly unconstitutional. And it set the stage for a heated showdown with Parliament next week, when it returns from summer recess, and possibly again in October, as the Halloween deadline for Brexit bears down.
The public has consistently weighed in negatively against "prorogue." Here is a June survey.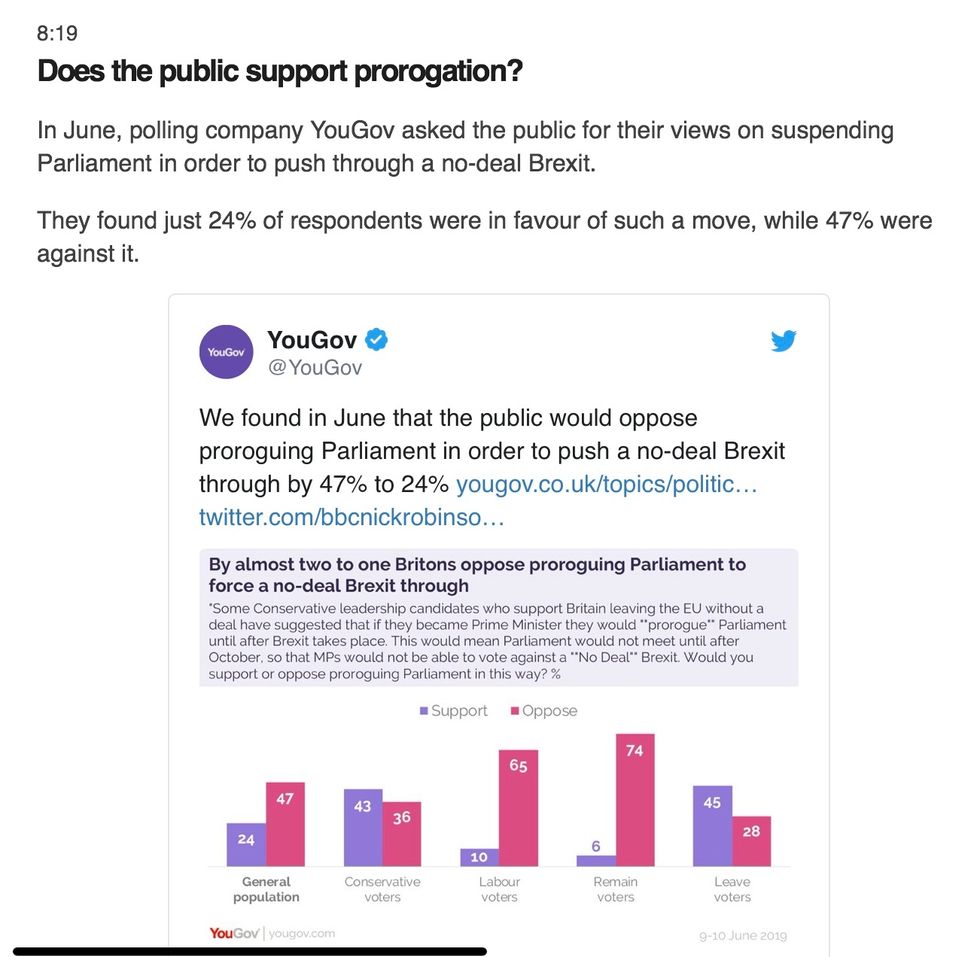 An online petition on a government website, demanding that Parliament not be suspended while a Brexit deadline looms, collected more than 250,000 signatures by early Wednesday afternoon — far more than the 100,000 needed to require Parliament to debate the issue. (Source, New York Times, August 28, 2019)
What Can Happen Next?
There has been this threat.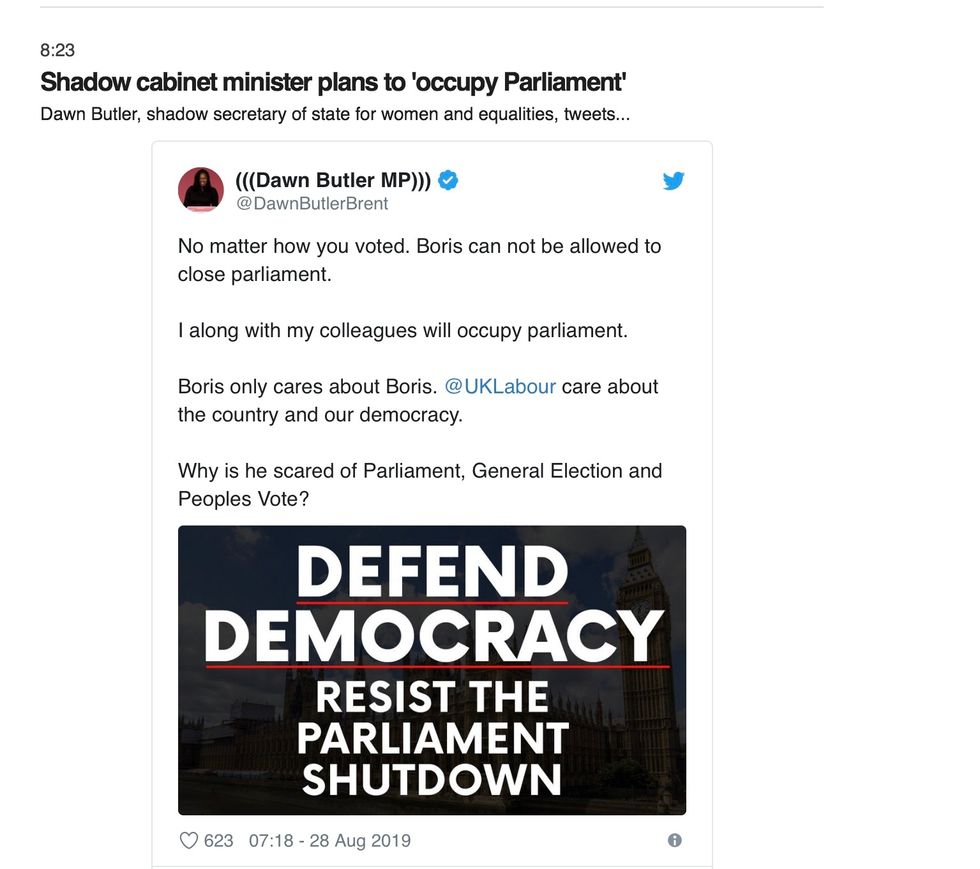 Here is an analysis from Clive Coleman, BBC Legal Correspondent, August 28, 2019:

In order to suspend parliament the prime minister has to advise the Queen to 'prorogue' it.
By convention the Queen accepts such advice, and then uses what are known as her 'prerogative powers' to suspend.
It is not possible to mount a legal challenge to the Queen's exercise of her personal prerogative powers – these include the granting of honours, appointing the prime minister and proroguing parliament.
But it is possible to mount a legal challenge to the advice given to her by her prime minister.
That would be done by a judicial review of the advice – in other words asking a court to rule on whether the decision to advise the Queen to prorogue was lawful.
Those bringing it could argue that the prime minister has misunderstood and so failed to correctly apply the law relating to the power to prorogue.
They would most likely argue that the power exists purely for purposes that are consistent with the healthy functioning of the country's parliamentary democracy.
These purposes traditionally include enabling an election campaign to begin, and a Queen's speech to be prepared and delivered.
If it was successfully argued that the purpose of today's announcement was to frustrate the way the UK's parliamentary democracy operates a court could rule that the power has been misused and so was unlawful.
There is already a legal challenge taking place in the Scottish courts, supported by a group of MPs and others who are seeking to expedite it.
If a challenge is brought in the English and Welsh courts, all of the challenges could end up in the UK Supreme Court.
###
August 28, 2019
Voices4America Post Script. Our Own Stooge in the White House, aka Boris Johnson twin, weighed in too. #MoronsInCrime