The third Democratic debate, hosted on Thursday by ABC News and Univision, will feature a single night of debate between the top 10 highest polling candidates -- the smallest roster yet in the third matchup of Democratic National Committee-sanctioned primary debates, with a field that still counts 20.
The Democratic Debate will air on Thursday, September 12 from 8:00 to 11:00 p.m. ET on the ABC Television Network and Univision. ABC News is partnering with Univision on the debate sanctioned by the Democratic National Committee at Texas Southern University's Health & PE Center in Houston.Chief Anchor George Stephanopoulos, "World News Tonight" Anchor and Managing Editor David Muir, ABC News Correspondent Linsey Davis and Univision Anchor Jorge Ramos will moderate the debate.
The candidates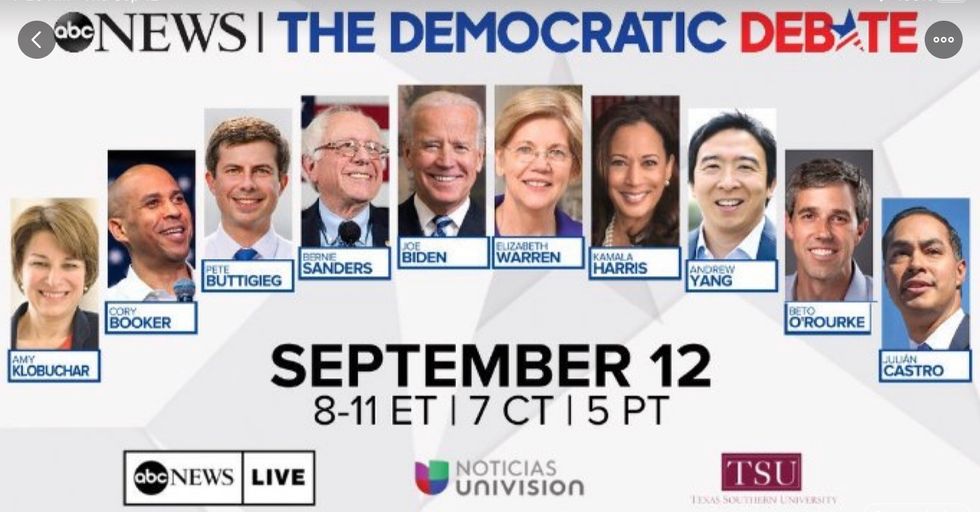 The 10 candidates, certified by the Democratic National Committee to participate in the debate, will appear on stage in the following order, from left to right:
Minnesota Sen. Amy Klobuchar
New Jersey Sen. Cory Booker
South Bend, Indiana, Mayor Pete Buttigieg
Vermont Sen. Bernie Sanders
Former Vice President Joe Biden
Massachusetts Sen. Elizabeth Warren
California Sen. Kamala Harris
Entrepreneur Andrew Yang
Former Texas Rep. Beto O'Rourke
Former Housing and Urban Development Secretary Julián Castro
source. ABC News.
Voices4America Post Script. Share this post to alert America! The Democratic Debate is Tonight! We are the majority! When we vote, we win. #BlueVictory2020News.