If the 2016 presidential election reflected a primal roar from disaffected white working class voters that delivered for President Trump and Republicans, Tuesday's results showed the potential of a rising coalition of women, minorities, and gay and transgender people who are solidly aligning with Democrats.
A black transgender activist, Andrea Jenkins, was elected to the Minneapolis City Council.A Hispanic woman won the mayor's race in Topeka, Kan.
A Sikh man was elected mayor in Hoboken, N.J. Latina, Vietnamese and transgender female candidates won state legislative races.
Black candidates were elected lieutenant governor in New Jersey and Virginia.
A Liberian refugee in Helena, Mont., was elected mayor.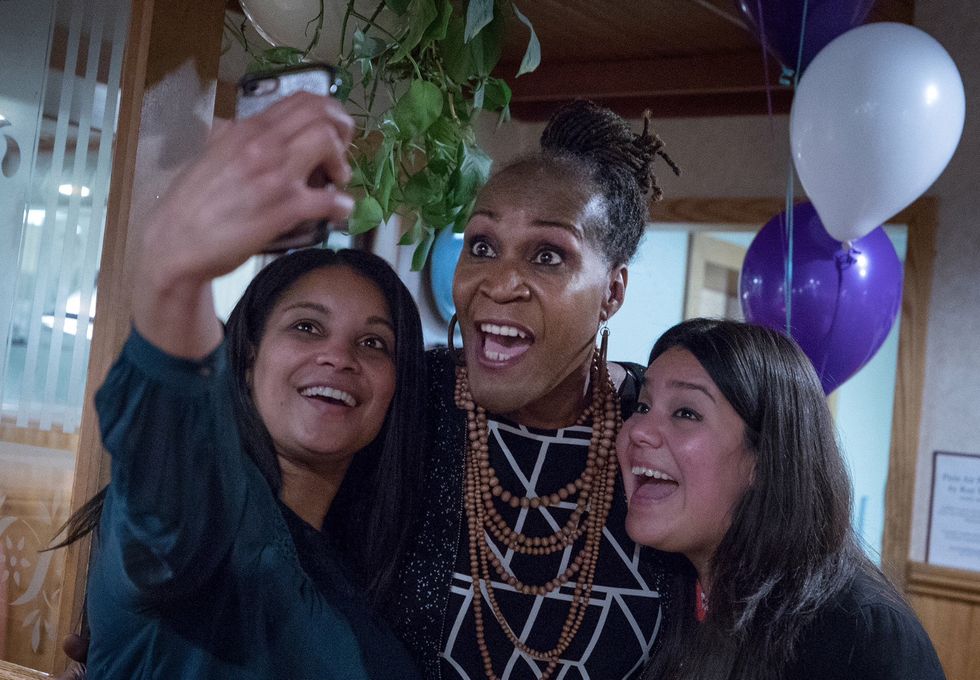 Tuesday's election saw a diverse coalition of women, minorities, and gay and transgender people elected to offices around the country. A black transgender activist, Andrea Jenkins, center, was elected to the Minneapolis City Council. Carlos Gonzalez/Star Tribune, via Associated Press.
Mark Keam, a Korean-American Democrat who was re-elected on Tuesday to his seat in Virginia's House of Delegates, said the wave of first-time minority candidates was a direct response to feeling snipped out of the American picture by Mr. Trump's policies and divisive language.

"In Trump's America, people are getting screwed and those getting screwed more than others are people who've never had a voice in the government," Mr. Keam said. "Those are motivations a white guy wouldn't have."
Some are skeptical of reading too much into one off-year election. And even Democrats have had heated disagreements over whether identity politics help the party or drive people away. But David Ramadan, a Republican who served in the Virginia General Assembly from 2012 to 2016 said the warning for his party was clear.
"Tuesday's results show that unless the Republicans go back to being mainstream conservatives and run on issues like education, jobs and transportations instead of sanctuary cities and Confederate statues, they will hand not only Virginia to liberals, but they will hand the country to liberals and Congress to liberals next year,'' Mr. Ramadan said.
Danica Roem
Even before her election, Danica Roem drew national attention as a transgender woman running against a Republican who had introduced a "bathroom bill" in the Virginia Legislature to bar transgender people from restrooms.
Ms. Roem, 33, a former reporter for a newspaper in the Washington suburbs, tried to focus on issues like traffic, while fending off attacks from Republicans, including the state party, that she was morally degenerate and not really a woman.
"Help me protect conservative values in Virginia!" her opponent, Bob Marshall, a 26-year incumbent known for his social conservatism, wrote in a campaign flier.
Ms. Roem, who came out in 2013, a year after beginning her transition to a woman, campaigned in a rainbow head scarf and will be the first openly transgender person in the country seated in a state legislature.
She was born and still lives in Manassas, and is something of a policy nerd. She also sings in a heavy metal band, Cab Ride Home, which she said would be taking a hiatus while she focuses as a lawmaker on raising teacher pay, Medicaid expansion — and, a top issue in her suburban district, traffic congestion.
Justin Fairfax
While Ralph S. Northam earned the top headlines for his surprisingly strong win over the Republican, Ed Gillespie, the victory by Justin Fairfax in the lieutenant governor's race, also has long-term implications.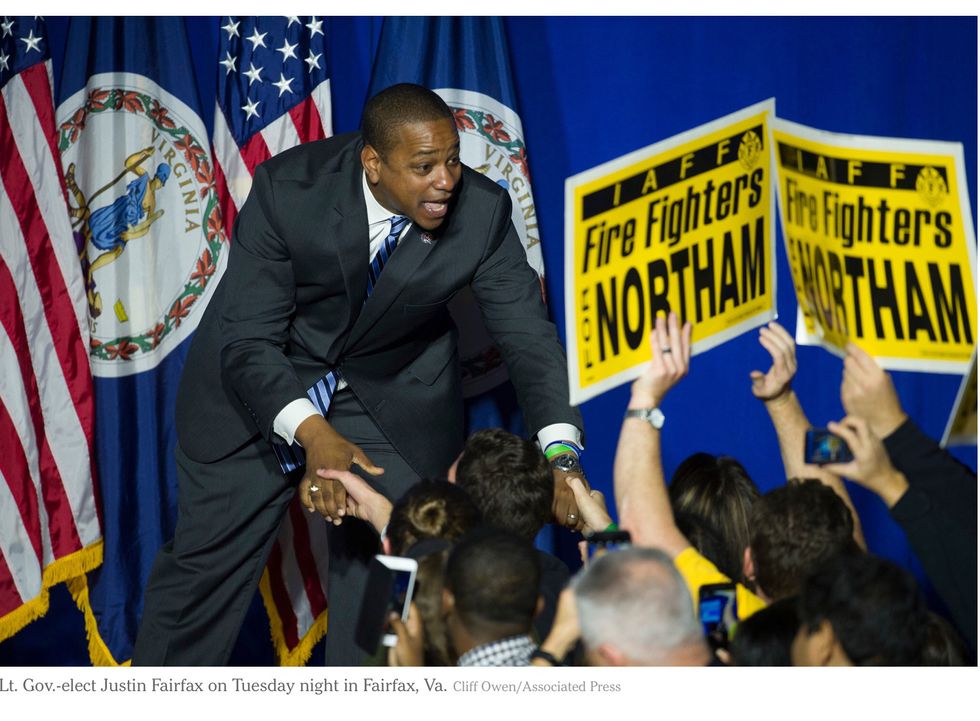 Mr. Fairfax became the second African-American to be elected to that position, which has often been a steppingstone to the governor's office, as it was for Douglas Wilder, the nation's first elected black governor, Senator Tim Kaine and Mr. Northam himself.
A former federal prosecutor and graduate of Duke University and Columbia Law School, Mr. Fairfax had never held elective office. His campaign had an upbeat feel, marked by television ads that showed him preparing peanut butter sandwiches for his young children before he drove them to school.
Mr. Fairfax will instantly been seen as a top contender for governor in Virginia in 2021. Mr. Northam is limited to one, four-year term.
Jenny Durkan
Jenny Durkan, who will be Seattle's first openly lesbian mayor and its first female mayor since the 1920s is a former United States attorney and a former member of the Teamsters union.
In Seattle, where socially liberal values and a labor union history are ingrained in the political culture, Ms. Durkan bragged to voters about working as baggage handler after college for a tiny airline in Alaska, where she was the only woman and learned how to fix a forklift. "That union job helped me pay for law school," she told voters.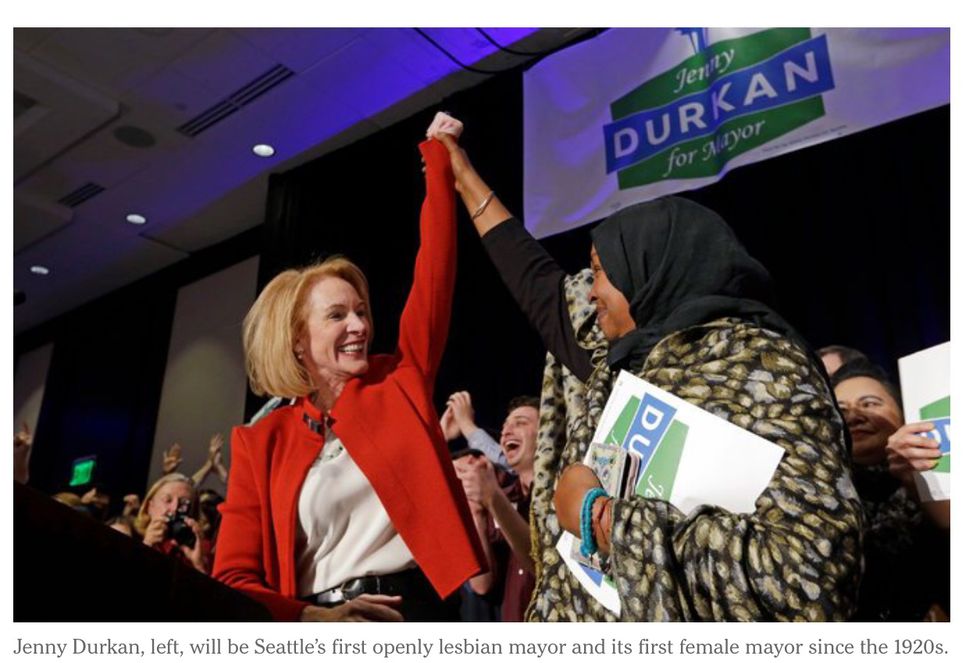 Ms. Durkan, 59, calls herself a progressive Democrat who is also tough on crime. She touted her experience as the United States attorney, appointed by former President Barack Obama in 2009 — where she became a specialist in cybercrime. But taking a page from Senator Bernie Sanders, she also promised two years of free community or technical tuition to all Seattle high school graduates.
She is a daughter of political royalty in Washington, and grew up one of eight children — a big, noisy Irish Catholic family, as she has called it — led by Martin J. Durkan Sr., who served for decades in the state Legislature, and was twice a candidate for governor of Washington.
Wilmot Collins
When he started reading the nasty Facebook posts and hearing the hostile comments from politicians a few years back, Wilmot Collins decided he had to do something. They were accusing refugees, like him, of being terrorists, milking the welfare system and committing crimes.
On Tuesday night, Mr. Collins's efforts came full circle when he was elected mayor of Helena, unseating the 16-year incumbent, James E. Smith. Mr. Collins is believed to be the second black person elected to serve as a mayor in Montana. Edward T. Johnson won the Helena mayoral election in 1873, according to Kate Hampton of the Montana Historical Society.
Mr. Collins, 54, said he saw his election as a repudiation of some of the restrictive immigration rhetoric of President Trump.
"It's telling the bigger America that this is not about race, this is not about national origin," Mr. Collins said. He added: "What Helena said yesterday was, 'We're looking for a good candidate and we believe in this person.' "
Mr. Collins (whose cousin, Helene Cooper, is a reporter for The New York Times) said that some of his major platform planks included providing funding for essential services like the fire and police departments, and creating more affordable housing in part because of the large populations of homeless veterans and teenagers in Helena.
Mr. Collins, who is married with two adult children, came to the United States after fleeing the civil war in Liberia. He works for the state as a child protection investigator and has been a member of the Navy Reserve for two decades.
Michelle De La Isla
The new mayor of Topeka, Kan., Michelle De La Isla, took a difficult and winding journey to the Midwest and politics.
Born in New York and raised in Puerto Rico, she became homeless at 17 and pregnant at 19. A pastor at the church where she sang in the choir told her she was smart and should go to college on the mainland. That led Ms. De La Isla, now 41, to Wichita State University.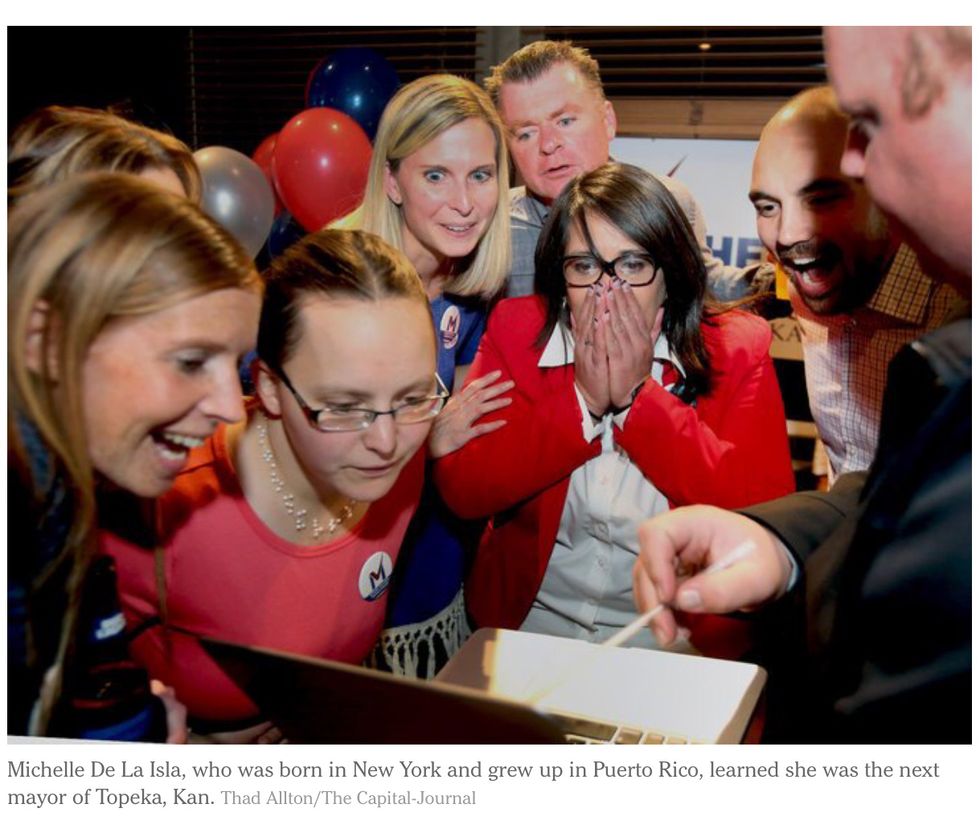 Today she is a single mother of three, a son and two daughters, after escaping an abusive marriage with the help of a program at the Y.W.C.A. in Topeka, she said on Tuesday after narrowly winning the mayor's race.
"All these experiences I've turned into blessings," Ms. De La Isla said. "It's easier to serve people when you're not judging them from the get-go."
Ms. De La Isla first became involved in Topeka, a city of about 122,000 with small pockets of Hispanics and African-Americans, by counseling people about their financial credit.
That led to running Topeka Habitat for Humanity, which led to her attending City Council meetings on revitalizing the downtown. A councilman who was elected mayor suggested that she seek his seat, which she won four years ago.
"I'll never forget having a conversation with my girls: My youngest said if you get elected you're showing me I can do anything," Ms. De La Isla said. "The pressure was on. It's been a journey."
Hala Ayala
Hala Ayala, one of two women who will be the first Latinas in the Virginia General Assembly, plunged into politics after helping to organize a contingent from Prince William County to attend the Washington Women's March in January.
"After the Women's March it was like, no more," she said. "Run for office. Make change."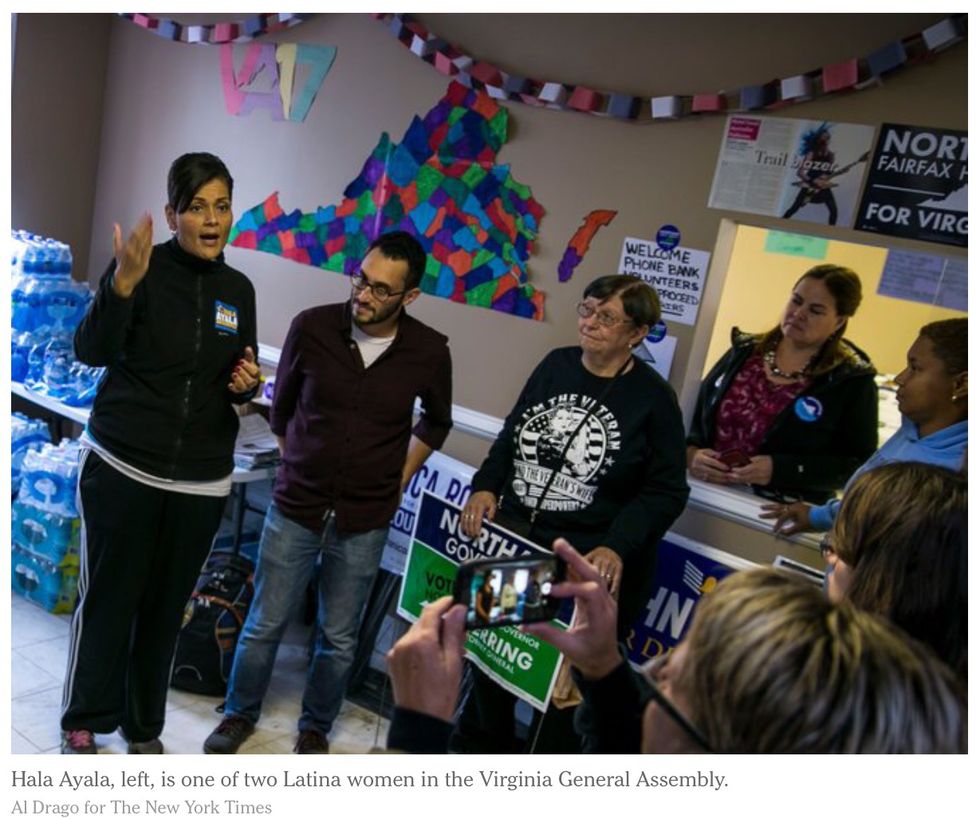 Ms. Ayala, 44, quit a job in cybersecurity for the Coast Guard to run for office. The state party emphasized that she had a security clearance to rebuff Republican TV ads and mailers raising fears of illegal immigrants and crime.
In fact, she said the attacks produced a backlash in her Northern Virginia district, which has a large military and immigrant population. Lines at polls on Tuesday were the most racially and ethnically diverse she said she had seen in a decade of volunteering.
A single mother of two adult children, aged 20 and 22, Ms. Ayala has lived in the county over 35 years. She said one voter, a father with a preschool daughter, told her he hoped she would inspire his daughter. "Maybe one day she'll run for office," he said.
New York Times, November 8, 2017. Micchael Taggett, Trip Gabriel, John Eligon.
###
November 9, 2017